A completely redesigned Safari is one of the most noticeable changes in iOS 15. The new browser is designed to be easier to operate with one hand and more customizable. Learn How To Set A Custom Safari Background In iOS 15.
The initial page of Safari on the iPhone displays a plain white background. It goes black in dark mode. That's all there is to it. With iOS 15, you can replace the Safari background picture with a colorful wallpaper.
If you want to be more personal, you can set the Safari start page background to a photo from your iPhone Photos app.
Here's how to modify your iPhone's Safari background.
Also Read: How To Change The Font Of iOS Message
7 Ways to Resolve Safari Not Performing in iOS 15.
The first thing you should do if Safari stops working is to see if the network is available for Safari. Select "WLAN & Cellular Data" from the "Settings" > "Cellular" > "Safari" menu. If there is no issue with Safari's network settings but it still does not work, try the suggestions below.
1.  Shut the app & Restart Safari
If Safari is stuck with no response but other apps work normally, you can solve the problem by relaunching the Safari app. Double-click the Home button on your device screen to activate the multitasking screen, then swipe up to close the Safari app. Relaunch Safari after 30 seconds. If this does not resolve the issue, proceed to the next approach that might help you.
Also Read: iOS 15.4.1: How To Change Bluetooth Device Label On iPhone
2. Shift to a different network
If you discover that multiple apps, including Safari, are not working properly, you should check the network. If the network is unstable or poorly connected, you can switch to another network and restart Safari.
3. Reset network settings
Safari may not function properly in iOS 11 due to incorrect network settings. As a result, resetting network settings is a viable option. After resetting, all of your Wi-Fi information, including your account and password, will be erased; you must re-enter your Wi-Fi password.
To reset network settings, just go to "Settings" > "General" > "Reset" > "Reset Network Settings".
Also Read:iPhone Notifications Not Working In iOS 15.4.1 [Fixed]
4. Delete Safari's History and Website Data
Safari on iOS 11 may not be working properly if it runs slowly. If that's the case, deleting the cache, history, and website data can help.
Clear history and website data under "Settings" > "Safari" > "Clear History and Website Data." Safari bookmarks will not be lost during this process; instead, browser history, login data, theme selection, preferences, and other personalised information will be cleaned. If Safari is operating slowly on your new iPhone x, you can speed it up by removing Safari history and webpage data.
5. Look for Safari limitations
After updating to iOS 11, if you enabled the restriction for Safari, the app will not work normally. "Turn off "Safari if the restriction is "on" by going to "Settings" > "General > "Restrictions" > Enter the password > toggle off the restriction.
6. Restart your iPhone
Many minor issues, like Safari not responding in iOS 11, can be resolved by restarting your iPhone. All processes on your smartphone will be closed as a result, and the iOS RAM will be fully released. Swipe right to turn it off after pressing and holding the Sleep/Wake button till you see "slide to power off." Reopen your iPhone after 30 seconds have passed.
7. Update iOS of iPhone/iPad
If system bugs are causing Safari not to work with iOS 11, updating to the latest iOS version is a good way to fix the problem.
Activate your network connection > Check if a new version is available in "Settings" > "General" > "Software Update" > if so, download and install it on your device.
Also Read:How To Protect iPhone From Blocking And Hacking
Here's how to modify your iPhone's Safari background.
Below instructions will show you how to change the background of the Safari screen. If you want to use a custom image, make sure it's saved in the Photos app first (and not elsewhere, like the Files app, Google Drive, or Dropbox).
When you're ready, take the following steps:
On iPhone running iOS 15 or later, open Safari and select Edit.
Enable Background Image.
Apple provides pre-installed background images. To use one, tap it.
Alternatively,

tap the plus (+) icon to select a photo from the Photos app.
Finally, drag this page to the bottom to close it. The Safari start page will be displayed with a new background.
How to Change the Background of Safari in iOS 15
The ability to customize your Safari start page is one of the most intriguing new features. You'll have something to look at instead of Safari's usual dreary grey screen every time you launch it this way. To change the safari wallpaper on your IOS15, use the procedures listed below.
On your iPhone, run the Safari app.
By pressing the double square icon in the lower right-hand corner of the screen and then hitting the Plus symbol, you can start a new page.
3. Safari will send you to the Customize Start Page screen once you've opened a new page. When you start a new tab, you will be able to customize the functionality and appearance of the presented webpage.
4. Begin by selecting the Edit option.
5. Safari will show you several backgrounds provided by Apple, but you can also add your own by tapping the Add image symbol (the square with a Plus symbol inside it).
6. Once you choose an image, Safari will take you back to the Customize Start Page screen, and the Add image symbol will be replaced by the background you've chosen.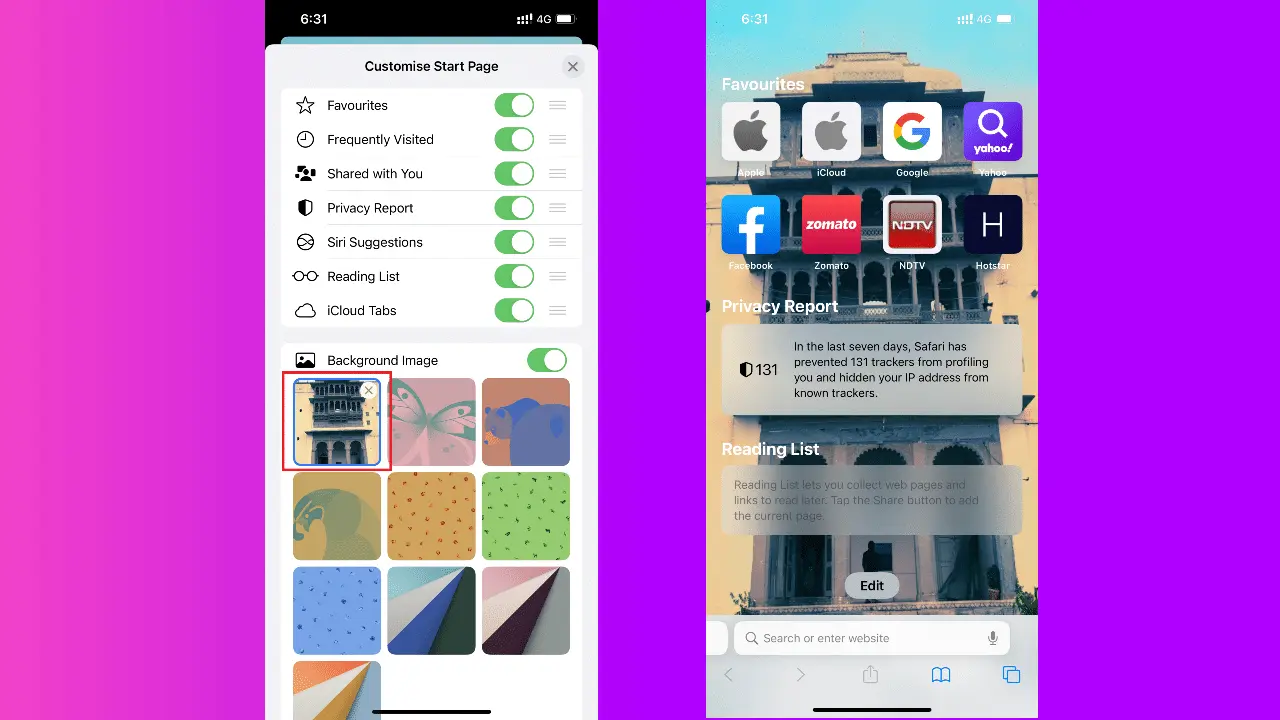 Now, exit the page and open a new tab/page to try out the new feature. Safari should display the image correctly.
Wrapping UP
If you use custom backgrounds that are smaller than the resolution of the screen, the images may appear pixelated.
For the best results, look for high-resolution images or use shots taken with the iPhone's built-in camera in Portrait Mode. You can also look for fantastic backgrounds on the internet. However, you must guarantee that their resolution matches that of the iPhone.
Keep in mind that you can make Safari's background whatever photo or image you like. Those with a greater resolution, on the other hand, will always look a whole lot better.