You need to connect your Oculus account with Facebook to play games with the headset. Without that, Facebook will not allow you to proceed. This is terrible news for all those people who hate to share their gaming skills and scores with their friends, families, and colleagues.
It is indeed a notorious act by the tech company that continues to prowl on users' privacy. While many users are raving about it, there's little one can do to solve the problem. For those who enjoy sharing the nitty-gritty of their lives on social media, this works well for them.
But what about the users who respect their privacy and are not high on promoting their gaming skills online? This article is dedicated to those specific groups of gamers who neither own a Facebook account nor intend on creating one. And if you are one of them, come on board.
I will discuss the steps in detail to smoothly skip the annoying [Create a Facebook Account] message and continue using your Oculus account.
Also Read: How To Create An Oculus Developer Account?
How To Continue With Your Oculus Account Without Linking To Facebook?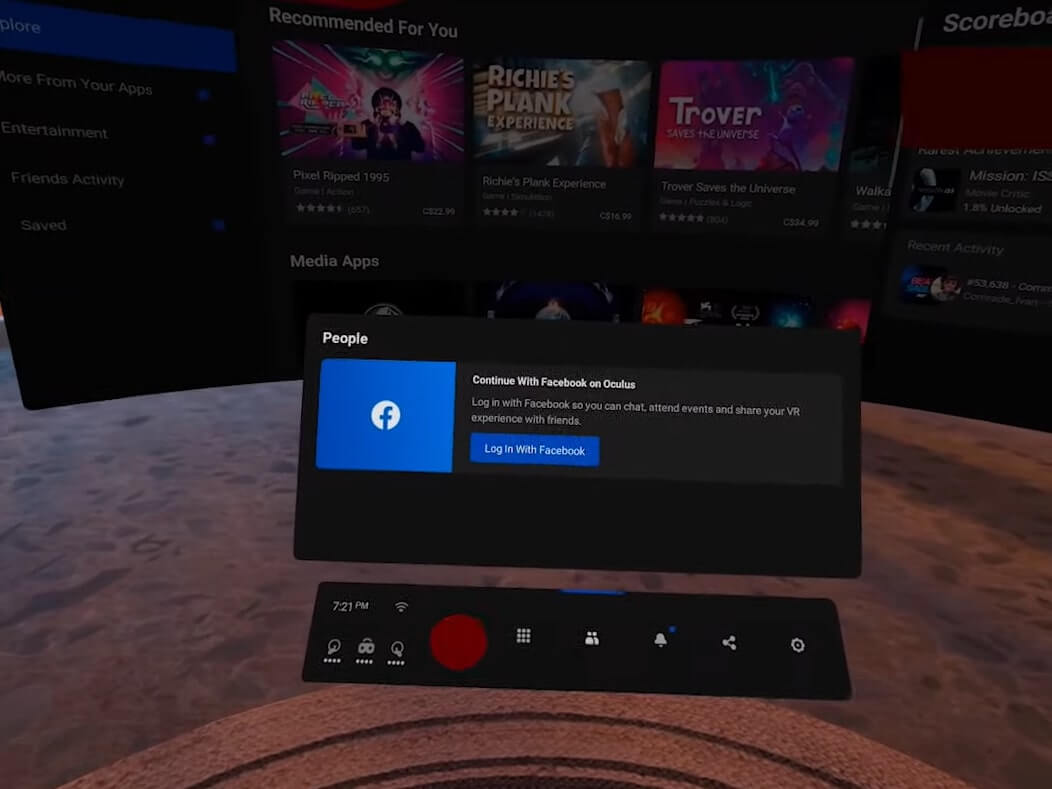 You must have an android smartphone, android tablet, and an Oculus account. After you log in, you will be able to see all the apps available in your account. But when you click on the social icon, it will ask you to connect to Facebook.
You can avoid that by following these steps.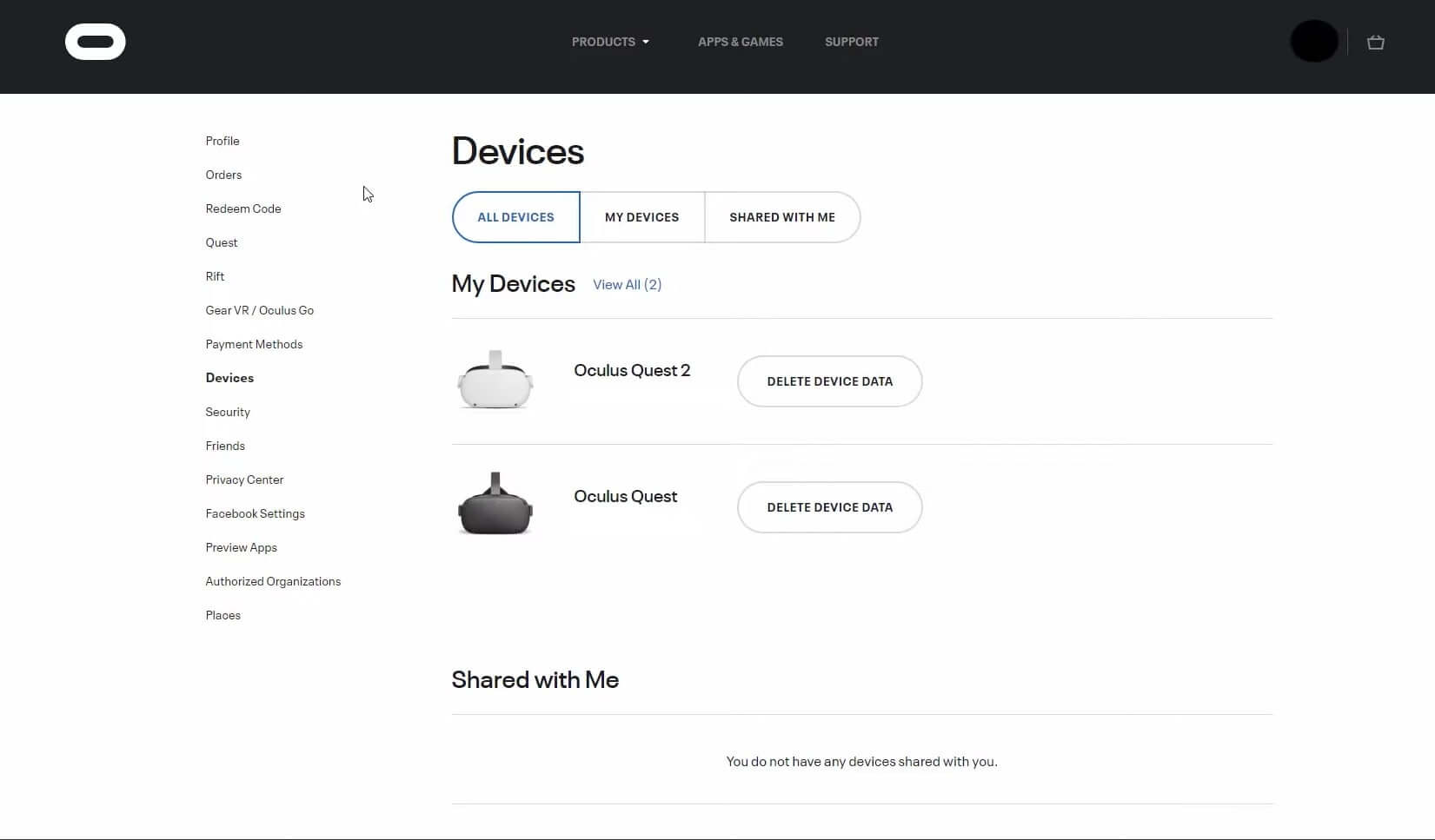 Step 1: Log in to oculus.com and then navigate to My Devices. Now check and confirm that you have not added Oculus Quest 2 to the list here. However, if you added it, then remove it.
Step 2: Remove your Oculus app from your android phone. Also, remove all cache and associated data first.
Step 3: You should also delete your Facebook account and the app from your phone.
Step 4: Furthermore, restart your device and start auto-update.
Step 5: Download the Oculus app version v36.0.0.5.242.apk, which you can find on apkmirror.com.
Step 6: Moreover, download the app on your android phone or tablet. Allow installation from unknown sources and click on Okay.
Step 7: After the installation is over, log into your Oculus account and set your phone aside.
Also Read: How to Cast Oculus Quest 2 On TV ?
Factory Reset Of Quest 2 
Step 1: Power the unit down. Furthermore, hold the volume down button and press and hold the power-on button.
Step 2: As you do it, it comes back to life. Follow the prompts in the headset to reset your device and follow the basic setup.
Step 3: Moreover, add a new headset in the phone app. Select your headset and click on Next.
Step 4: You will get an alert message saying it cannot connect to your headset. It's perfectly fine.
Step 5: Put on your headset to connect to the wi-fi and finish all the safety settings.
Step 6: After finishing up, wait for your headset to reboot.
Step 7: Moreover, go back to the phone app and pair your headset again.
Step 8: Choose your headset from the list. Your phone may or may not give you an error in connecting messages. But if you look inside, it has already connected.
Step 9: Furthermore, choose Dev mode and turn it on.
Step 10: Turn your app's auto-update back on.
Dev mode allows you to do and access a lot more features than the regular account. It also allows you to play on with your VR headsets wirelessly. The experience of using the VR while playing a game or exploring scenes in virtual reality without tripping on a wire is next level.
Also Read: How To Get Refund For Oculus Games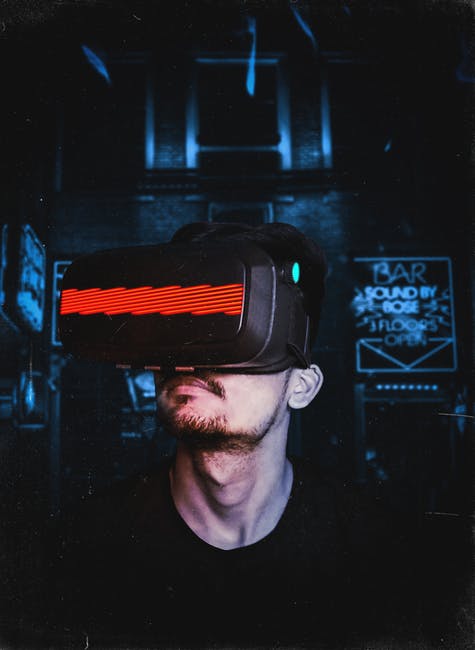 What Can You Not Do Without Facebook From Your Oculus Account?
No access to any social feature

Your Oculus 2 will disappear from the list of your devices on your phone

At times, it may not even show up on your phone

You will not be able to start streaming on Oculus remotely
So all these things you have to do from your headset.
Also Read: How To Sideload On Oculus Quest 2?
Conclusion
If you follow these steps, you will be able to continue using the Quest 2 with your Oculus account. But this brings us to an important point. Why is Facebook selling the VR headsets for a low price to its customers? We all know that the world is heading towards virtual reality, and from that perspective, it's a good thing.
But not allowing users to access their Oculus account without connecting to Facebook is ethically wrong. Given the history of both Facebook and Oculus, customers like you and me cannot trust either of these tech companies.
Read: How And Where To Redeem Oculus Store Promo Code