Are you worried about your phone number reaching the wrong people on Telegram? Or you want to manage multiple Telegram Fan pages (Telegram usernames) for multiple businesses but only have one phone number to sign up with. Or you worry about your privacy too much. Then here's some good news for you. Telegram has recently announced that users can now sign up with complete privacy without a Sim Card. You can get an anonymous phone number that works with Telegram. Yes, this phone number will receive OTP. It is a sigh of relief for business owners and those who needed to buy multiple sims to log in to the site multiple times. This has been made possible through Fragment.com which works well with Telegram.
Fragment is built on robust blockchain technology where you can buy and sell your Telegram username and virtual phone number, bid, or take part in phone number and telegram username auctions. It is a global website that allows people to buy and sell their usernames to anyone in the world. In short, it is a free website for anyone who is interested in the transaction of collectibles through a blockchain platform. One can be sure that the site is direct, secure as well as anonymous, and dedicated to sales only. You can look at this also as a secure way to hold your phone number that can be transferred and sold easily anytime.
What do you need to know about the Fragment website?
Telegram has associated with this website to enhance its login process and privacy feature for its users worldwide. This website hosts a public auction that anyone and everyone can participate in free of cost. To maintain its ethical ground, and provide a transparent way of conducting its business, they use TON. Now TON is a blockchain technology, also developed by Fragment.
If you want to make complete use of this site with Telegram, connect your Telegram account with your TON wallet. Afterward, you can bid on any available auction. You can do that either from the featured list on the homepage or the search bar at the top.
What is a collectible in Fragment for Telegram?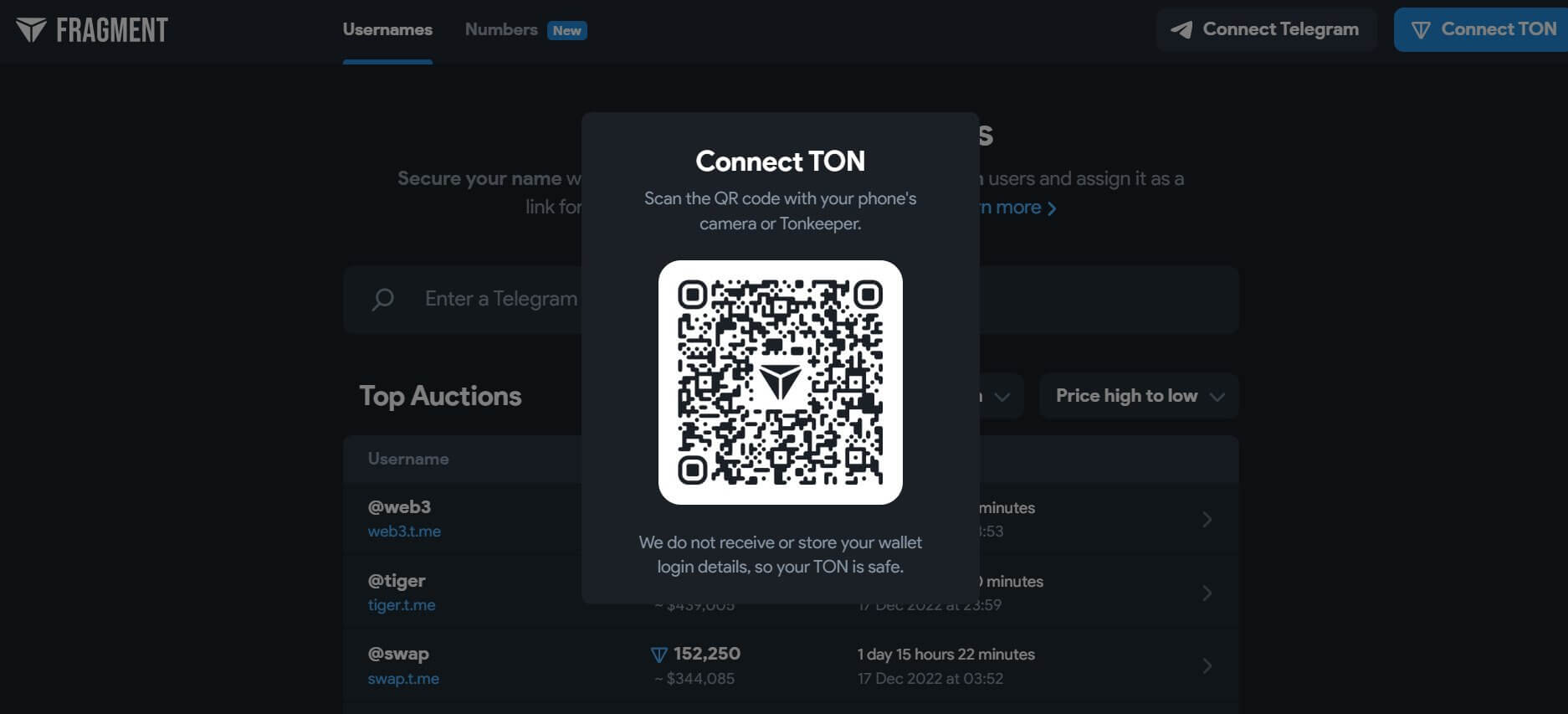 If you are new to this term, then welcome, as you are not the only one. Collectibles in a general sense may mean any souvenir or random things people like to collect. However, on this platform, it means a digital asset that Fragment permanently records on the public TON blockchain. It provides users with a free, secure, and widely distributed interface that is easy to use. This process is especially useful for developers to integrate collectibles into their platforms.
Whoever buys a collectible, it is theirs forever and they can freely show it off, take advantage of its features or sell it off. Each collectible has a unique functionality that totally depends on the platform that supports them. Furthermore, the fragment platform is integrated with Telegram usernames.
They give every user the ability to securely acquire and exchange catchy collectible usernames as well as convert existing ones. In addition, this platform permits its users like you and me to buy anonymous phone numbers that you can use for various purposes. One such usage is the latest one where we can use them to register a Telegram account without tying it to a SIM card.
How can you buy collectibles for Telegram?
If you are interested in buying these collectibles to register your Telegram account, then you can do it with Toncoin. Since the sale process is auctionable, you can only buy a collectible with its highest amount quoted. Create a secure wallet to store these coins, deposit funds, and afterward, connect it to Fragment. However, a random phone number can be bought directly at a fixed cost at Fragment by paying the cost in TON.
How to create a wallet for Toncoin?
You can create your own wallet by going to tonkeeper.com and installing the app on your smartphone. They have separate versions for both iOS and android. After installation, click on get started and then tap on create a new wallet. Follow the instructions on the screen and it will present you with a list of words.
Basically, these words will help in forming your secure password and you need to note it down and remember it. If you are unable to recall it in the future and lose it, you will not be able to retrieve your wallet, funds, and coins as the process here is irreversible.
Side note: You need to keep in mind that in non-custodial wallets like this, only you are the gatekeeper. Nobody is keeping a backup or saving it in emergencies. Therefore, once you lose the keys to the gate, it's gone forever.
How to deposit funds in the wallet?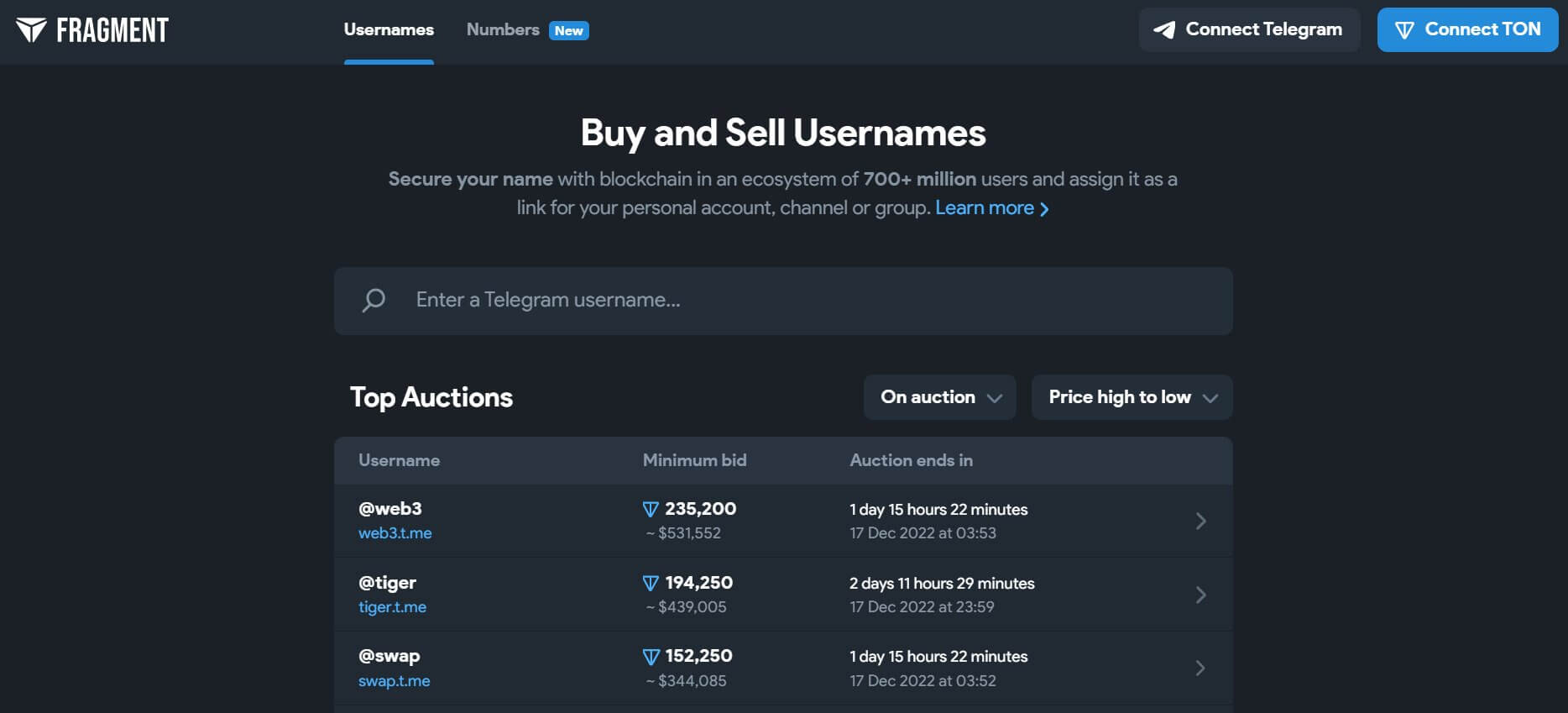 After creating your account, you need to deposit your funds there. Thus, if you already have TON coins stored elsewhere, like with a friend or family, scan its QR code. It is located under the receive button. On the other hand, if you don't have any coins, for now, buy them. To buy coins, click here. You can buy these using your card or within the messenger bots. Whatever is convenient for you is good.
You can also use your credit and debit card on websites like @wallet, Neocrypto, Mercuryo and Bit2me. Their centralized exchanges include Huobi, Kucoin, Gate.io, OKX, MEXC Global, CoinEx, BitoPro, Tidex, Unocoin, BingX, ZT Global, HOTBIT, HitBTC, DigiFinex, BitMart, and EXMO. Further, the decentralized exchanges are Uniswap, PancakeSwap, 1inch, and Biswap.
These platforms will ask for authentication proof as you will be exchanging funds from the same. In addition, they will also request for your wallet address. Make sure you give the right address so that your funds are not lost. The site also suggests users to copy-paste their wallet address directly from the app for more safety. The minimum time for a transaction to take place is thirty seconds. However, if sometimes, it gets delayed, you can read through their FAQ section after waiting for thirty minutes.
How to connect to fragment and Telegram?
After your funds reach your wallet, go to Fragment.com and click on the top-right corner button from the corner to log in. A telegram login widget will appear to enter your phone number in the international format. It is completely safe as other users at the auction will not be able to see your number or account.
Once you have logged in to the Telegram app, click on the Connect TON button to log in with Tonkeeper. Furthermore, if you are using the fragment platform from another device, you can simply scan the QR code from your app. However, if you are using the same phone, tap on the button right below the QR.
Now you're all set and ready to bid on any available collectible. You can do it by clicking on one of the available options. Furthermore, enter an amount, confirm the amount and pay through Tonkeeper as you did while logging in. During bidding, whoever's bid is first to the blockchain, will get the bid at that price. Moreover, if your bid did not show up in the blockchain before it ends, they will return your money and you will lose it. The platform will also return your money if another user outbids you.
What can you do during an auction?
When you own a collectible, you are free to sell it directly, or you can choose to auction it to the public. Go to My asset and choose to either put up for auction or sell your username depending on your choice. You must remember that if you want to auction your assets, you can only set an optional maximum price. If you pay for it immediately, it will end the option right then. The platform charges you a 5% commission fee for each transaction.
How to auction basic usernames on Fragment?
If you are looking to auction basic usernames from your Telegram account, you can do it with those that are linked to your profiles, public groups as well as public channels. Buyers who are interested in those bids can start an auction at any time. Once the auction ends, the platform will convert the basic username into a collectible and assign it to the winner.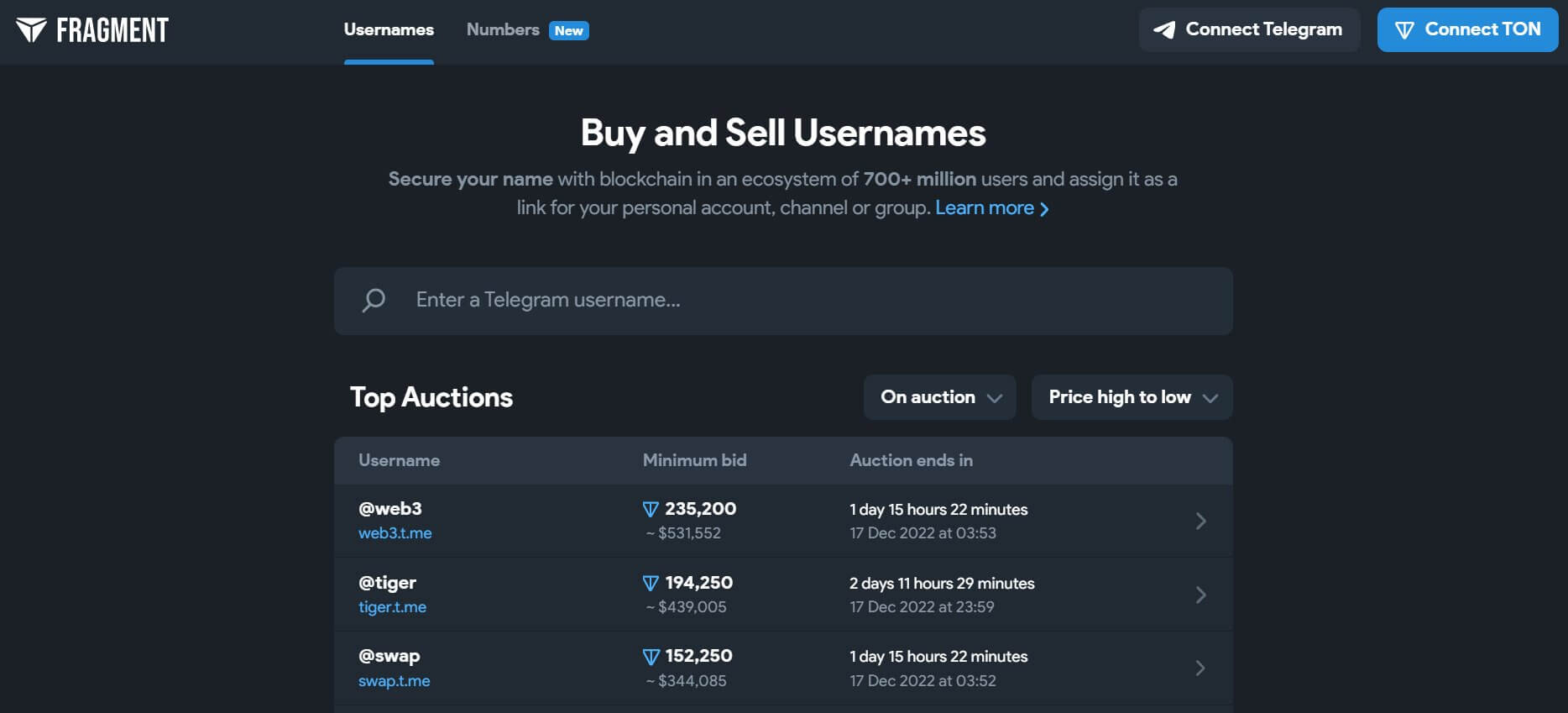 On the other hand, the original owner of the basic username will earn all the proceeds minus applicable fees. Furthermore, they may also try to win the auction themselves to retain ownership of the new collectibles. To list your username on Fragment:
First, log in to the Fragment with both your Telegram and TON accounts.
Your TON wallet will receive the proceeds from the auction. Make sure you only connect the wallet you own.
Click on your TON wallet in the top-right corner and select 'Convert to Collectibles' or follow the 'convert usernames to collectibles' link in 'My assets'.
Choose a username from the list. To avoid abuse, the usernames you acquired or reassigned may be unavailable.
Then you can set a minimum bid that buyers have to pay to buy your collectible.
After the confirmation, your username will be available on the platform for an unlimited time. Buyers who are interested can place the first bid and start a 7-day auction. You too can place a bid.
If you want to reassign the username, you can cancel the auction. However, you can't reassign it if it's available for auction, and neither can you reassign it to a different chat or profile.
How to cancel an auction?
If you are unhappy with your auction, you can cancel it. However, you need to do it before someone bids for it. By doing so, you will be able to keep the basic username without having to convert it into a collectible. Once the first bid comes in, you cannot cancel an auction.
When your auction ends, you will be able to earn the entire amount minus the applicable fees. The outcome will differ, depending on:
If someone else wins, they get the collectible in their wallet and all their proceeds except the 5% commission will be deducted. The one-time conversion fee will be transferred that is connected to the Fragment when listing your username.
Secondly, if you win the auction, you will own the collectible and your wallet will receive the highest bid you placed. In addition, you will get back your winning bid, minus a 5% platform fee and a one-time conversion fee.
The username will continue to link to the same chat until it is reassigned. Other apps that are outdated may not be able to display it in their panel. Thus, you must always update your app to the latest version.
What to do after receiving a collectible?
You can do the following: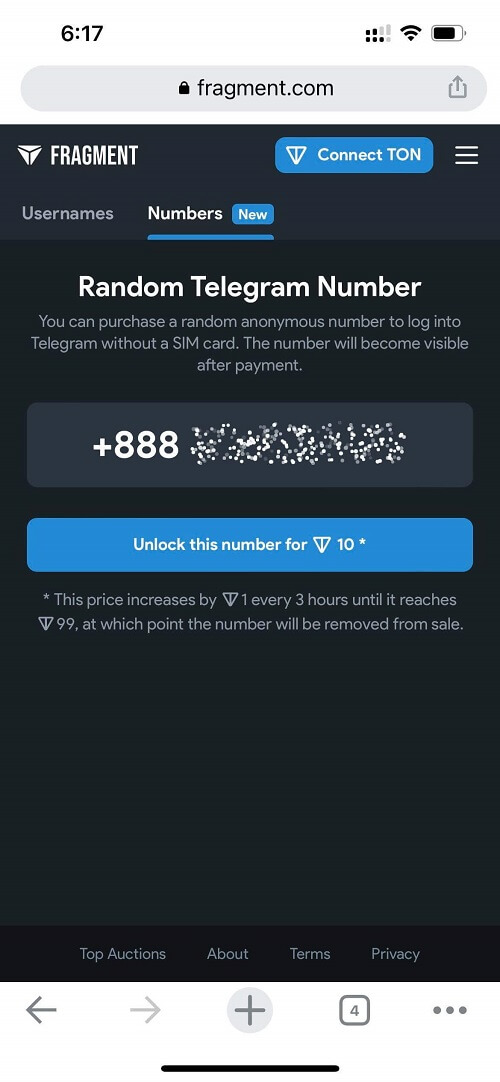 Assign it on telegram to any profile, group or channel which can have multiple collectible usernames.
Without paying a conversion fee you can either sell it or start a new auction.
Moreover, you can securely transfer it to another person or wallet for free via the NFT tab.
Can you assign collectible usernames to Telegram?
The short answer is yes, you definitely can assign collectible usernames to your individual Telegram profile. You can also do the same for public groups and channels that are yours. Telegram allows users to own up to one basic username and many collectible usernames. Furthermore, you can customize the order in which you want the collectibles to appear on the chat's info page or to toggle them off completely.
What to do before connecting to Fragment?
As the user, you need to connect both your Telegram account and TON wallet to fragment before assigning a username. You can do that by following these instructions:
Go to the My assets page and click on Assign to Telegram.
Then select a chat and click on assign to save your choice. You can change this choice later if you want as its not permanent.
After a collectible has been assigned, it will not redirect you to the designated chat right away. You can activate and list it in the public info page of your chat. For that, you need to manually enable it. Follow these steps:
Personal profile: Go to settings and then to username.
Click on enable and start sorting the available usernames as and when you need them.
For public group: Go to group settings and tap on group type, and link order.
Now tap on the collectible to enable it.
Conclusion
In their introduction, Telegram calls out its users to make their existing account incognito with an anonymous number from the Fragment website. One of the advantages of these numbers is that they do not receive any messages or calls and their code is available in my anonymous section of Fragment.