A few months ago, Windows 11 was launched with a variety of features and modifications. There is a lot to Windows 11 besides the shifting of the taskbar to the center and when uses with Surface, your experience will be almost phenomenal. This article will enlighten you about the top 10 ways Surface shines on Windows 11.
It is a matter of fact that Windows 11 combined with can make the experience of the users Wonderful. Surface devices were originally designed to take out the best of Windows. Windows 11 and surface together can make life easier. The Surface laptops and tablets of Microsoft have gone through many remarkable changes since they were first introduced in 2012.
It is well-known that Windows 11 has so much to offer to everyone but some of its features are more suitable to Surface devices by Microsoft. The latest generation surface devices by Microsoft can give you an enthralling experience while operating with Windows 11 OS. You will be able to get the best out of windows 11 after upgrading your Surface devices to it.
Also Read: How To Turn On Hibernate Mode On Windows 11
10 Ways Surface Shines On Windows 11:
Now let's head to top 10 ways Surface shines on Windows 11.
At a Glance :
Upgraded detention of Mode
Enhanced Writing experience
Wonderful experience with Multi desktop window
Microsoft voice typing is a savior
Work efficiently with Microsoft teams
Quick Login with Windows Hello
Auto-detection of Mode
A very interesting feature that Windows 11 performs in surface devices is improved or upgraded mode detection. Earlier, users were required to manually change the mode of their surface device by turning it from PC to tablet mode. But  With Windows 11, the surface automatically changes to different modes depending upon the way you hold Your Device. In short, your device will automatically shift Laptop mode, desktop mode, or Tablet mode by just sensing the position in which you hold it. Now, Users can write on laptop mode or sign contracts on the screen in tablet mode with the feeling of pen and paper. And too, without worrying about the manual transition. This feature will make you realize that surface indeed shines on Windows 11.

Phenomenal writing experience
Windows 11 has made the inking experience smoother on Surface devices. Now, Users can capture notes, do sketching, and capture ideas in a more even and effortless way using touch-enabled devices and pens compatible with such devices. The latest release by Microsoft known as Surface Slim Pen 2(the latest surface device designed especially for Windows 11) makes this inking experience more real. Surface Slim Pen 2 exhibits some of the best features when used with Surface And Windows 11 jointly: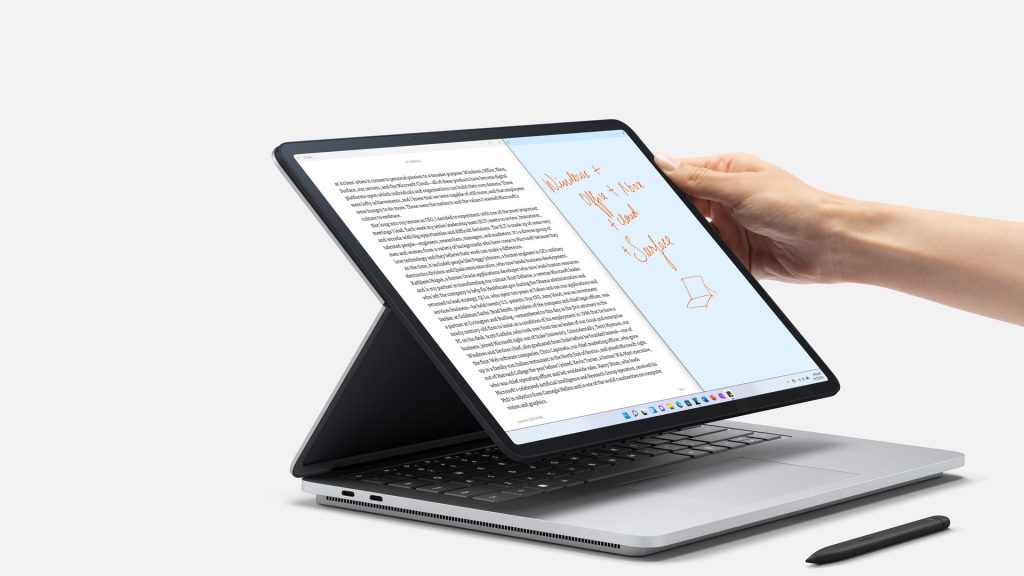 Allows users to write with increased accuracy and clarity.
Additionally, Writing with it feels as if a user is actually writing with a pen on paper
All the credit goes to the enhanced touch signals
Also provides with beyond-life shading experience and remarkable Pressure sensitivity.
Moreover, It helps the user write more precisely.
Enabling haptics has made writing on Surface devices more engaging and immersive.
Also Read: 4 Ways To Delete Desktop Background Wallpaper History In Windows 11
3. Multiple Desktop Windows
You can experience the best of Windows 11 by combining it with surface devices. Another point to exemplify this statement is that  Windows 11 supports multiple desktops. If you are using Surface for Home, office, and school, Windows 11 will make your experience better.  By working on different desktops at the same time you can save time and increase your productivity.
You can easily transit or switch from one desktop to another within a fraction of seconds.
The most interesting function part- windows 11 can keep a record of all the applications you are using. You can effortlessly resume your work exactly from where you left off.
Users can easily snap all the apps in groups and launch them in just a single click.
Windows organization has got better.
You can get to the groups of snap apps on the taskbar of windows after grouping for quick access.
A cherry on the top is that You can also download apps from Amazon Appstore. It implies that you can even take notes using a surface pen while using Kindle Android App.
Also Read: 4 Best Methods To Get Transparent Taskbar In Windows 11
4. Perfect features to fulfill your needs
The new pen menu (which can be customized as per your needs) lights up automatically when you detach the Surface Slim Pen 2 from the Keyboard.
You can consistently keep up with your workflow while accessing Inking applications quickly and easily.
Microsoft Voice Typing
Microsoft voice typing is powered by Microsoft speech. It lets you take a break from your keyboard/keypad. In the other words, you can command your surface device to type what you want. This feature of Windows 11 lets you type with more accuracy and effortlessness.
Voice Commands: With Microsoft Voice typing, Users can not only type but also give voice commands to Surface. For example, If you give the command to delete a particular line of the snippet, it will be instantly removed.
Auto-punctuation: Another major advantage of this feature is Auto-punctuation. You don't need to lift your fingers for correcting punctuations.
Microsoft Teams
Now, you can easily connect with others including your work colleagues via Microsoft Teams. You can get access to Microsoft teams directly from your taskbar.
The Most enthralling part is that the surface Camera and enhanced quality of its microphones combined with Immersive(3D effect creating) sound to make your experience with the Teams wonderful.
5. Best Display Experience
The Surface device and Windows 11 combined give you an incredible display experience.  The range of brightness is extended and there has been an increase in the granular control. Hence, you can easily use your Surface  Laptop Studio in more changing lighting conditions. Moreover, the surface display's aspect ratio of 3:2 makes it tailor-made for viewing word documents, coding, and browsing.
On-screen keyboard: It allows you to choose emojis and swipe with your fingers.
6. Enhanced Windows Hello
Logging into the surface with Windows Hello is super easy. Now, the facial recognition system in Windows 11 is more secure and quick. Moreover, there has been enhancement in the hardware of the Surface Camera System. When you log in through Windows Hello. the system uses infrared sensors for authentication. All these things lead to instant unlocking of your PC.
Windows Hello: It offers a more personal and secure way to get quick access to your Windows 11. It supports fingerprint access, facial recognition, and PIN. Besides Facial Recognition and fingerprint access, you also need to set up a PIN. However, you can also log in through PIN only.
7. Worthy experience of commercial customers
Windows 11 Pro combined with Surface provides a lot to commercial customers. It provides premium and best-in-class experiences to enterprises in terms of Multitasking, Conferences through Video calls, Management of data, Compatibility of apps, Security, etc.
8. Optimized Tactile feedback
The tactile feedback has also been optimized by fitting Haptic Motors in the Surface Slim Pen 2. The activation of this built-in Haptic motor provides the user a natural pen gripping feel. The tactile signals also give feedback when the user uses tools in Adobe fresco( Drawing App) or uses natural gestures like circling.
There is an Optimized Haptic Touchpad for accuracy and Windows gestures. It also has sensors for Haptic feedbacks during navigation.
Tactile Or Haptic feedback has a huge range of applications in the world of Technology. So, Windows 11, Surface, and Haptic Feedback altogether shower enormous benefits on the users. And, the user's experience gets better with it.
9. Multimonitor experience is no less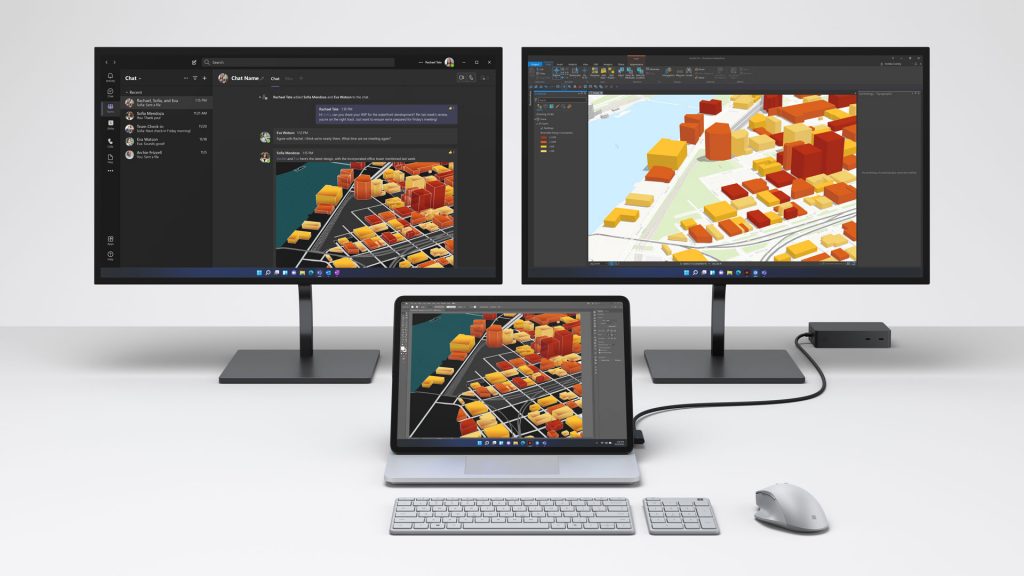 Windows 11 and Surface together provide marvelous Multimonitor experiences.
You can resume exactly from where you left.
You can get back to the way your applications were laid out. Docking experiences keep a track of that.
Hence, saving time as you would not be required to restructure or set up the structure of your layout.
10. Windows 11 and Surface
Windows 11 and Surface together adjust to their users' needs and working styles. You have complete freedom to use this system according to your liking. You may type on the keyboard or choose one-screen writing. It solely depends on you.
Latest Surface Products Built designed For Windows 11: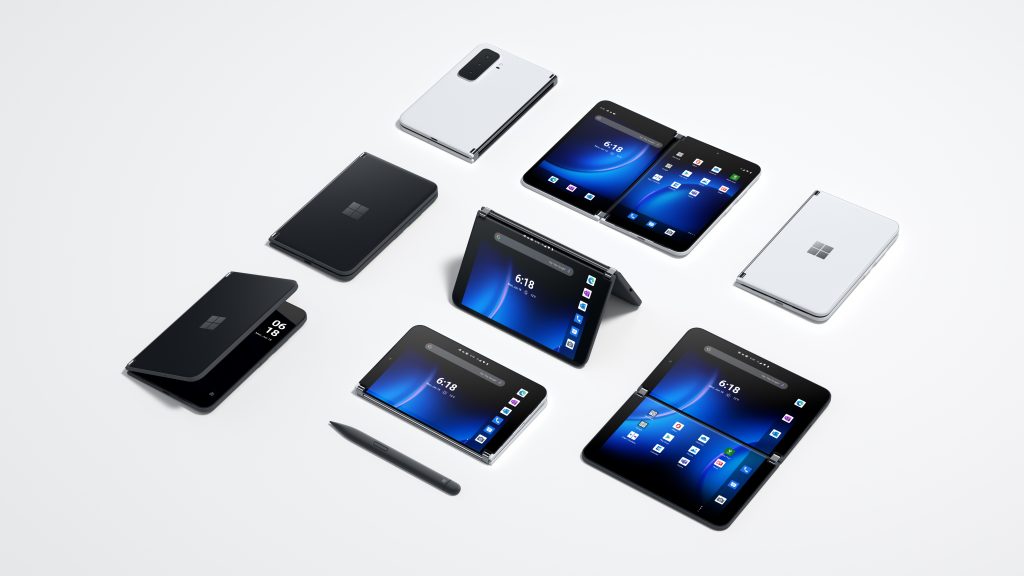 Surface Laptop Studio, Surface Pro 8, Surface Slim Pen 2, Surface Pro X, Surface Go 3, and Surface Duo 2.
These products are particularly built to help the customers reach the highest levels of productivity and creativity.
With enormous features and adaptability, the latest Surface products are the best companions of Windows 11.
Conclusion:
So that's all for now. These are the top 10 ways Surface shines on Windows 11. Some of the features of Windows 11 work best with Surface Devices. It is noticeable that there have been remarkable improvements in this latest window. An increase in adaptability provides users with the flexibility to work as per their comfort. Surface and Windows 11 jointly can take the user's experience to next level. They make your PC more personal to you and boost overall productivity.