You can install Windows 11 on your android phone using the methods in this blog post. And while you are wondering if it's even possible to do that, then yes, it is. Windows 11, after all, is an operating system designed to run on a desktop computer and laptop.
The requirements to run a Windows operating system is very different from those in an android. However, many tech experts are still making this seemingly impossible thing happen. There are two reasons why even you can install Windows 11 operating system on your android devices.
First, today's android smartphones are way more powerful than most computers in the previous years. To elucidate this, take the example of the first computer that scientists used to send satellites and rockets into outer space. That computer's working power is way weaker than today's smartphones.
Second, Micrsoft designs Windows to run on lighter specifications too. They do this to enable the operating system to run on slightly older computers with lower specifications. Thus, these two reasons give an edge to your android device in installing a desktop operating system.
Also Read: How To Run Android Apps In M1 MacBook Air?
Method 1: Steps To Install Windows 11 On Your Android Phone
Step 1: On your android smartphone, open the Google Chrome browser.
Step 2: Furthermore, type Windows 11 on the search bar. Go to micrsoft.com website.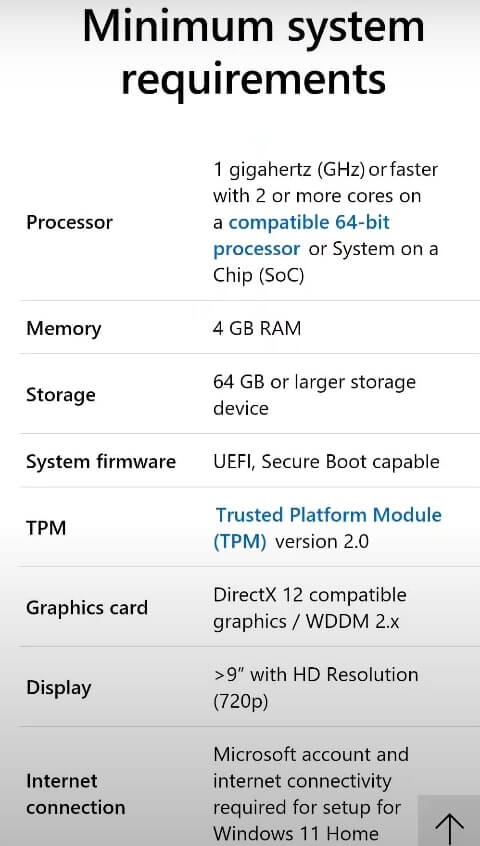 Step 3: Check the minimum system requirements to run Windows 11. Therefore, your android smartphone must have these hardware systems to run the operating system.
Step 4: Now go back to the Chrome Browser, type the Nova set up, and open the first website.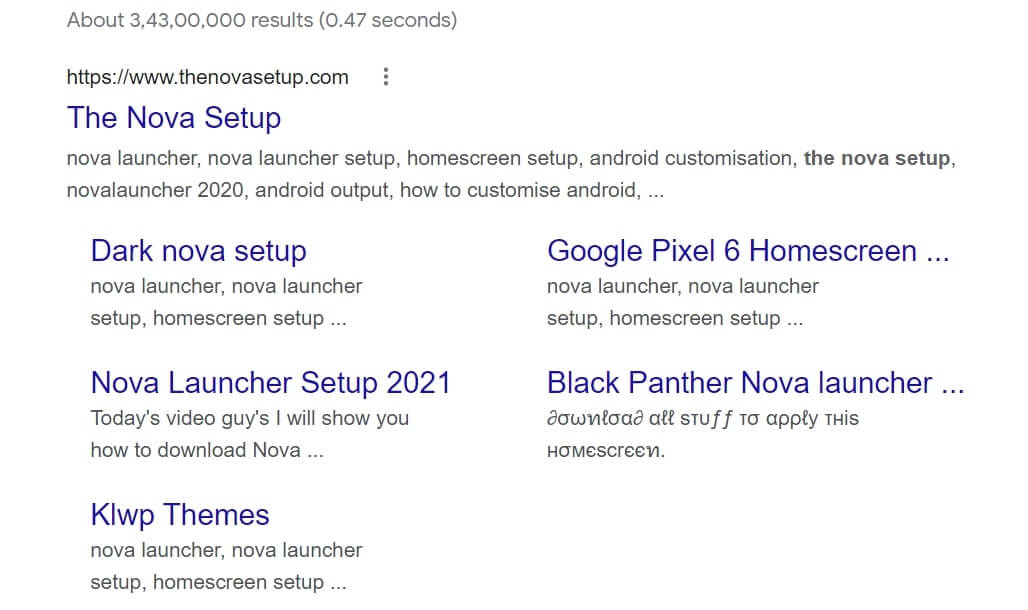 Step 5: Furthermore, look for and open an article titled – How To Install Windows 11 on Android.

Step 6: Click on the download application button and wait for the file to download on your android device.
Step 7: Once the download is over, click on the APK application and install it too.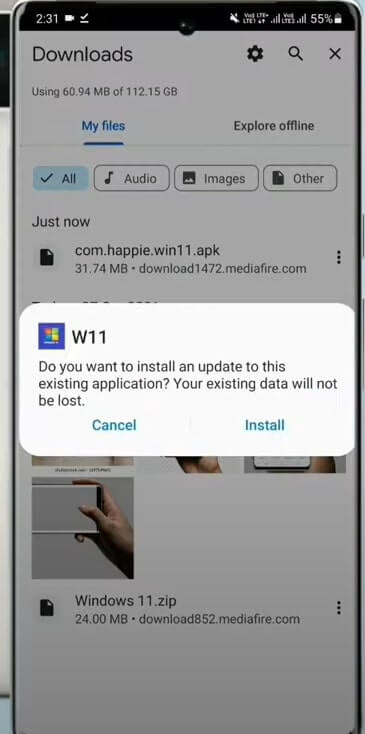 Step 8: Moreover, open the application and click on Install Now.
Step 9: The usual installation method that you see while installing Windows 11 on your computer will appear. Click on Next.
Step 10: Wait while the progress is on, and then click on the Accept button.
After that, tap on Install finally, and click on Next. Furthermore, choose For personal Use only and enter your name. Then tap on Next. Now you can enjoy your Windows 11 operating system on your android device.
Must Read: How To Fix Apps Crashing Error On Android?
Method 2: Using Computer Launcher 2
Step 1: Go to Google Play Store and download an application called Computer Launcher 2.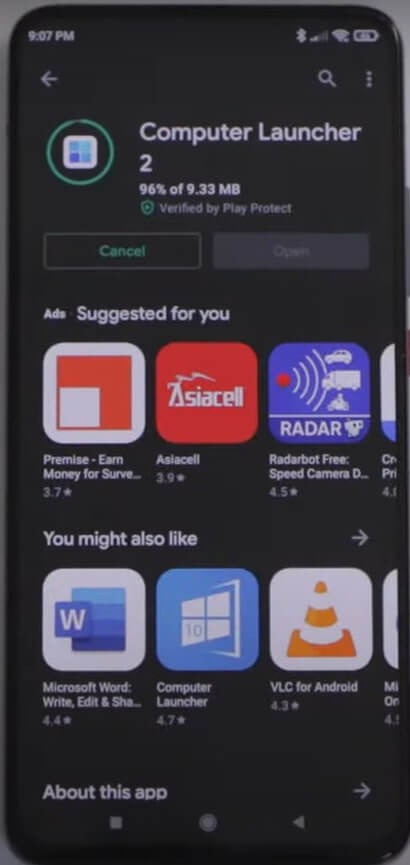 Step 2: After the installation, click on Open. Moreover, Windows 11 will launch on your android device.
Step 3: Give it access to use the Windows 11 launcher in place of the Android launcher. Tap on Confirm and then Allow.
Step 4: In addition, give it access to look and feel like Windows 11. Moreover, set Windows 11 as your default launch.
Step 5: Now, you can check out all the features of Windows 11 and play a high visual game on your android device.
What Can You Do With Windows 11 On Your Android Phone?
Once you have installed Windows 11 on your android smartphone, you can operate it just like you would on your computer. Create files and folders, connect them to Wi-Fi and Bluetooth and so on.
Moreover, you can connect a Bluetooth mouse, keyboard and make your office presentation and write briefs. Furthermore, you can also download games on your android phone and play them like playing them on your computer. Moreover, you can use both the mouse or continue the touch screen option.
Read: What Are The Other Google Android Supported App Stores Apart From Google Play Store?
How To Uninstall Windows 11 From Your Android Phone?
If you don't like Windows 11 on your android device, you can uninstall it right away. To do that: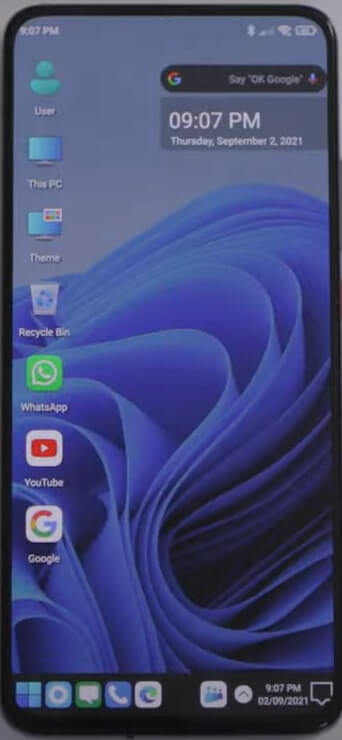 Step 1: Go back to your home screen and touch your start menu.
Step 2: Search for Computer Launcher 2.
Step 3: Furthermore, hold the icon and click on uninstall.
Step 4: Click on Okay to confirm, and the app will uninstall.
Step 5: After some time, the Windows 11 will go away, and you will get back your Android.
Conclusion
These two are the safest and easiest methods to install Windows 11 on your android phone. You can practically use your smartphone as your new laptop. However, the experience might not be great in the long run. In addition, even though you will be able to install the Windows operating system on your phone, it cannot feel and work exactly like it would on o a computer.
Cons: There are limitations of all sorts and not a practical approach for the long run.