The ability to plan live streams adding to Instagram is one of the features in need. The function, known as Live Scheduling, allows us to arrange your broadcast for up to 3 months in advance, with followers being able to set alerts to tune in. Instagram's Stories feature permits users to start a live video. This tool is very beneficial for ambitious developers who want to increase their involvement. It also allows users to share with their followers directly.
Developers will be able to establish excitement for a significant announcement, an imminent event, or even a debut by using live scheduling up to 90 days in advance. The post, summary, and a prompt with the live link will be shown to followers. Creators can also use Live Scheduling to post-deadline Stories and often more.
Also Read: How To Expand Your Brand/Business On Instagram?- An In-Depth Detailed Guide
So, we can do initial checks before scheduling a live video : 
Set a Schedule
Consistency is essential in many aspects of life.
You must go live on a regular basis to reach more people and make strong ties with your audience.  Setting a timetable and sticking to it is the best method to accomplish this.
If you plan to go online every Thursday at 7 p.m., for example, you can advertise this weekly event to your following. Your more involved followers will begin to anticipate each Instagram Live video as time goes on.
Identify Your Goal
It's critical to understand why you're conducting Instagram Live videos in order to and get the most out of them.
To put it in another manner, what do you hope to accomplish with your broadcasts?
Perhaps you want to improve customer relations, expand your following, enhance email signups, or increase product sales.
And, as much as you'd like to do all of them, it's preferable to focus on one per broadcast. As a result, every aspect of your Instagram Live video stream will focus on reaching your objective.
It's also crucial to ensure your aim fits your marketing program.
You may decide how long you want your stream to be and the subjects and themes you'll cover once you've defined your goal and the major call to action you'll utilise throughout it.
Promote Your Stream
Don't simply go live and hope for the best. Instead, create some anticipation ahead of time.
This can be as easy as announcing your next Instagram Live stream with your other social media platforms or sending emails to your mailing list.
Access the Instagram Story Camera
Instagram Live is a function within Stories, as I previously stated. To use the Story camera, swipe right or tap the camera button in the top-left corner of the screen.
You'll need to allow your phone's camera and mic access the first time you use Instagram Stories.
Configure Your Instagram Story Settings
You'll want to double-check your Instagram Story preferences before going live. To do so, go to the top-left of the display and tap the settings gear symbol.
Instagram's "Story Controls" may be found here. You can pick who can comment on your Story in the first set, and you can conceal your Stories from particular people in the second setting. As a business, you'll want to make sure that anyone can respond, as this will help you to convey with your customers more effectively.
Following that, Instagram allows you could save your Stories to your camera roll or Instagram archive.
If you don't want to waste phone space, turn on the archive option, and you'll be able to see your Stories in the record after they've been deleted after 24 hours.
Scheduling a live video on Instagram 
Anybody can schedule a Live Video on Instagram, not just artists. While initiating a Live Video on Instagram is very simple scheduling one for the future is as simple. Instagram users can also include other followers in their Live videos. To broadcast a live video on Instagram, follow these simple steps: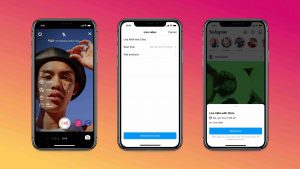 1. Swipe left to activate the camera on the Instagram app.
2. Swipe right from the bottom and sides of the camera to select Live.
3. On the right-hand side, an option called Schedule should appear. Set the event's name in 'Video Title' under Schedule.
4. Select a date and point in time for scheduling by clicking Start Time.
5. Click on Schedule Live Video.
6. Owners can then share the planned live as a post with their followers, who will also receive notifications before the event takes place.
What is "Practice Mode" on Instagram Live?
Instagram has launched "Practice Mode" in conjunction to Instagram Live Scheduling.
The addition of Practice Mode to the Instagram Live roster is fantastic. If you've been waiting for anything like this, you're not alone.
Anyone who has done an Instagram Live, either alone or by a guest, knows how difficult it can be — from finding the perfect lighting to ensuring a stable Internet connection.
Adele, the Grammy Award-winning performer, has encountered Instagram Live issues.
And that's only the beginning! We haven't even touched on the various types of troubleshooting that can occur throughout the broadcast.
That is, until now.
As a result, Practice Mode "allows creators to join their guests ahead of time to check their connection, décor, and any other pre-show preparation that may be required."
Having the opportunity to join your Instagram Live ahead of time should help to eliminate any technical issues and make your life easier.
Conclusion
Instagram Lives have become increasingly popular in recent years, and we anticipate that these new capabilities will inspire even more brands and artists to participate. So, if you've never tried Instagram Lives before, now is the time to do so.