The iOS and Android operating systems have an in-built SOS Emergency feature into their iPhone, Android mobiles as well as smartwatches.
We all know that we can dial the emergency number of our country to get help in any dangerous circumstances. However, this SOS feature in your smartphone also helps you out in an emergency situation. You might be wondering how this SOS feature works.
The Emergency SOS feature sends an emergency SOS message with your last known location to all your emergency contacts that you have set up. This feature can prove to be a major lifesaver if you are stuck in any life-threatening situation and it is not possible to talk to anyone by phone safely.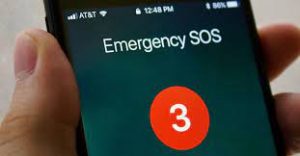 Here we explain how to configure and use this SOS emergency feature on iPhone, Android, as well as the Apple Smartwatch. There may be a slight difference in the steps to enable the SOS feature on different smartphone models but it is very easy and essential to setup up this feature before any worse situation occurs.
Read: Forgot Your Android Passcode? 4 Ways to Get Back In
Firstly to be able to set up the SOS emergency feature on your iPhone, you have to enter the list of your Emergency Contacts. You can easily do this by going to your iPhone contact app and searching for the contacts you want to assign for emergencies. To nominate a contact, tap on their name and click on the "Add to Emergency Contacts" option.

You don't have to set up any emergency functions to be able to use the feature.

To use the SOS feature in an emergency situation, you need to press and hold the wakeup button and either volume up or down button simultaneously. A screen will appear with three options- power off, Emergency SOS, and Medical ID.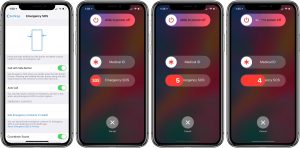 Now you have to swipe the Emergency SOS Slider of red color after which an emergency call will be connected to emergency services.
After finishing the SOS call, a text message will be sent automatically to the emergency contacts that you had set up which will also include your last visible location. If the location changes another text message will be sent out.
NOTE: On iPhone 7 or older, you only have to rapidly press the power button five times. A three-second countdown begins automatically after which a loud siren is blown and a call is set to emergency services.
Read: How To Calibrate An iPhone Battery In 6 Easy Steps
How to use SOS emergency features on Apple Watch
You can also use the SOS emergency feature on your Apple Watch if you don't have your iPhone around.
To do it you need to press and hold the side button on the Apple Watch for a few seconds. A similar screen will appear on the iPhone with three options.
Swipe the Emergency SOS slider down in the same way to place a call to the emergency services.
If you keep holding the side button of the Apple watch instead of sliding the SOS slider, a siren will play and a countdown of five seconds will be started after which a call will be set up to the emergency services.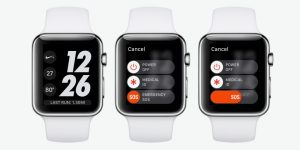 Note: If a SIM card is present in the Apple watch, you will be able to make emergency calls. However, if you don't have your iPhone near you, you can only make the call if you are connected to Wi-Fi, and Wi-Fi calling feature is enabled on your iPhone.

To activate Wi-Fi Calling you have to head to Settings on your iPhone and enable Wi-Fi calling from the Phone menu.
Also Read: How To Install MS Office In Mac
How to use SOS emergency features on a Samsung Galaxy phone
While the Android operating system does not have an inbuilt feature to be used in case of emergency, Samsung mobiles have an emergency feature called SOS messages.
Similar to iPhone, you can assign at most four contacts to your emergency list. These contacts will receive an SOS message when you use this function on your Samsung device.
To add the emergency contacts, you need to go to Advanced Features in the Settings. There you have to select Send SOS messages.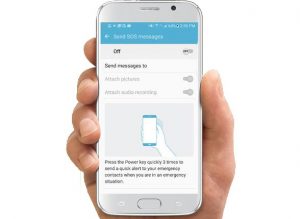 To add emergency contacts, you can choose from the contact list or create a new contact.
To use this feature, you need to press the lock button and hold it for three seconds. A countdown of five seconds will begin after which SOS messages will be sent out to all your emergency contacts.
These SOS messages will have the link of Google Map location, a voice recording of five-second from your microphone, and photos taken from front and back cameras.
Read: How To Fix A Corrupted Hard Drive And Recover Data On Mac?
Conclusion
So that is all you need to know about setting up and using the SOS emergency feature.
We all hope that we don't get caught in any life-threatening or dangerous situation so that we don't have to use this feature but it is wise to be fully prepared and how to use this feature in case of an emergency situation.


Also Read: How To Self-Publish And Market Your Book On Amazon: Step By Step Guide
How To Expand Your Brand/Business On Instagram?- An In-Depth Detailed Guide