iPhone introduced background sounds in iOS 15 and announced it in WWDC this June. Among many useful features, the background sound will stand out for enabling users to 'Focus.' It looks like Apple is doing everything possible to help customers focus better. Given the times we are in, distractions are everywhere.
So, the intention behind introducing the Focus feature and background sounds is the same. It will block out distractions and narrow down your mind to what you need to do at the moment. Anyhow, using the background sounds is just a few steps away.
How To Apply iPhone Background Sounds In iOS 15?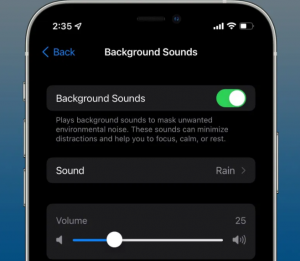 Step 1: Go to the Settings App on your phone and click on Accessibility.
Step 2: Under Accessibility, select Audio/Visual and then choose the Background sound option.
Step 3: Within background sound, there will be six different sounds to choose from. Select whichever you like.
Step 4: When you click on each song for the first time, you must stay online. The songs will first need to be downloaded, and then you can use them as many times as you want.
Step 5: Press the physical volume buttons to control their sound.
Is There A Short Cut To Change The Background Songs In iOS 15?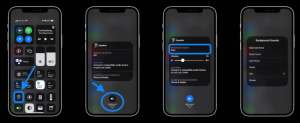 Ideally, developers in Apple should have created an app from where we could access this. Unfortunately, since this is not the case, one has to dig deep within one option after another to play the background songs. However, the Control Center shortcut will help in easing the process of changing background sound.
Go to Settings once again on your iOS device and click on the hearing tile.
Click on the + sign/Hearing tile, which will open 3-4 options. Choose background songs and tap into whichever song is presently allocated.
Click on it and choose other options like  Ocean, Storm, Balanced Noise, etc. And there you have it.
Will Siri Assist In Playing The Background Sounds Yet?
The iOS 15 beta preview users said that Sir is not yet registering the background sounds. So if you command Siri to start background sounds, it is playing random songs from one's playlist. And if you ask it to stop the already playing background sounds, it does not recognize.
Also Read: iOS 15: List Of All The New Accessibility Features Coming To iPhone
How Many Background Sounds Are There In iOS 15?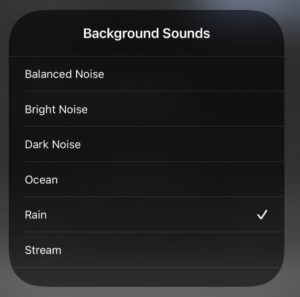 There are only six background sounds so far. They are:
Balanced Noise
Bright Noise
Dark Noise
Stream
Ocean
Rain
Given the limitation, Apple may introduce more sounds after the official release of the iOS 15 later this year. In its iPod, the company had already pre-installed these sounds few years ago. So the operating system has background song experience.
Conclusion
Relax after a hectic day at work by switching on the iOS 15 background songs. The feature also allows you to customize the volumes as per your need. It helps in reducing the ambient noise but slightly tedious to use. Moreover, it may even be boring for someone who enjoys a variety of sounds, after a few days of use.Other new updates on the iOS 15 includes new FaceTime features and video calling. Spatial sound, Wide spectrum and Voice isolation are the key upgrades.
Read to know: How To Downgrade From iOS 15 To iOS 14?