Google Chrome has just released some new features that make it easier to track prices and search through a side panel. With Price Tracking, users can now be notified when prices drop or rise on items they are interested in. This feature makes it easier to track expenses and ensure you're getting the best deal. The new Side Panel Search feature allows users to search directly from the side panel. This makes it easier to quickly find your needed information without switching to a separate page.
Both of these features make it easier to shop online, letting users find the best deals and get the information they need quickly and easily. Let's see how you can utilize these features! These features will help you save time and money if you're an avid online shopper.
Also Read: How To Enable Google Chrome Energy Saver Mode
Google Makes Online Shopping Easy for You
About shopping, Google upgraded its Chrome browser by including a new built-in price tracking tool. It initially made its way to Chrome's mobile version before its way to the desktop version.
You may, according to the article, "monitor the price of a product across multiple internet stores at once." Also, "you'll receive an email whenever the price reduces on any website so you can buy when the price is perfect for you."
If you want to use this function to get price reduction emails, you must sign into the Chrome browser using a Google Account. You can use it by going to any online retailer and choosing the product you want to track.
To start tracking the product, click it and then the Track Price option. The bell-shaped Track price option will be visible in the address bar. To stop tracking a product, click Tracking Price and choose Untrack from the menu.
Also Read- ChatGPT, Google Bard, Microsoft Bing- How They Are Similar But Yet…
How to Keep Track of a Product Page's Price
You can keep tabs on changes in a product's pricing. Follow the following steps:
Go to the product page in Chrome that you wish to track.
Click Track price in the top right corner of the address bar.
Click Done in the Tracking price confirmation window.
Also Read: How To Block Incognito Mode In Google Chrome
To Control Monitored Products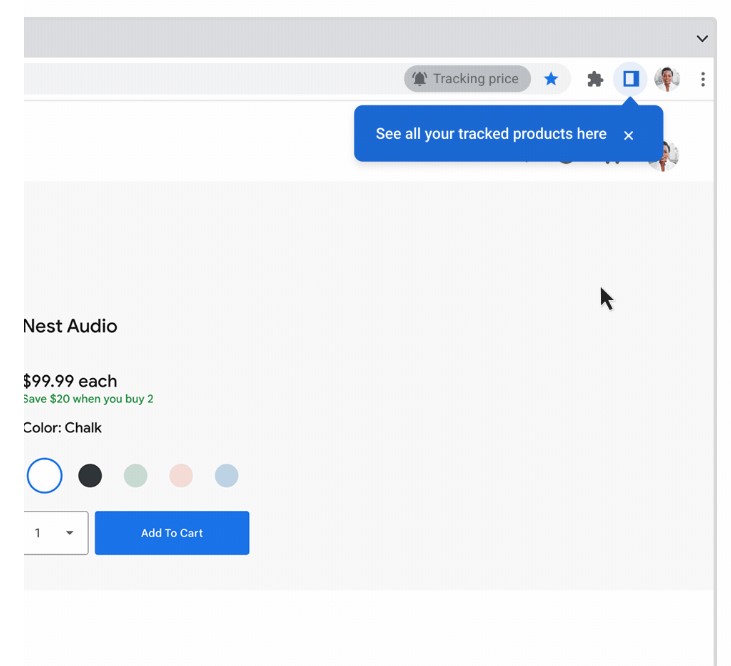 Open Google Chrome on your computer.
Click the Side panel to the right of the address bar.
Choose Bookmarks with the down arrow.
Then select Tracked Products.
To find the product you wish to examine, scroll.
Tap Turn off alerts to stop tracking a product.
To Control Price Tracking Alerts
Launch Chrome on your computer.
Click More in the top right corner, followed by Settings, Sync, and Google services.
Also Read: How To Enable And Disable Screenshot Editor In Google Chrome
Use the Side Panel to Arrange and Prioritize as You Browse
While you browse, the side-by-side format makes it simpler to add to or manage your reading list and bookmarks. For control over your reading list:
Click the Side panel at the browser's top.
Open the drop-down menu, then choose Reading List.
Click Add a current tab to include the open tab in your list.
Click Mark as read to move a page to the bottom. Click Delete to remove it fully.
Expand the drop-down menu to view more panels, such as Bookmarks and Journey.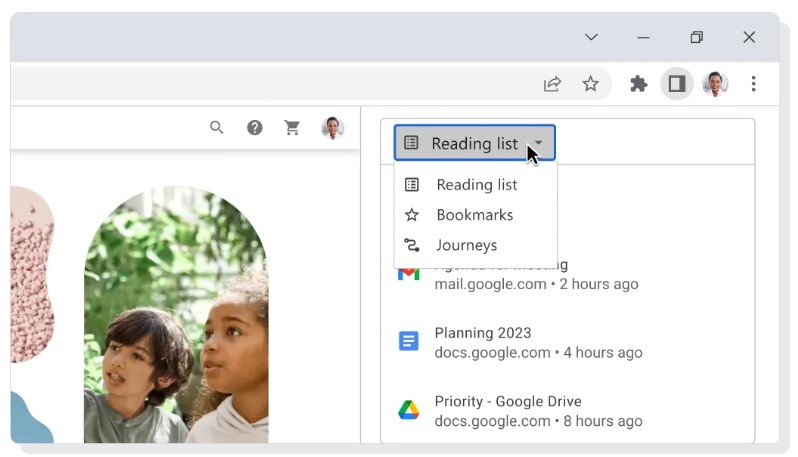 How to control the Chrome Side panel
Your computer's side panel is where you may access your bookmarks, reading list, and search results all at once. Moreover, you may search for pictures using Google Lens and display the results on the Side panel.
Use the side panel
Open Google Chrome on your computer.
Click the Side panel in the upper right corner.
Choose the Down arrow by clicking it in the top left corner of the side panel.
Choose Bookmarks or the Reading list.
Other choices can be accessible if you utilize additional capabilities like Google Lens.
Also Read: Google Chrome's Tips And Shortcuts For Better Browsing Experience
Show Search Results in the Side Panel
Activate Chrome on your device.
Type your search term into the address bar and hit Enter to start the search.
Tap a search result.
Choose the search engine icon on the far right of the address bar or click Launch search in the side panel.
To manage the Side panel
Click and hold the Side panel's side while dragging to resize it. The side panel's placement can be altered as follows:
Activate Chrome on your device.
Next, select Settings, followed by Appearance, by clicking More.
The side you want the panel to open on can be found under "Side panel."
Using the top right arrow, select Close to close the Side panel.
Also Read: How To Pair Chromecast With Google TV With A Bluetooth Accessory