The launch of MLS Season Pass is a game-changer for soccer fans, particularly for supporters of the Portland Timbers. The subscription service is now available on the Apple TV app in over 100 countries and regions. It offers an extensive selection of on-demand content to get fans ready for the 2023 Major League Soccer season.
MLS Season Pass provides an immersive experience with exclusive access to content from all MLS clubs. As well as player profiles for the 2023 season, highlights from the 2022 season, full replays of classic matches, and engaging documentary-style vignettes. It is the ultimate destination for soccer fans looking to stay connected to the sport they love. Whether they're unable to attend live games or simply want to dive deeper into the action.
The Major League Soccer (MLS) is set to kick off its 2023 season on February 25. Moreover, it comes with an exciting new partnership with Apple TV. This collaboration will bring fans the entire MLS regular season, Audi MLS Cup Playoffs, and Leagues Cup all in one place, with no blackout restrictions and consistent match times.
This partnership is a huge step forward for the league. It provides much-needed accessibility that, as LAFC midfielder Kellyn Acosta put it, "will help grow MLS not only domestically, but internationally." Toronto FC's Mark-Anthony Kaye also noted that this move "will alleviate a lot of those stresses for so many of our fans, our families, our friends, and for the players too." As it will be much easier for everyone to follow their favorite teams and players. The partnership with Apple TV will also allow MLS to gain further exposure. It will lead up to the 2026 World Cup, especially with the addition of free matches throughout the season.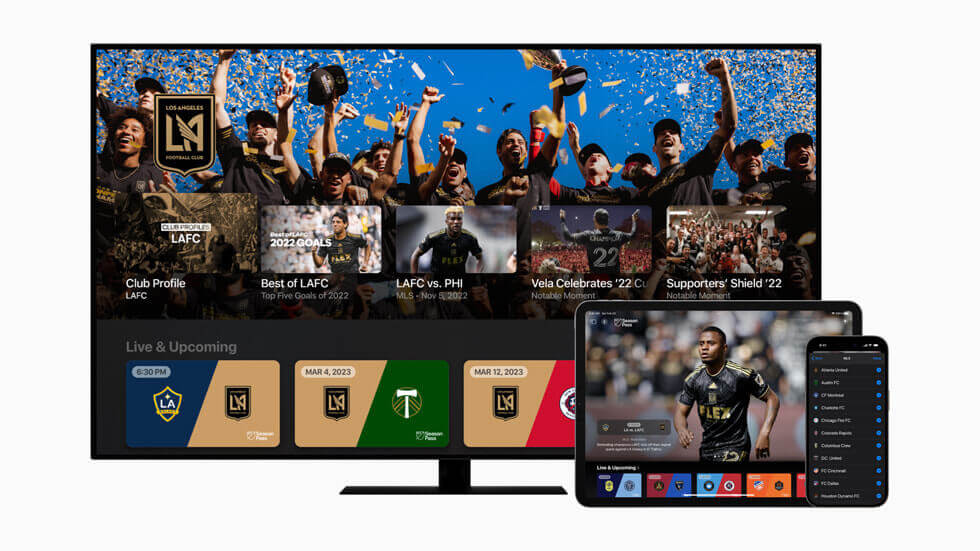 The Ideal Destination for MLS Fans
MLS Season Pass offers a comprehensive content lineup for MLS fans. It includes all MLS and Leagues Cup matches, as well as hundreds of MLS NEXT Pro and MLS NEXT games. Fans can watch matches live or from the start. It includes pregame shows, postgame wrap-up, and a 5-hour live whip-around show covering all key moments from every match. On match days, the live and upcoming matches will be prominently featured. While on non-match days, fans can enjoy match previews, club sizzle videos, highlights, replays, and more. Throughout the season, MLS Season Pass will offer weekly shows, match-winning goals, great saves, and other highlights, curated to showcase the best of the league's action.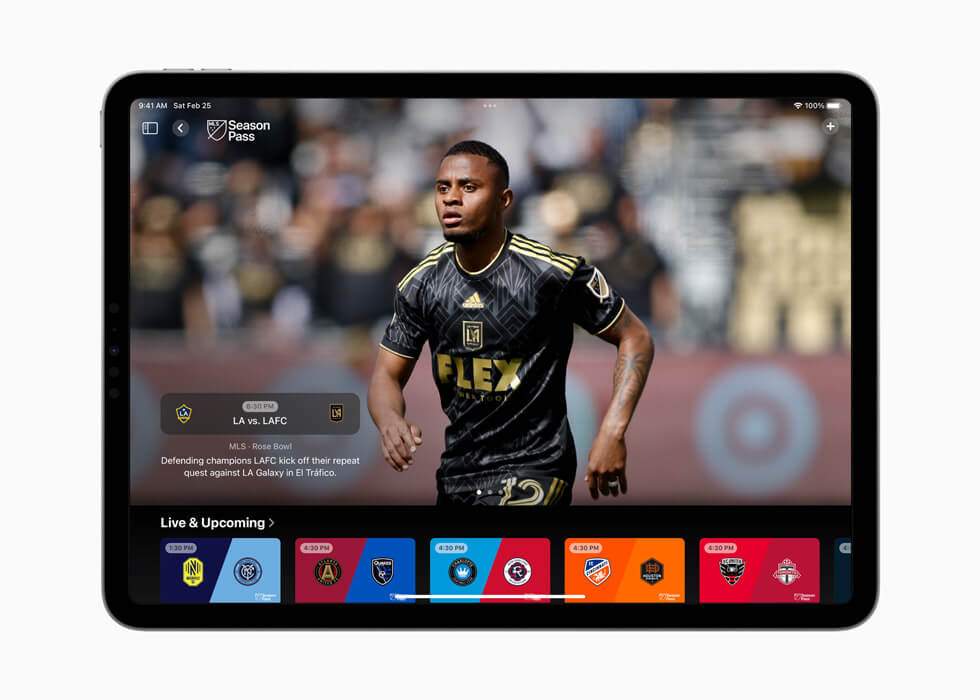 All matches in MLS Season Pass will feature both English and Spanish language commentators. Also, Canadian matches will include French commentary. The pregame shows and postgame wrap-up will be available in English and Spanish. Fans in the US and Canada can also choose their home team's radio for broadcast audio on the Apple TV app if available. The MLS Season Pass coverage will be led by a team of talented broadcasters and soccer legends, who will bring their passion for the sport to the coverage. The complete on-air broadcast team and full production plan for MLS Season Pass will be announced soon. Fans can check the MLS website to learn about the MLS Season Pass broadcast team.
Also Read: Apple Unveils New Education And Awareness Efforts On Data Privacy Day
Exclusive Club Pages
For avid soccer fans, the Apple TV app offers a personalized experience tailored to their favorite club. Once a fan selects a favorite club, all upcoming matches of that club appear in the Up Next watchlist on the Apple TV app. Also, notifications are sent to their iPhone or iPad when their match is about to start. Fans can explore live matches. As well as match previews, interviews, replays, and other key club content, all from a single destination.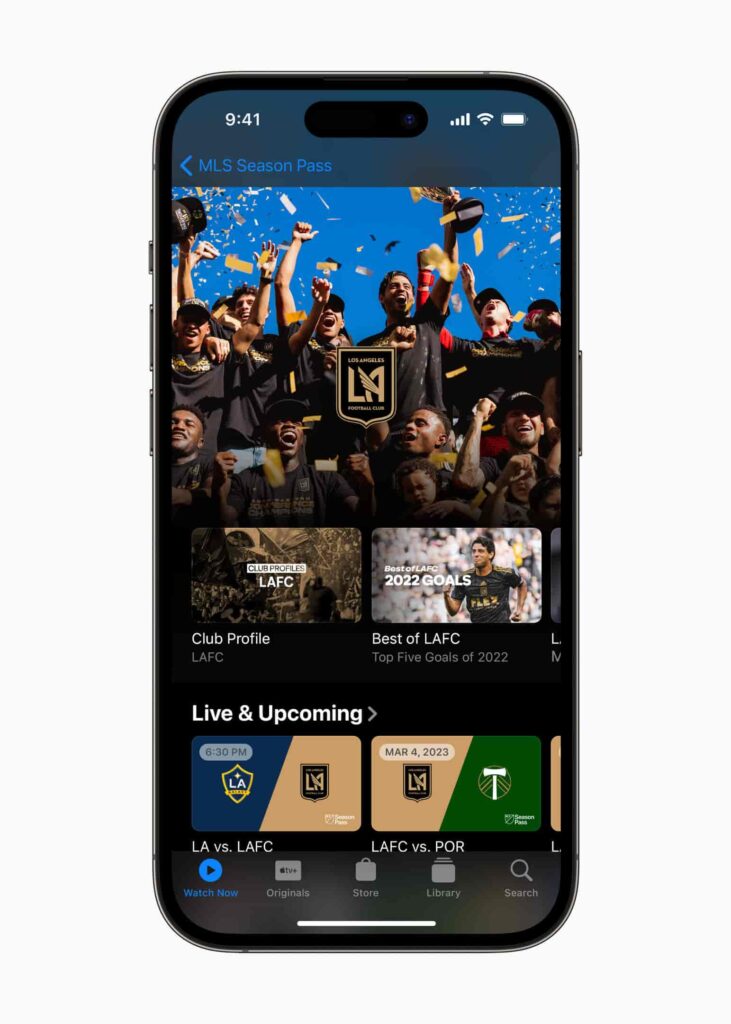 The app also offers a schedule of all matches for their club. Further, it regularly updated features, stories, and highlights. With this personalized service, fans can enjoy the excitement of their favorite club no matter where they are.
Also Read: Major League Soccer and Apple Announce the Broadcasters for the MLS Season Pass
Better Ways for Fans to Enjoy MLS
Major League Soccer (MLS) fans now have even more ways to stay up to date on their favorite teams. Starting today, they can enjoy club-curated playlists on Apple Music. It features songs and artists that embody the culture of their favorite clubs. Additionally, the Apple TV app has a new My Sports section. Hence, this makes it easy to follow their teams and get real-time sports coverage from Apple News.
In addition, Apple Maps now offers Match Day Guides created by each MLS club. It includes recommendations for local bars and restaurants to watch the games, detailed information about their stadiums, and more. Maps also have three-dimensional landmarks of MLS Stadiums. Such as Red Bull Arena in Harrison, New Jersey; Lumen Field in Seattle; and Audi Field in Washington, D.C.
Finally, Siri is inclined to answer any questions about MLS schedules, scores, standings, club rosters, and player stats. With all these new features, MLS fans have plenty of ways to stay up to date on their favorite teams.
Also Read: How To Set Up And Use Apple Emergency SOS Via Satellite?
Subscribe to MLS Season Pass
MLS Season Pass is currently available on the Apple TV application. Fans can subscribe for $14.99 per month or $99 per season. Also, Apple TV+ subscribers can sign up for a discounted price of $12.99 per month or $79 per season. A full-season ticket account will include an MLS Season Pass subscription. It can be shared among up to 6 family members through Family Sharing. The launch of MLS Season Pass marks the start of the 10-year partnership between MLS and Apple. Therefore, it is a historic first for a major professional sports league.
Also Read: Oscar Nominations 2023 – This Time Its Full Of Surprises