Lenovo has made a new announcement at Information Systems Europe (ISE 2023) in Barcelona about the launch of the ThinkSmart View Plus. It is a standalone collaboration display that runs on Microsoft Teams. This new device offers premium audio, video, and whiteboarding features. Moreover, specifically designed for hot desking, phone booths, executive desks, and home office use. Lenovo has also introduced two new products in its portfolio of smart collaboration solutions. The products are the Lenovo IP Controller and the newly available ThinkSmart One. These products aim to enhance collaboration spaces with innovative technology solutions.
Also Read: Lenovo Updates Its Hybrid Learning Portfolio With Windows 11 Laptops
ThinkSmart View Plus
Lenovo has introduced the ThinkSmart View Plus, a standalone collaboration display. Running on Microsoft Teams, the display offers personal and hotdesking experiences to enhance productivity, flexibility, and collaboration. The 27-inch multi-touch display has built-in computing, premium video, and audio. Additionally, it provides access to Teams chat, calendar, and files, while also enabling screen-sharing and whiteboarding.
The device features a passive stylus pen, a 4K IRGB camera with auto-framing, and a premium soundbar with two 5W speakers. Along with a four-mic array, and an ergonomic stand. It also includes a cell phone stand and is VESA mountable. The device is powered by the Qualcomm QCS8250 System-on-Chip. It provides maximum performance for camera and Edge AI applications and supports Wi-Fi 6. According to Shannon MacKay, General Manager of the Worldwide Smart Collaboration Business at Lenovo, the ThinkSmart View Plus design increase productivity, innovation, and employee satisfaction.
Lenovo is one of the world's largest technology companies with a massive global presence. Founded in 1984 in Beijing, China, the company has grown to become a global leader in the industry. Besides, it operates in 180 markets, employs 75,000 people, and generates a revenue of US$70 billion annually. Lenovo ranked #171 in the Fortune Global 500. Moreover, it is listed on the Hong Kong Stock Exchange (HKSE: 992). And on the New York Stock Exchange (ADR: LNVGY). Nevertheless, Lenovo stays committed to creating innovative products that are easy to use, reliable, and secure. The company strives to make technology accessible to everyone. Its products are used by millions of people every day around the world.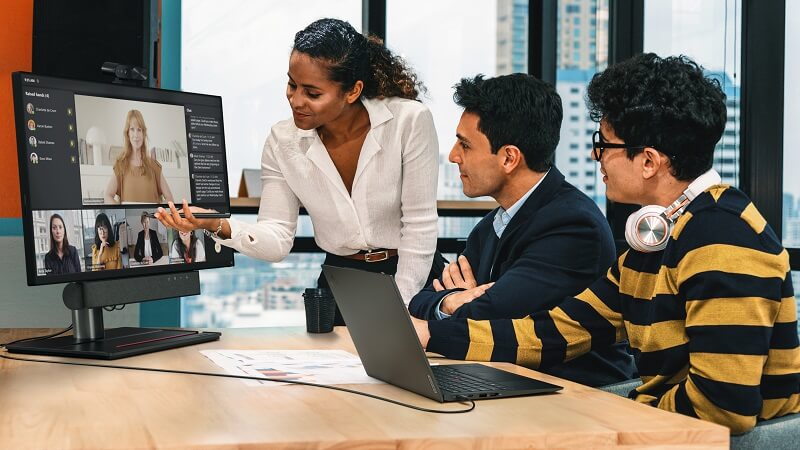 make collaboration easy and efficient
The Lenovo ThinkSmart View Plus is a meeting room device designed to make collaboration easy and efficient. It comes standard with three years of Lenovo's Premier Support, providing access to advanced technicians 24 hours a day, 365 days a year. The support also includes one year of Lenovo's value-added software and services, such as
ThinkSmart Professional Services: Deployment and Maintenance, as well as ThinkSmart Manager – an intuitive software suite for configuring, controlling, and managing an entire fleet of Smart Collaboration solutions.
ThinkSmart Professional Services: Deployment will help companies set up, configure, and integrate the ThinkSmart View Plus into existing unified communications platforms. Furthermore, maintenance will provide remote troubleshooting and technical support of ThinkSmart devices by Lenovo's professional service technicians.
ThinkSmart Manager will allow IT departments to monitor and manage an entire fleet of devices from a single, user-friendly interface.
Overall, Lenovo's ThinkSmart View Plus is an excellent choice for companies looking to make collaboration as easy and efficient as possible. With its extensive customer support and intuitive software suite, it is sure to improve any organization's workplace environment.
Also Read: Lenovo's New Lineup Includes ThinkBook Plus Twist, Legion Gaming PCs & More
More Perceptive Collaboration Solutions
Lenovo's new IP controller is revolutionizing the way we collaborate and how we manage meeting spaces. With its sleek and modern design, the controller allows for easy installation. Also, it uses up to 100 meters from the PC without the need for extenders or complicated wiring. The ThinkSmart One offers a comprehensive audio-visual experience and is designed for small to medium meeting rooms or home offices. It runs on an 11th-generation Intel Core processor. Therefore, it supports popular video conferencing applications and features eight microphone arrays, 15-Watt stereo speakers, and echo. Along with noise-cancellation technology, and a high-resolution camera with a wide field of view. ThinkSmart One is available in February 2023 and promises to bring a new level of efficiency and convenience to the collaboration experience.
Also Read: Microsoft Unleashes Windows 11 Insider Preview Build 25284
Prices and Availability
The Lenovo ThinkSmart family of products provides a unique and powerful solution to productivity with an AI-driven, interactive interface. For those looking to make the jump to smart technology, the ThinkSmart View Plus, ThinkSmart One, and ThinkSmart One with IP Controller offer a variety of options to choose from.
Further, the ThinkSmart View Plus expect to release in mid-2023 and will cost $2,345 in select markets worldwide. Additionally, for customers who want a full package of features, the ThinkSmart One and controller are available from February for $2,899. The Lenovo ThinkSmart One with IP Controller is available from the first quarter of 2023 for $3,100 in select markets worldwide.
Lastly, the ThinkSmart family of products provides an innovative and comprehensive solution for increased productivity. Moreover, it enables users to get more out of their time and resources with AI-driven interfaces. With quality and competitive prices, the Lenovo ThinkSmart family of products is the perfect choice for unlocking the true potential of smart technology.
Also Read: Intel Launched The 13th Gen Intel Core Mobile Processor