Apple recently launched an app known as Freeform, designed for collaborative planning and creative thinking. This app allows users to see, share and discuss on a sole platform. You don't have to worry about the sheet reaching an end by organizing and visually laying out content. Freeform is an infinite whiteboard where you and the people you are collaborating with can scribble, type or even put sticky notes on it. You can add various files and preview them with your colleagues/friends without stumbling upon other apps.
Freeform has made life simpler than ever if you want to invite people to work on a board with you. Users can even collaborate with others while on Facetime calls. Freeform is stored in iCloud which makes it easier to sync across the board. The integration of messages makes sharing boards quite convenient. You can simply drag a board into a Message thread to invite others to collaborate. Freeform shows you the changes being made so you don't lose track of what is going on when working with your team or friends.
There aren't many options at the top of the program, but there are enough to complete the task, and it's all bundled up in excellent software that runs on iPhone, iPad, and Mac. It's wonderful how a new program that functions so effectively right away. You will be compelled to incorporate Freeform into your workflow by its superb design.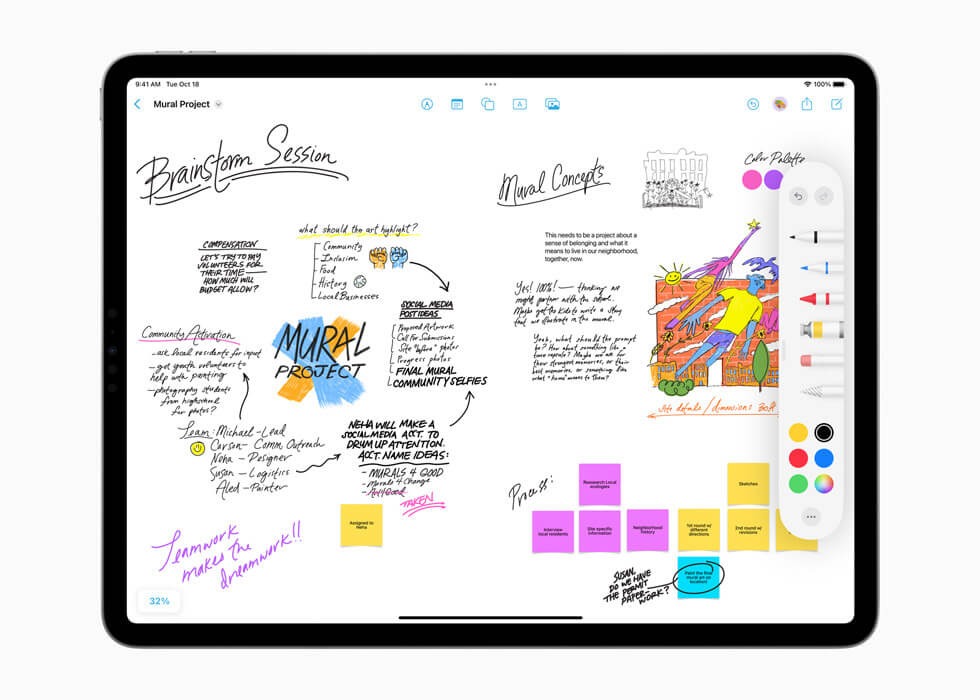 Apple always makes the user interface simpler to use, the same is the case with Freeform. The app is not so complex and doesn't require any guidance. The convenience to use images on board, and choosing brush sizes and colors do not make it just easy to use but also delightful.
Easy-to-use Tools
Freeform provides a selection of brush types and colors that are used to write down ideas, and notes, and create diagrams. iPhone and iPad users can use their fingers to draw anywhere on the canvas. it is pretty simple and fun to sketch ideas on iPad as freeform now supports the Apple Pencil. If you use an iPad and an Apple Pencil, Freeform provides a few excellent, simple drawing tools. It is a wonderful tool for anyone who prefers to sketch down their ideas rather than type them out.
You can scan documents or insert images into the board by using the cameras on iPhone and iPad devices. Freeform offers plenty of options, allowing users to alter the colour and size, add text, and even build custom shapes.
Collaboration Space
Freeform is immensely helpful for solo tasks as well as working with others. When working on group projects or even organizing a trip with friends, Freeform creates a shared space for creation. It allows you to collaborate with over 100 collaborators on the same board.
Simply drag a Freeform board into a Messages thread and invite others to a Freeform board through the collaboration feature. The boards will instantly invite all participants to that discussion, at which point they can start contributing right away. Activity updates will appear at the top of the Messages thread whenever someone makes any changes.
Given that the Notes app is already present, some people might question the need for Freeform, but it does have important distinctions. Freeform's designs and sticky notes aren't available in the Notes app. Hence, you can write anywhere infinitely and collaborate on the board with others. You have a little bit more freedom and undoubtedly more space. A Freeform app is a fantastic tool for folks who are in school or regularly conduct brainstorming sessions or planning in the workplace.
You can do plenty of creative things with the Freeform app. For instance, you can brainstorm ideas and draw them down, or you can create a mood board by adding images to your board which is super easy to do and don't have to download each image individually. You only have to drag and drop the image. Moreover, you can teach using this app as this app has a lot of features like if you don't want the kids to alter anything, you can lock those elements you don't want to be altered, otherwise, you can change the settings to view only.
To know about Freeform App in detail read- Freeform App: Apple's New Default App For Creative Brainstorming and Collaboration