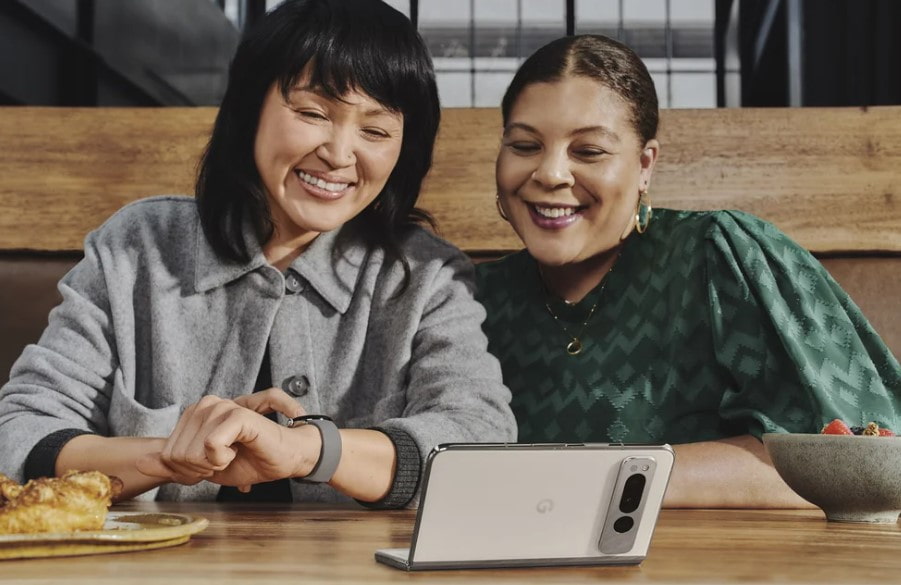 Google, the tech giant of the internet, has launched its debut foldable phone, known as the 'Pixel Fold', which is being acclaimed as the company's finest phone yet. For months, speculations had been rife about Google's entry into the foldable phone market, with several rumors swirling around since the previous year. Nonetheless, the wait for an official announcement finally ended last week when the company released a teaser. Although the phone was introduced at Google's yearly event, it will be obtainable for purchase worldwide commencing the following month.
Google furthermore highlighted several key features of its Pixel Fold phone design. They accentuate that the phone has a conventional smartphone body when it is closed and is effortless to carry around. Nonetheless, when the phone is flipped open, it exposes a 7.6-inch screen that is thinner than any other foldable phone presently available. Google as ever did not compromise on the design or function of the device to achieve this design.
Furthermore, the company has cleverly redesigned many of the Pixel's components, including the camera, battery as well as speakers, and haptic technology, to fit into the thin design. The custom-built hinge is not solely responsible for the phone's slimness but it is furthermore said to be the most durable hinge on any foldable phone. Lastly, the Pixel Fold has an IPX8 rating for water resistance, implying it is protected against water ingress for up to 30 minutes at a depth of 1.5 meters.
Endless Entertainment and Productivity Options with Pixel Fold
Pixel Fold phone screens present endless options for both entertainment and productivity. When the phone is closed, the exterior screen authorizes users to conduct all the routine operations they would wish from a Pixel phone, such as responding to texts, browsing the web, and Google's suite of call assist features. Besides that, when the phone is completely open, the interior screen delivers the advantages of a tablet, with many prevalent apps optimized to take utmost benefit of the bigger screen by watching shows, reading your favorite books as well as playing games.
Furthermore, the Taskbar makes it easy to switch between apps, and a compatible app can be dragged into splitscreen mode to multitask with two apps side-by-side. Dragging and dropping files between various apps, such as Google Photos and Messages or Slides, is furthermore made straightforward in splitscreen mode.
Moreover, Pixel Fold presents a hands-free tabletop mode, authorizing users to relax while watching content or capturing photos and videos without the need for a tripod. This mode is especially useful for YouTube videos, with the top half of the screen playing the video and playback controls emerging on the bottom half with a forthcoming app update.
Pixel Fold Advanced Camera Capabilities
With Google Pixel's cutting-edge technology and advanced camera capabilities, the new phone is being placed as a top-tier device, competing with the likes of the iPhone 14. Its triple rear camera setup, comprising a 48-megapixel primary camera and two more 8-10 megapixel cameras, facilitates users to capture high-quality images and even make movies. Dual front-facing cameras, including one camera with 5.9 megapixels and the other with 8 megapixels, additionally enrich the device's photography capabilities.
The phone comprises a side-mounted fingerprint sensor and fine-quality speakers, while the screen has been upgraded with enriched colors and graphics. It operates on the newest Android 13 operating system and is obtainable memory options of 128GB as well as 256GB, and 512 GB. The Pixel Fold is equipped with a robust battery and comes with a 33W fast charger. All in all, the device seems to be a favorably capable and advanced offering from Google.
Availability
Google's highly anticipated Pixel Fold phone is all set to hit the market with a hefty price tag of up to $1800. The foldable device has spawned a lot of excitement since its groundbreaking introduction by Google. Beginning in June, the phone will be available for purchase, and customers can furthermore pre-order it through Google's website. With its extreme features and cutting-edge technology, the 'Pixel Fold' is envisioned to make a splash in the mobile market.