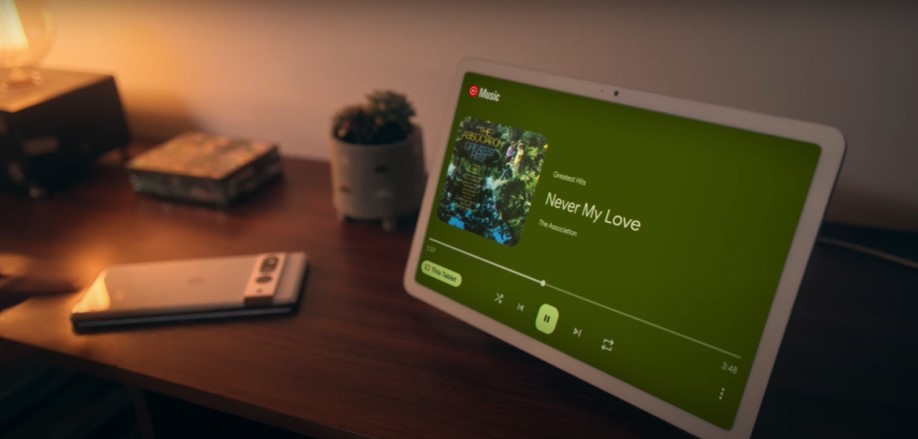 Once again, Google has entered the tablet market with the release of the Pixel Tablet. This device was first previewed the prior year and has presently been thoroughly revealed at Google I/O. The device boasts the latest features of the Android operating system, including the newly developed Google Tensor G2 chip. Besides, it has furthermore been designed with Google's iconic Pixel style, which is famous for its elegant and modern look.
The Pixel Tablet is an entertainment powerhouse with its gorgeous 11-inch display and four high-quality built-in speakers. Besides that, its design exudes elegance and sophistication, with its refreshed color choices of Porcelain, Hazel, and Rose, and rounded edges that give it a modern touch. The tablet's aluminum enclosure is furthermore equipped with a remarkable nano-ceramic coating that adds an extra layer of texture so it's a lot more easy to grip and hold.
In addition, Google has collaborated with the Android team to optimize favored apps such as YouTube, Spotify, as well as Disney+ for the bigger screen of the Pixel Tablet. The Pixel tablet furthermore includes the Google TV app, which is optimized for larger screens.
Moreover, Pixel Tablet is equipped with Google's Tensor G2 chip, which gives it a lightning-fast speed and a much longer battery life. So, in case you tend to play games on your tab, this would be a great option in that aspect.
Productivity Features of the Pixel Tablet with Advanced AI Technology
The Pixel Tablet is built to enhance your productivity and keep you connected with family and companions. It arrives preloaded with up to 50 optimized Google apps, including Google Meet. Besides that, Google Meet is equipped with advanced features that acclimate lighting and facilitate HD video calling on the tablet, guaranteeing that you appear your best at all times.
In addition to its entertainment and communication capabilities, the Pixel Tablet also has AI-powered features that enable users to do more. It has Magic Eraser and Photo Unblur which is the best feature when it comes to photo editing. The tablet furthermore has a split-screen function that authorizes users to work with two apps simultaneously. Additionally, the Assistant voice typing feature makes it easier and faster to write emails. Further, it has Tensor G2 and Titan M2 security chips which ensure multiple layers of protection for personal information.
Enhancing the Home Experience with the Pixel Tablet
To make the tablet additionally more useful in your home, it comes with a Charging Speaker Dock that keeps the tablet charged and comprises powerful speakers for superb sound. When you utilize the tablet with the dock in Hub Mode, it becomes a useful device that you can control hands-free.
You can furthermore use it as a smart home controller to control supported devices like your doorbell or thermostat. The tablet even has Chromecast built-in, so you can relish videos or music from your phone on the tablet.
Availability
The Pixel Tablet, bundled with the Charging Speaker Dock, is presently available for purchase at a price point of $499 and can be pre-ordered online from the Google Store and other retailers. The tablet will be available for in-store purchase on June 20. Besides, Google presents a range of Pixel Tablet accessories including a case with a polished metal ring stand, priced at $79, which authorizes for multiple viewing angles. Moreover, a variety of accessories from Made for Google partners are furthermore available to help protect and personalize the device.
Lastly, after years of endeavoring to foreknow the future of computing, Google has tried myriad operating systems and developed innovative keyboard cases to design a device that rivals laptops in terms of versatility and creative power. Nonetheless, with the release of the Pixel Tablet, Google has taken a quite straightforward strategy and envisions a significant level of interest from probable buyers.