In the present times, online security is a foremost priority for individuals and associations correspondingly. One of the most efficacious ways to protect your online accounts, including your Google account, is to utilize a strong and unique password. Nonetheless, even strong passwords can be compromised. That's where passkeys come in. Passkeys are an added layer of protection that you can employ to sign in to your Google account.
In a step to boost the safety of its users' accounts, Google has newly presented passkey support for all Google accounts. This new feature strives to safeguard users against password reuse, phishing invasions, and the ever-present threat of hackers thieving their passwords. With passkeys, users can presently log into Gmail, Google Docs as well as Drive, and further Google products without needing to enter their password each time.
Furthermore, according to Google, passkeys are a secure and user-friendly option as compared to basic passwords. Users have the option to sign into their Google Account using biometric authentication methods, including fingerprint and face scans with Google Passkeys. The options don't limit to biometrics but users furthermore have the option for device screen locks such as a PIN.
When you create a passkey, it becomes an effortless and fast method to sign in to your Google Account without having to remember a password. Besides that, when you need to make changes to your account that could potentially compromise your security, you will furthermore be asked to verify your identity by employing your passkey.
What are the requirements for Google Passkey?
To set up passkeys for your Google Account, you require to assure that your device and browser fulfill distinct requirements and these requirements differ depending on the type of device you're utilizing. Adhere to the requirements mentioned down below:
In order to create and use passkeys on your devices, your laptop or desktop must have a minimum operating system of Windows 10 and for Mac users, their system should be operating on macOS Ventura. Similarly, to use passkeys on your mobile device, it must have at least iOS 16, and for Android users, it should be Android 9.
you require to operate on a supported browser, such as Chrome 109 or up, Safari 16 or up, or Edge 109 or up. It's furthermore recommended to update your operating system and browser to the latest available release to ensure the best passkey experience.
Further, it's worth noting that based on your operating system and browser, you may not be able to create or use passkeys while in private browsing mode, such as incognito or other similar modes.
If you are someone looking to make your login fast as well as effortless, while furthermore incorporating extra protection against cyberpunks, this article is perfect for you as there is everything you need to know about setting up and using passkeys to Sign In to your Google Account.
Also Read- Google Workspace Accounts Finally Gain Access To Google Bard
How to Set Up Passkeys to Sign In to Your Google Account
Follow the steps below to set up passkeys to sign in to your Google account right away.
Step 1: First, you require to head to g.co/passkeys on your mobile or your PC.
Step 2: After that, you will be asked to enter your login credentials or if you have previously logged in you just have to enter your password and press enter to continue.
Step 3: Now, you'll be directed to a new page where you can create your passkey. Simply click on Continue when the pop-up appears. Your passkey will be saved on your device, although the specific location may differ depending on what type of device you are using. Also, in the scenarios where you are using Android or maybe a Chromebook, Google might have already generated passkeys for your devices. In such cases, you will notice a Use passkey on the same page and you just have to tap on the Use passkeys button to begin using them. And finally, your Passkeys have now been created.
You furthermore have the option to create a passkey for another device, such as a tablet or external security key. Nonetheless, the most convenient way is to create the passkey directly on the device you are utilizing to access your Google account. This way, you can quickly set up and use the passkey.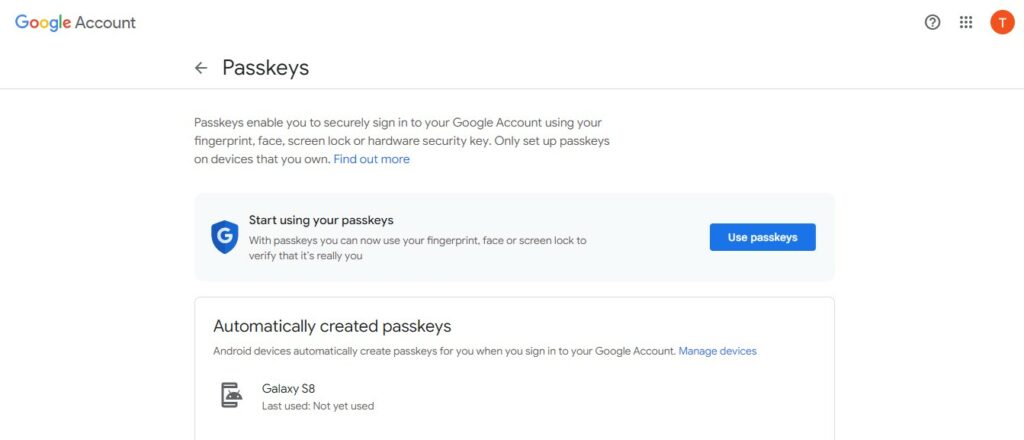 How to Use Passkeys to Sign In to Your Google Account?
After setting up your Passkeys by adhering to the method mentioned above, you can now use Passkeys to Sign In to Your Google Account. To try out using Passkeys to Sign In to Your Google Account, have a look at the steps given below:
Step 1: Start by heading to a different browser other than the one you just utilized to set up your passkeys and proceed to the Gmail login page.
Step 2: Now, once you are on the sign-in page, enter your email and then you have to click next as usual. After that, you will be asked to use the passkey to verify, simply tap on Continue and choose a method from the listed options where you want to receive a notification.
Step 3: After that, you will be asked to enter your PIN or it may ask you to use Biometrics to log in to your account. If you don't receive the notification due to any reason you can also click, you can even sign in utilizing your passkey by scanning a QR code. Simply, open your device's camera and scan the code and lastly follow the link. After that, you will see a prompt asking if you like to use your passkey to sign in, simply tap on the Allow option to proceed.
Apart from that, if you do not want to use the passkeys for any reason, there is still the usual password as well as a two-factor authentication option available to you login to your account.
Also Read- Sleep Soundly: 6 Ways Google AI is Enhancing Your Sleep Experience
Frequently Asked Questions
Can I login to Google without a password?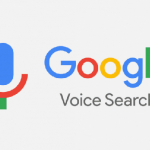 Yes, you can sign in to your Google account without a password. You can use Passkeys instead. Passkeys offer a secure and easy-to-use alternative to traditional passwords. By utilizing a passkey, you can sign into your Google Account using your biometrics, face scan, or device screen lock, such as a PIN. Passkeys are favorably effective in protecting against myriad online threats, making them a strong security solution. You can pursue the guide drafted above to create and use a passkey right away.
Where are my Passkeys stored?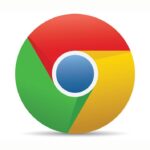 The storage location of passkeys varies depending on the device being operated. For instance, when operating Chrome on Android, passkeys are stored in the Google Password Manager, which permits passkey synchronization across Android devices linked to the exact Google account. On the other hand, if utilizing an iOS device, all of the passkeys will be saved to the iCloud Keychain just like on Android.