Google Drive flags folder containing only "1" as a copyright infringement.
When Google Drive's automated detection systems flagged a nearly empty file for copyright infringement, users were taken aback.
According to one Google Drive user, the file contained nothing but the digit "1."
"1″ as a copyright infringement
Dr. Emily Dolson, Ph.D., an assistant professor at Michigan State University, reported seeing some unusual behavior of the Google drive this week.
'output04.txt,' one of Dolson's Google Drive files, was nearly empty, with nothing but the digit '1' within.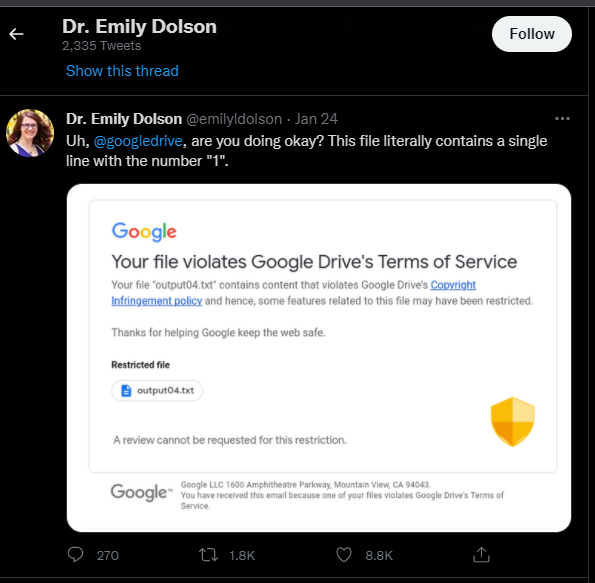 However, as per Google Drive, this file was flagged by Google because it violated the company's "Copyright Infringement policy."
Unfortunately, the warning received by the professor concluded with the phrase "A review cannot be requested for this restriction."
Dolson's file 'output04.txt' was saved in Drive under the path 'CSE 830 Spring 2022/Testcases/Homework3/Q3/output,' prompting the professor to worry if the file location was a factor in the false alert.
The file was saved in the professor's non-educational Google account. It was one of the TXT files which contained documents related to the Professor's homework assignment.
"Uh,@googledrive

, are you doing okay? This file literally contains a single line with the number "1" ", wrote Emily Dolson on Twitter.
Also Read: Netflix's Moderate Growth Numbers Cast A Cloud Over The Streaming Industry
Another Such Case
An anonymous internet user also share screenshots of their google account where Files containing only the digit "1"—with or without newline characters were flagged.
The user wrote, "The 1-byte files contain just '1', the 2-byte file is '1\n', and the 3-byte (not flagged yet) file has '1\r\n',".
It seems that the same behavior isn't confined to files that contain the number "1."
While uploading many computer-generated files to Drive, Dr. Chris Jefferson, Ph.D., an AI and mathematics researcher at the University of St Andrews, was able to duplicate the problem.
Jefferson generated over 2,000 files, each containing just a number between -1000 and 1000.
The files carrying the digits 173, 174, 186, 266, 285, 302, 336, 451, 500, and 833 were soon flagged by the Google drive under Copyright infringement.
Jefferson wrote," "I deleted the experiment, just in case I got my account deleted for too many naughty numbers,".
Google's automatic technique of flagging possible copyright infringement possibilities, according to Mikko Ohtamaa, founder of Defi startup Capitalgram, could be problematic with aspects of the GDPR(General Data Protection Legislation) regulations.
However, as noted by the UK's ICO, GDPR Article 22 aka "automated individual decision-making, including profiling" refers to making automated judgements about individuals based on their online conduct, such as before providing a loan or when making recruiting decisions.
HackerNews user OneLeggedCat writes, "I'd have more sympathy if it weren't 'A review cannot be requested for this restriction'". The user adds, "It's designed to be as brutal and draconian as possible. They chose this. It is guilty until proven innocent, with no recourse."
Google Drive Team's Response
Apparently, there is something wrong with the Google drive that it flagged folder containing only "1" as a copyright infringement. Fortunately, the drive team took note of the issue and responded to Emily Dolson on Twitter.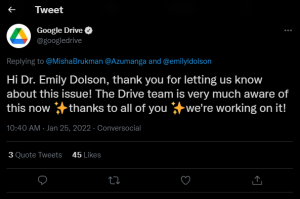 "Hi Dr. Emily Dolson, thank you for letting us know about this issue! The Drive team is very much aware of this now thanks to all of you we're working on it!", wrote Google Drive on twitter.
We are waiting for more clarification and will let all our users soon about this. Keep Reading