The new tough Apple Watch Pro is likely to be a larger form of the Apple Watch Series 8 with new internals, a new design, and other features, and it will be one of several new wearables that Apple will release at its 'Far Out' launch event later today. The following is our complete knowledge about the Apple Watch Pro.
Various names, including Apple Watch Pro, Apple Watch Explorer Edition, and Apple Watch Series 4. It has been bandied about for the high-end or extreme sports edition of the Apple Watch.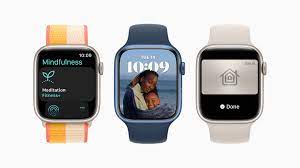 Here is what we know about the explorer premium Apple Watch so far. Since we're opting for Apple Watch Pro for the time being due to this function.
Which name should Apple choose for its rugged wristwatch?
The release of a robust or premium Apple Watch has not been confirmed as of yet, and neither has a name for the device.
Mark Gurman of Bloomberg recommended the Apple Watch Pro, which we agree is a great choice. Although the iPhone, iPad, Mac, and AirPods all have "Pro" variants, the Apple. Watch has been left out thus far.
There have been rumours of an Apple Watch Explorer Edition. The Apple Watch Sport, Apple Watch Max, Apple Watch Active, and Apple Watch Extreme are all possibilities. Obviously, it's possible it could also have a whole other name. Apple Watch Pro, though, has the strongest argument, so that's the one we're using.
When will Apple's newest Watch Series 8 be available to buy?
The release date for Apple Watch Series 8 is unknown. But we have a fair idea when it will be available. There is widespread speculation that Apple will unveil the new device with the iPhone 14 during an event in September.
The September 7 release date beats the Series 6 release date by more than a week. It is more than a month early than the 2017 release date. Apple's newest and most advanced wearable device, the Series 7 Apple Watch, was released on October 15, 2021. On September 18, 2020, the Series 6 was released. With Apple's return to a live event for the introduction. The new model for this year will also be unveiled in front of a crowd.
What will be new about the Apple Watch 8 compared to the Apple Watch 7?
In all likelihood, the improvements introduced by the Apple Watch 8 compared to the Apple Watch 7 will be minor. Though we don't anticipate any major upgrades, the next-generation Apple Watch should nonetheless contain some interesting new features.
Most Apple Watch owners don't replace their device every year like they do their iPhones. There is currently no Apple iPhone Upgrade Program equivalent for the Apple Watch. However, if you know what you're doing, you can probably turn in your Apple Watch for a discount on the brand-new Series 8.
What we hope to see in the Apple Watch Pro
The watch is rumoured to include a bigger display and a metal shell, making it more durable than the standard Apple Watch. The larger dial may be 47mm or 49mm in size rather than the standard 45mm, hinting that the display may be nearly 2-inches diagonally.
Since the Apple Watch Pro is aimed at an athletic crowd. Its larger display will presumably allow for the presentation of more health-related data at once. In addition to the movable crown and the single side button in the style of a pill, the Apple Watch Pro is rumoured to feature a second button. Currently, it is unclear what the extra button is for.
The Apple Watch Pro is rumoured to cost between $900 and $1000, making it the most expensive watch released by the Cupertino tech giant to date.
What we want to see in Apple's upcoming Watch Series 8
The Apple Watch's battery life has been estimated to last for 18 hours for quite some time. However, even with the company's addition of resource-heavy features like an always-on display, you can't avoid needing to charge your device every day. Perhaps the Apple Watch 8's endurance will increase in comparison to its predecessors thanks to a larger battery and a more efficient chipset.
As for a blood glucose reader,
it has been speculated that Apple is working on a feature for the Watch that would allow users to check their blood sugar levels. The Wall Street Journal article indicates that Apple is working on including a method for sensing the user's body temperature into its smartwatch in order to aid in the diagnosis or monitoring of diabetes. It has been rumoured that Apple is looking into noninvasive methods of taking blood glucose readings, while third-party apps currently work with an intrusive pump.
There have been rumblings for quite some time that Apple Watch would be capable of measuring blood pressure and glucose levels. Apple appeared ready to announce the health sensor in the lead-up to the debut of the Apple Watch 7, but the announcement never came. As we have seen, Samsung is having difficulty getting the blood pressure monitor included in the Samsung Galaxy Watch 4 and Samsung Galaxy Watch 3 approved by the FDA.
The current Apple Watch biometric mechanism,
Touch ID, is quite basic. Any time you put on your Apple Watch when it is password protected. You will be prompted to enter your passcode. Given the potentially sensitive nature of the data stored on your smartwatch, additional safety measures are always appreciated.
According to rumors, the Apple Watch may replace its current OLED screen with a more energy-efficient microLED one. It might make it possible for Apple to create a thinner, more energy-efficient watch. Although typical OLED panels have problems with luminance decline, microLED displays do not.
Similarly to the Fitbit Sense,
It features a skin-temperature sensor, Apple is reportedly developing a temperature reader, according to Bloomberg. This feature, which would necessitate new hardware in the Apple Watch to detect temperature. It is expected to debut in 2022, according to a report in the Wall Street Journal.
While the Apple Watch 7 increased in size from 40mm and 44mm to 41mm and 45mm (as confirmed by Apple Watch bands offered on Apple's website). We still wish it came in even larger sizes.
Hardware and Specifications
The Apple Watch Series 8 will likely run on the same chip as the Watch Series 7 and the Watch Series 6. It could be that the tough variant receives a new chip. But for now, the speculations haven't given information on this.
However, the tough Apple Watch variant reportedly features a larger battery, as should be expected given its intended market of extreme sports enthusiasts. It has also been said that there is a low battery mode.
Other than that, we anticipate the same sensors as the Watch Series 7, possibly adding a body temperature sensor.
Final Thoughts
That wraps up all that has been speculated regarding the upcoming Apple Watch 8. The first footage from the Far Out event will be uploaded to YouTube later today. Lets see what does the apple say?