Receiving unwanted emails may be unpleasant at times. One of the most useful tools is Gmail. Many people, on the other hand, utilize this useful instrument to commit fraud or spam. So, if you're annoyed by emails from a specific email address, we've got you covered. Here, we will be discussing how to block an email address in Gmail.
Blocking an email address is fairly simple. This may be done on a variety of devices, including Android, iOS, and a PC. This post will walk you through ways to block an email address in Gmail. Continue reading for more information.
Also Read: Best Tips To Stop Spam On Gmail
How To Block Email Address in Gmail
In a nutshell:
Open Gmail on your computer.
Login to your Gmail account.
Select and open the mail.
Click on the Three-dot icon/More on the top.
Click on the Block Sender option.
Now, let's discuss these steps in detail.
Also Read: How To Change Undo Send Time Period In Gmail
How to Block an Email Address on Computer:
Blocking an email address on a computer is extremely easy. You just need to perform a few easy steps and you are done. So, below is how to do it:
Open Gmail homepage on your Computer.
Now, log in using your Gmail account.
You will see your emails on the Screen.
Just Select the mail which you find unwanted and block its sender.
Click on the selected mail.
Now, just tap the three-dot or More icon on the top-right corner as shown above in the video.
Then, from the menu bar which opens up, Click on Block ABC. Here, ABC is just for example.
And you are done. You have successfully blocked an email address on Gmail via your computer.
Note: In case you have blocked an email address by mistake, you can easily unblock it by following the same steps as mentioned above.
Also Read: How To Change Undo Send Time Period In Gmail
How to Block an Email address in Gmail on a Mobile Device
You can also block an email address in Gmail on a mobile device effortlessly. So, steps to do this are given below :
1. Open Gmail on your mobile device.
2. Open a message from the sender you wish to stop receiving messages from.
3. Choose Block "sender's name" from the menu by selecting More (the three vertical dots next to the Reply button).
4. Tap Unblock sender in the warning dialogue box that displays above the message if you picked the wrong message and banned the wrong person.
How to Block email addresses in Gmail Using Filters
In Gmail, you may establish a block list by creating a rule that sends every incoming email from any sender to the Trash folder as soon as it arrives. So, below is how to do it:
1. Click the Show search options in the Gmail Search Bar as shown below in the screenshot.

2. Type the appropriate email address in the From area. Separate several addresses with the vertical bar (|).
3. For example, if you want to block more than one email address simultaneously, You can write them as demonstrated below:
Abc@example.com|DCG@example.com
4. Now, click on Create Filter option at the bottom.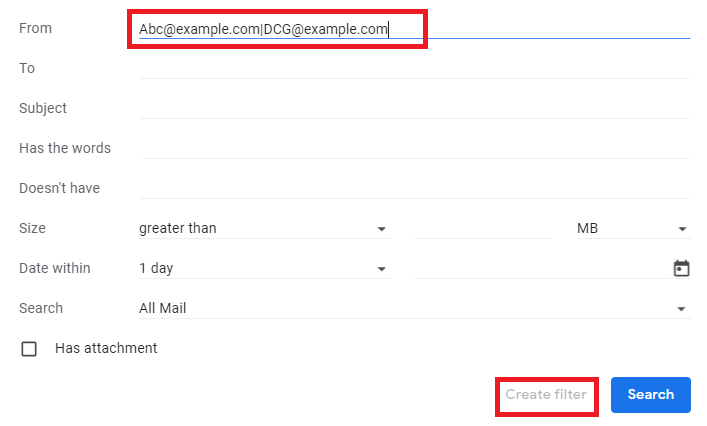 5.Check the box next to Delete it in the search filter dialog box that appears. You can also check other options as well according to your preference.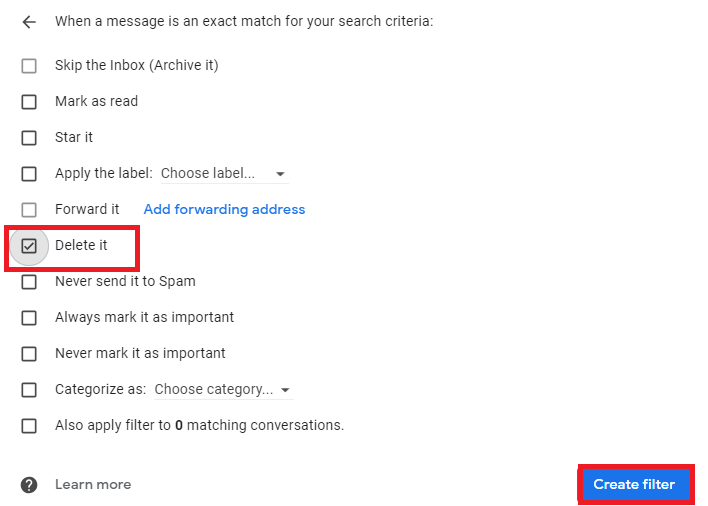 6. Then, click on Create Filter.
7. Messages from the chosen sender(s) will now be sent to the Trash folder.
How to Block Email address in Gmail via Third-party Apps
There are numerous third-party apps and tools on the internet which may help you manage your emails in a better way. In addition to management, these tools and apps also help you take control of the emails you receive. You get the option to block emails from the unwanted senders. And you can do all these things without putting in so much effort.
So, all you need to do is to do quick research in this context and choose the best third-party Gmail management tools as per your preference.
Names of some of such tools are mentioned below:
SendinBlue Email
Front
Zoho Mail
Yesware
Groove
Hiver
So, using these third-party tools you can easily manage and filter your emails in a better and more effective way.
Also Read: How To Send Google Drive Attachments In Gmail
How to Unsubscribe from Emails?
Many times, we get loads of promotional messages on our Gmail account. It can be annoying at times. So, if you are signed in to a website to receive their newsletters but now want to unsubscribe, you can easily do this in a few easy steps. In this case, you don't need to block the sender. So, steps to unsubscribe from mass emails are given below:
Open Gmail on your device.
Sign in using your Gmail Account.
Open a mail from the sender you want to unsubscribe to.
Click on the three-dot/ more option on the upper-right corner.
Click on Unsubscribe or Change Preferences option.
In case you don't find these options, you can resort to options such as blocking or Mark as Spam to get rid of such emails.

Conclusion
So, that's it for now. This is how you can block an email address in Gmail. You also get the option to Unsubscribe or Mark as spam. Moreover, if you get messages which are not appropriate or seek your personal data, you may choose to Report that mail. So, if you face any problems while performing these steps, kindly let us know in the Comment area. We would love to help you.