In this guide, we will explain to you how to move WhatsApp Chats Across Devices. Beginning of 2016, WhatsApp implemented end-to-end encryption for all messages and conversations exchanged through the app. This implies that no one else, not even Meta, may read the content of your messages except for the sender and the recipient.
Despite the fact that WhatsApp has more than 2 billion active monthly users, migrating your encrypted chats and photographs to other platforms or apps has proved difficult. Until now, the only way to move your WhatsApp conversations between an Android phone and an iPhone, or an iPhone and an Android phone, was through third-party apps. Unlike WhatsApp, these apps might be cumbersome to use and don't always provide the same level of data security.
Nevertheless, in the last few months WhatsApp has made it feasible to switch between iPhones and Androids officially (and vice versa), setting up methods to safely migrate data between operating systems and collaborating with phone makers to enable the shift.
Additionally, it is possible to migrate your groups and certain conversation data out of Meta to another messaging service. Learn how to migrate all of your WhatsApp conversations and backups with these simple instructions.
Also Read: How To Recover Your WhatsApp Chat From Local Phone Backup
From an Android phone to an iPhone
The process of transferring your WhatsApp account from Android to iPhone is rather straightforward. However, you should be able to bring the majority of your data with you: It's possible to transfer all of your personal information from one device to another, including your profile picture, conversation history, images, videos, and preferences. It's not possible to transfer your call logs or display name, WhatsApp warns.
Preparation is the key to successfully transferring your WhatsApp data. You'll need the same phone number on each device you switch to. To begin, make sure your Android phone is running the most recent version of WhatsApp. On the iPhone you're going to, you must have at least iOS 15.5 on the iPhone you're moving to. You must have a brand-new iPhone, or have just reset it to factory settings in order for this to work.
This Apple-owned app will perform all the heavy lifting for you once you download and install it from the Google Play Store. To move your data, simply put both devices into a power source and join the same Wi-Fi network on both phones. Connecting an Android phone to an iPhone without a Wi-Fi network is doable using a hotspot.
To link the two devices, use the "Move to iOS" app on the Android phone and follow the on-screen instructions. It is now time to select WhatsApp as your data provider. Once you've done so, you'll be asked to confirm that you want to switch.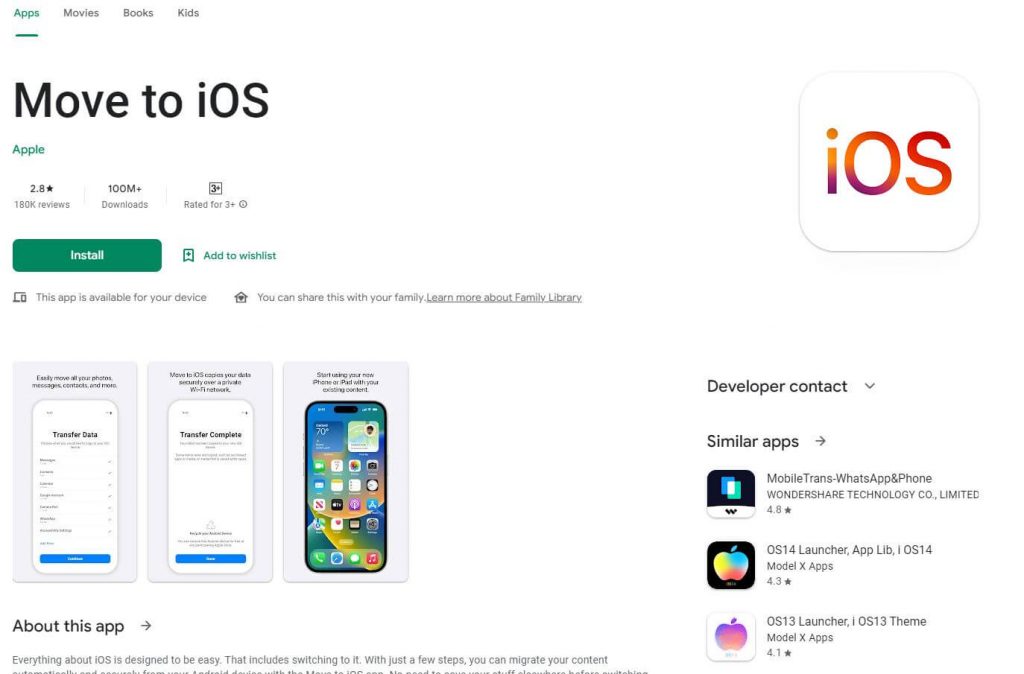 You'll have to re-download WhatsApp on your new iPhone when you log out of WhatsApp on your old phone. It will ask you to enter the same phone number as on the Android smartphone when you first open WhatsApp and prompt you to continue the transfer process. Make sure to perform a factory reset and erase all of your data before disposing of an old phone.
Note: The above transfer method only works when you are setting up a brand-new iPhone, or have just reset it to factory settings. What if your iPhone is already set up and is in use, you will not want to reset it, just to transfer the WhatsApp chat history or for example, the WhatsApp business chat history. If you have any interesting workaround, please let us know in the comment section so we can update this article to help others.
A few users reported that they were able to see the old messages which were archived on their old phone before switching over the WhatsApp account to iPhone. However, this method did not work for me.
Also Read: 4 Techniques To Fix No Audio On WhatsApp Desktop On Macbook Air
Use Chat backup to move WhatsApp from one Android device to another.
Using Google Drive backup is the only way to move WhatsApp to a new phone if both the old and new phones are Android. By default, WhatsApp now creates a Google Drive backup of your chats at 2 a.m. every day. As a result, WhatsApp messages can be easily transferred to a new phone. In order to transfer your chat history into WhatsApp on a new phone with the same phone number, you must have enabled automatic backup on your smartphone.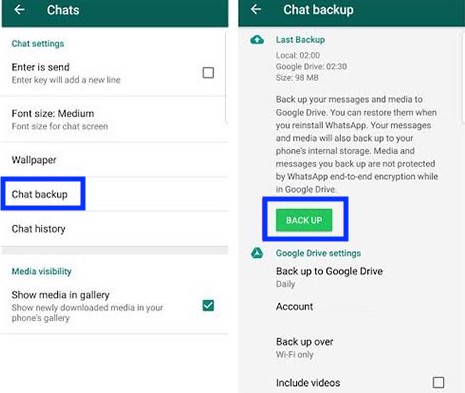 Tap the "three dots" on the corner of your source Android handset to access WhatsApp's menu. In the Settings menu, select "Chats."

To preserve your chats, tap on "Chat backup." With the addition of "BACKUP," you can now do a one-time backup or set up a recurring backup to occur every day, week, or month.

Install WhatsApp from the "Play Store" on your new phone and sign in with the phone number you used on your old phone.

You'll be prompted to restore the backup while you're doing it. If you follow the steps, your chats will be available on your new phone in only a few minutes.
That's how you move WhatsApp Chats Across Devices.
Also Read: Top 10 Upcoming WhatsApp Features 2022!
Transferring WhatsApp from one iPhone to another with iCloud 
We'll use the iCloud backup feature in WhatsApp to move WhatsApp messages from one iOS device to another. Keep in mind that this operation may erase any data that is currently on your phone. So, if you're absolutely on board with the repercussions, make sure to take this path. To transfer WhatsApp messages across iPhones, follow these steps.
On both the source and target devices, activate the iCloud backup function. If it's already been done, don't bother.

Open "WhatsApp" on your source or old iPhone.

Afterward, tap on "Settings" and then "Chat Settings". It's time to back up your chats.

WhatsApp's iCloud server will successfully save all of your phone's communications.

Your new device or the target device can now be used. An excellent place to begin is by downloading WhatsApp.

Go to the login page and enter your phone number to get started.

In this case, you'll have to go back and restore your old chats.

When prompted, select "Restore Chat History" to transfer your conversations to your new phone.
Also Read: Send WhatsApp Messages Without Being Online 2022!
From WhatsApp to Telegram.
Unlike Signal and WhatsApp, Telegram does not come standard with end-to-end encryption. Consequently, experts frequently advise against using Telegram. But if you're still using Telegram, you may transfer your chat history between the two.
Open the chat you wish to move to Telegram and click on the name or details of the chat (using Android). This works on iOS and Android. Tap Export Chat and then select Telegram from the drop-down menu that appears. WhatsApp talks can either be exported to Telegram including images and videos or only chat messages. That's how you move WhatsApp Chats Across Devices.
Also Read: How To Stop Getting Added To WhatsApp Groups?
Switching to Signal from WhatsApp
In terms of security and privacy, Signal is largely regarded as the best texting software. You may learn how to move your text messages between devices and switch to Signal in our tutorial. Despite the fact that you can't simply transfer your WhatsApp chat history to Signal, there are a few things you can do to make the transition easier.
Even if it's easy to replicate your WhatsApp groups on Signal, convincing your loved ones to give up Meta may be more difficult. Open the Signal app and tap the pencil icon to establish a new group. Instead of adding people from your contacts, select the option to receive a link to invite people and then tap on Skip (a QR code is also available). You may now send a link to this page to your WhatsApp contacts, allowing them to switch over. That's how you move WhatsApp Chats Across Devices.
Final Thoughts
To summarise, this page has all the options you need to move WhatsApp from Android to a new phone or from iPhone to a new phone.