Most people don't need to learn how to turn off their Windows computers these days. Because we've been doing it for a long time, we know how to do it well. As a result, most users don't know that there are more than one ways to turn off a computer. Instead, they just use the one method they're used to. 
There are a lot of ways to shut down Windows 11, from the old to the new. 
Also Read: 10 Ways To Fix Windows 11 Battery Drain Issue
You can Shut Down Computer in Windows 11 by going to the Start Menu.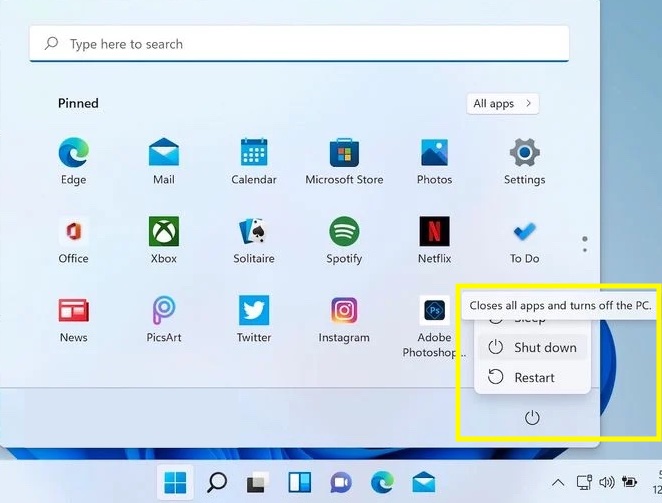 Take the easiest way out of the picture first, then we can move on to the next one. if you are a Windows user for a long time, this is likely the first thing that comes to mind. 
The Start menu search bar is a graphical user interface that has been part of Windows since the time of Windows 95. It serves as a central hub for all of the important Windows programmes and apps. It can also be used to turn off your computer, as well as for many other things. 
Here's how you can start: 
Click on the Start menu icon in the taskbar, or press the Win key to open it. 

When you get there, choose the Power button in the bottom-left corner. 

Click on Shut down from the list of options that are there. 
Also read:Windows 11 File Explorer Tabs Configuration Guide
To Shut Down Computer in Windows 11 with your computer's power button.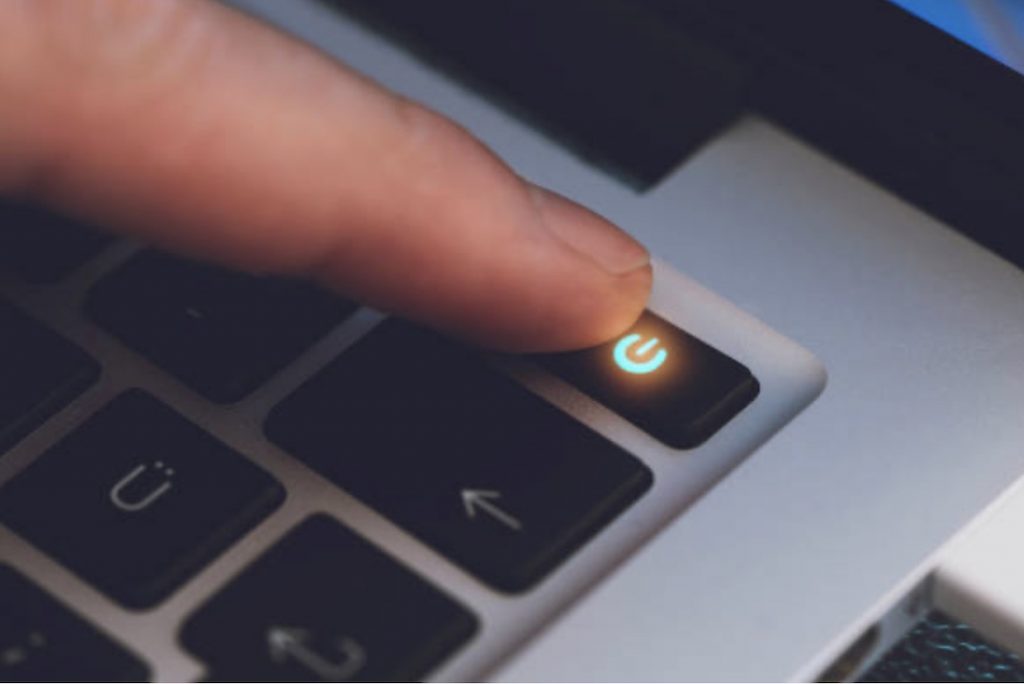 To shut down your computer quickly, you can also hit the power button. There's no need to hold it down, because that will force the computer to shut down. A single press should be enough. 
Before changing anything else, though, make sure you've saved and closed all your files and programmes. After you've done, all you have to do is press the power button once. Then, the computer will shut down. 
It's very rare that your Windows 11 goes to sleep instead of shutting down. This means that your power settings have messed with this setting. 
It's time to fix this. Open the Start menu and type "control panel." Check to see if your Control Panel is set to show large or small icons. 
If everything is done, go to Power Options and click on the button that says "Power." In this case, you can choose what the power buttons do > Whenever I press the power button, I make sure that this is set to "Shut down." 
Also read: 10 Best Tips And Tricks For Windows 11
You can use the Alt + F4 shortcut to turn off Windows 11. 
You don't like the long steps and procedures. We also don't. Fortunately, someone at Microsoft was on the same page as us. 
Make sure you press the Alt and F4 keys together at the same time. Then the shutdown menu will appear in front of you. Then, choose the option to shut down from the drop-down menu and hit Enter. A lot of the time, your Windows will be turned off. 
Use the Power Menu in Windows 11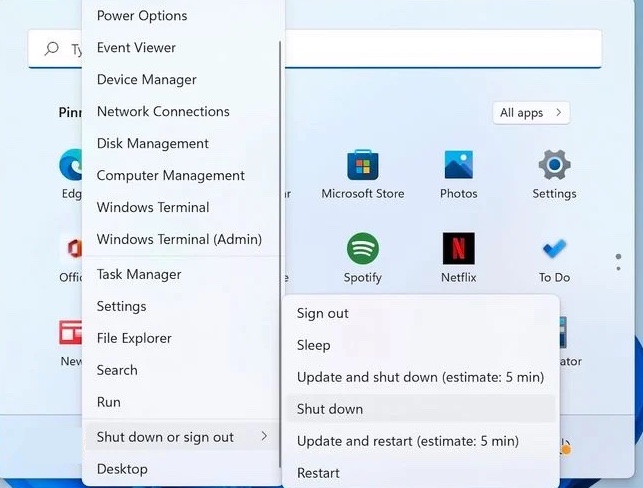 It's another simple way to do this besides the ones we've already talked about. You can use the Power Menu to do this. 
The Power Menu, also known as the power user menu, is the place where all of the important things on a computer are found. If you want to shut down your Windows 11 with the Power Menu, right-click on the Start menu and choose "Shut down or sign out." Then, click on Shutdown to shut down your PC. 
In the next step, you'll choose shut down and your computer will be turned off right away. 
Also Read: How To Update Drivers In Windows 11
Via the command line, you can shut down Windows 11. 
It's not your thing. I don't see why not. Users love command lines because they can be in charge of how things work. 
To start, type "command line" into the Start menu search bar. Then, choose the best match from the list. 
On the command line, type shut down /s and hit Enter to start the process. It will say, "You're about to be signed out." 
In this area, you can choose from the following power choices: 
Then, switch users. 

Sign out of your account. 

Shut off 

Restart 
Shut down your PC from the lock screen. 
Of course, you can also get to the power settings from the Lock Screen, as well. It's on the bottom-right corner of the screen. Press the Power button. 
After this, your Windows 11 will shut down for a short time. 
Windows 11 PCs can be shut down with the keys CTRL + Alt + Delete. 
On our list, we also have the Ctrl + Alt + Delete shortcut, which you can use to close your PC. 
To open the options screen, press the keys together and then click on the one you want. Using the Power button, click on Shut down. In the same way that other things shut down your computer, it will do the same thing. 
Also read:Amazing Windows 11 Keyboard Shortcuts You Should Know!
The last words 
You can shut down your computer in a lot of different ways, as shown above. It doesn't matter whether you use a keyboard shortcut or the command line to turn off Windows. If you follow the steps above, your computer will be turned off quickly.