If you want to transfer data from iPhone to android and vice versa, there are a lot of hindrances. A few years ago, it was impossible unless you found a workaround for it that only a few experts could do. However, it's 2021, and technology has advanced tenfold times.
Therefore, today, you can quickly and smoothly transfer data from your iPhone to an android smartphone. And the best thing is you can do it for free all by yourself. Follow this tutorial for all the available ways that can help you in the process.
Also Read: How To Connect To A VPN On Android?
Transfer Data From iPhone To Android Using MobileTrans
Step 1: Go to Google Play Store and download MobileTrans – Copy data to the android app. It is a free app to download and install.
Step 2: Click on Install, and it is going to automatically start downloading and installing. Moreover, Play Protect is verified, so it is indeed safe to install on your device.
Step 3: After the installation is done, go to your app section and launch the application. Click on Agree after reading the terms and conditions.
Step 4: In addition, click on Allow for access to photos and videos as it is safe.
Step 5: Moreover, you can choose between two modes to transfer data, first, through a USB cable and second wirelessly.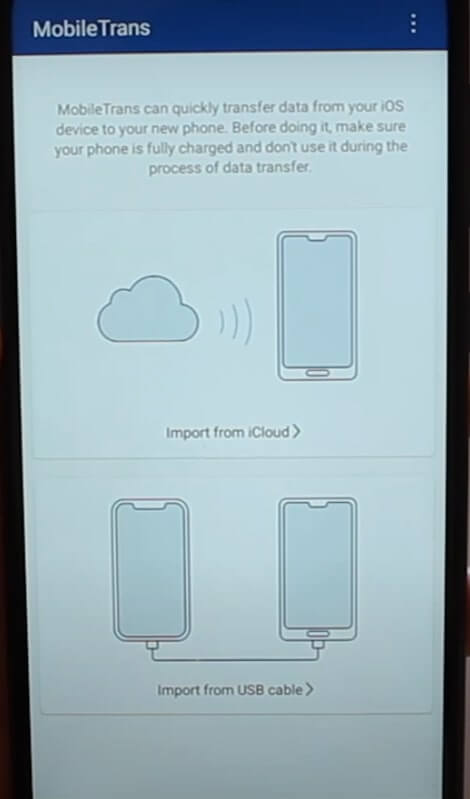 Step 6: If you have the USB cable, just plug it in the ports of both the mobiles. However, since everyone does not have a USB type C cable handy, you can choose to transfer via iCloud.
Transfer Data From iPhone To Android Via iCloud
Step 1: It is going to ask you to enter your Apple ID and password. Once you enter your credentials, it will pull out all the data you have stored in the cloud server.
Step 2: On your iPhone, go to the Settings app, go to your profile and tap on iCloud.
Step 3: Make sure that all your data, files, photos and videos are turned on for syncing.
Step 4: Moreover, go to your Apple ID on your android smartphone and type in your username and password. Tap on Done.
Step 5: As you begin signing in to your Android phone, it will send a notification to your iPhone. Click on Allow.
Step 6: You will receive a code in your iPhone, which you must enter on your android phone. Click on verify.
Step 7: Now, you don't need your iPhone anymore. You will be able to see the data that is synced with your iCloud.
Step 8: If you want to transfer all your data like Calendar, Photos, Videos and Contacts, you will have to pay a subscription fee for a year. To use it for free, you can only transfer one of the above.
Step 9: Furthermore, click on Start Importing and wait for the data to transfer.
You need to make sure that your android phone has enough storage for all the heavy files and data that are you are transferring.
Step 10: Click on Exit.
Now you can check if all your data is there on your android phone, and then your transfer will be successful.
Must Read: Best 5 Mobile Apps for Sharing Large Files Instantly
How To Transfer Data From Android To iPhone, iPad, and iPod Touch?
Transferring data from android to iPhone is also an easy process. All you have to do is go to the Move To iOS app from Google Play Store.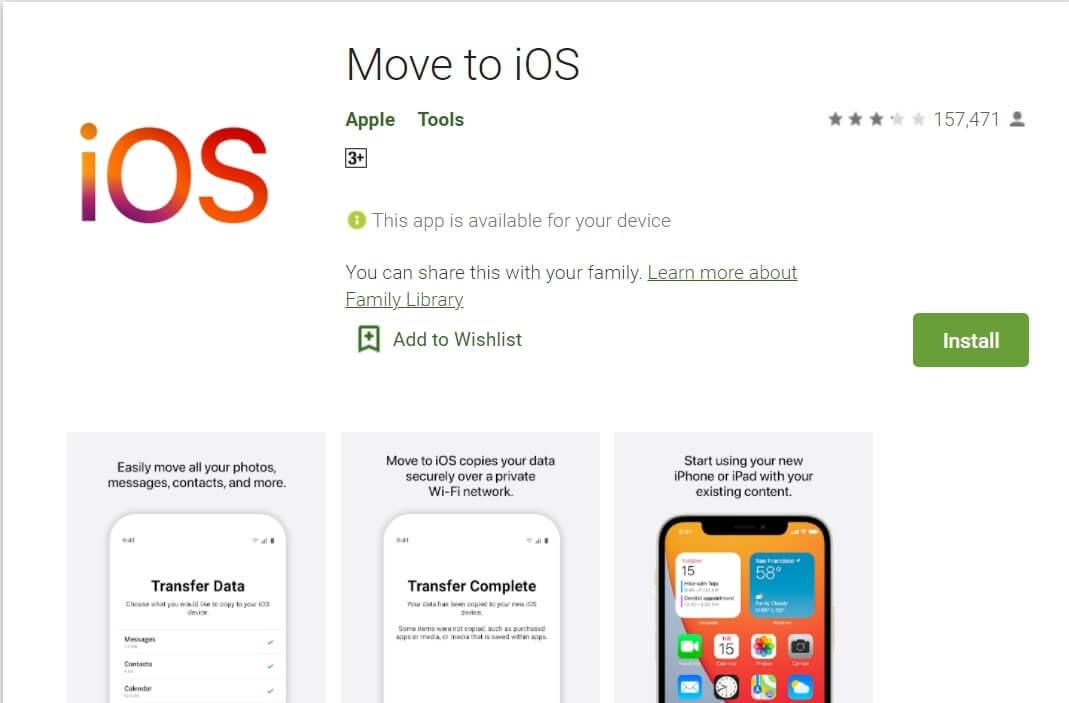 Download and install the Move To iOS app.

Click on Move data from android in your iPhone in the Apps and Data tab.

Launch the Move to iOS app on your android phone and click on Continue. Moreover, you have to read the terms and conditions before clicking on Agree.

Once you see the move from the Android screen on your iOS device, click on Continue.

A code will appear on the screen, which you have to enter on your android device.

Moreover, select all the data and files you want to transfer and click on Continue.
Conclusion
Earlier, due to a closed network in the iOS device, users could not send or receive any information or data. Furthermore, you can now choose from hundreds of third-party applications to transfer your data from an iPhone to android and vice versa.
Read: How To Find App's Country Of Origin Using App Country Finder And Manager?