Apple has recently unveiled the dashing iPhone 13 and we're sure you can't help but drool over it. If you're an Apple fan, we bet you are thinking about upgrading to iPhone 13. When you'll upgrade your iPhone model, you might want to transfer all the data from the old iPhone to the new one. If you don't do it, all your important data exiting on your previous device will be gone forever.
A few years back, it was quite problematic to transfer data between two iPhones; the data transfer process also caused data loss. Thankfully, these issues have been fixed by the recent iOS upgrades and the entire data transfer procedure is very hassle-free. Further, there is no loss of your contacts, settings, messages, photos, apps, etc when you transfer them to your new iPhone.
So without wasting any time, let's take a look at the three ways that make it possible to transfer data between the two Apple Smartphones.
Also Read: How To Fix iOS 15 Stuck On 'Update Requested' Screen On iPhone
Transfer data from old iPhone to new iPhone using Quick Start
This is the simplest way to transfer data from one iPhone to another using the Direct Transfer Procedure. Let's see how to transfer data using QuickStart.
First of all, you need to enable Bluetooth and Wi-Fi on your old iPhone powered by iOS 11 or later.
Now you need to keep your new iPhone near the older one. Make sure the new iPhone is turned on.
A new card saying 'Set Up New iPhone' will pop up on the screen of the old iPhone. Tap the 'Continue' button on the card.
Now, a moving animation will appear on the new iPhone and you have to drag the animation inside the circle using the older iPhone.
As soon as you do it, the two models will start connecting.
You'll be prompted to enter the passcode of your older iPhone on the new one.
Once you do it, follow the steps on the screen to set up your Face/Touch ID.
You might be asked to enter the password of your Apple ID on your new iPhone. If you have any other Apple devices, you might have to enter their passcodes as well.
Finally, you will be offered an option to restore the apps, settings, and other data from the latest backup on iCloud. If your old device is connected to Wi-Fi, you can also update your current device backup and restore it later.
Choose either of the backup options and pick the transfer settings based on your location, privacy, Siri, and more.
Also Read: How To Clean Your iPhone's Charging Port?
Transfer your data using iPhone Migration to the new iPhone
This is a modification of the prior technique that can be used to transfer data if both your iPhones are running on iOS 12 or above.
iPhone migration technique transfers data either wirelessly or using cables and adapters to connect both the iPhones. Keep in mind you are not allowed to use any of the two iPhones until the transfer is completed.
Pre Requisites for Wired Transfer:
Lightning to USB 3 Camera Adapter
Lightning to USB Cable
Charger with 12W or higher

Set up required for Wired Transfer:
First of all, connect the Lightning to USB 3 Camera Adapter to the lightning port using a 12W or above power adapter.
Now you have to plug the Lightning to USB 3 Camera Adapter and the old iPhone model together.
Finally, connect the Lightning cable with your new iPhone and the USB port with the Camera Adapter.
Also Read: How To Fix iPhone Screen Stuck On The Apple Logo?
iPhone Data Migration Procedure(Wireless and Wired Method):
For Wired transfer, Set up your iPhone as stated above and follow the Quick Start Transfer method from step number 3.
For the Wireless transfer, you need to keep both the devices near each other and follow the same steps.
Transfer your iPhone data using iCloud
Here's how to use iCloud to transfer data to the new iPhone:
First of all, you need to back up the old Smartphone. Here's how to do it:
Go to the 'Settings' app on your old iPhone.
Tap the Apple ID > iCloud > iCloud Backup.
If the iCloud Backup on your iPhone is not enabled, do it by switching the toggle to on position.
Wait for the backup process to get completed.
Turn off your old iPhone once the backup is completed.
Now, let's set up the new iPhone and restore it from iCloud backup.
Turn on your new iPhone and press the Home button or swipe up the screen.
Select your Region and Language.
Select the Manual Set up option and connect your device to Wi-Fi.
Set up your Face/Touch ID.
After completing these steps, an 'Apps & Data' screen will appear on your iPhone.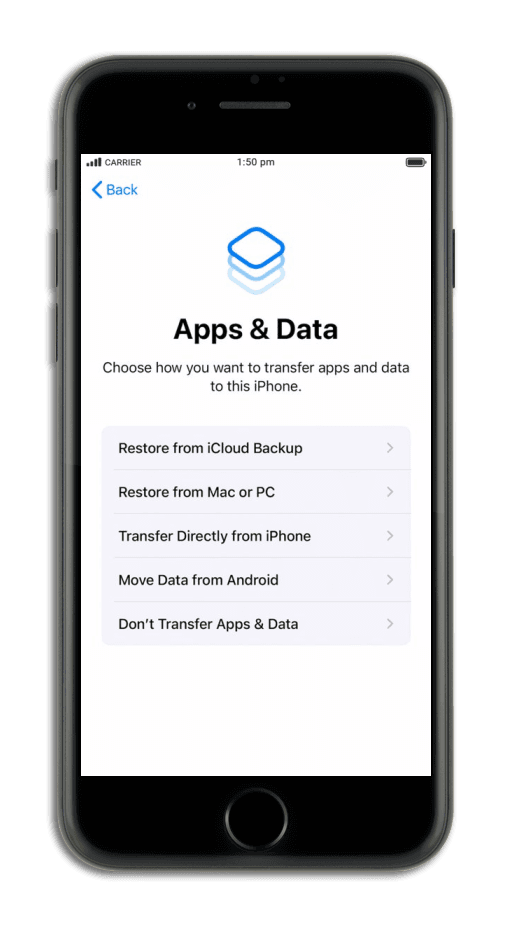 Here, you need to tap the 'Restore from iCloud Backup'.
Use the same Apple ID as you were using on your old iPhone.
Agree to the terms and conditions if prompted.
Finally, select the recent backup that you have created.
Conclusion
So you see how easy it is to transfer data from your old iPhone to your new iPhone. All these methods do not cause data loss during the data transfer method. We hope this guide will help you to transfer data to your new iPhone during the setup process.
Also Read: How To Block Apple Ad Tracking On iPhone And iPad Logo?