Now that we live in a world where climate change is a daily reality, the best weather apps are must-haves for your Android or iPhone. These days, the weather may change quickly. Whether you step outdoors and are met with hurricanes, severe temperatures, or loads of UV rays, a reliable weather app can help you get ready for whatever is in store, whether it's today's prediction or next week's.
Even the preinstalled apps on your iPhone or Android device show temperatures and a brief forecast. (Did you know that the iPhone has a secret, interactive weather map built in?) The most comprehensive weather applications go above and beyond the norm. Everything from hyper-local, comprehensive forecasts to radar photos, severe weather alerts, and data on air quality may be part of such data. Some apps even allow you to keep tabs on the moon's phases or check the weather in your intended travel spots.
Because the best weather apps prevent you from being late for more than just an umbrella appointment, you may want to look at the various choices available. These are our 5 recommendations:
1. Emergency: Alerts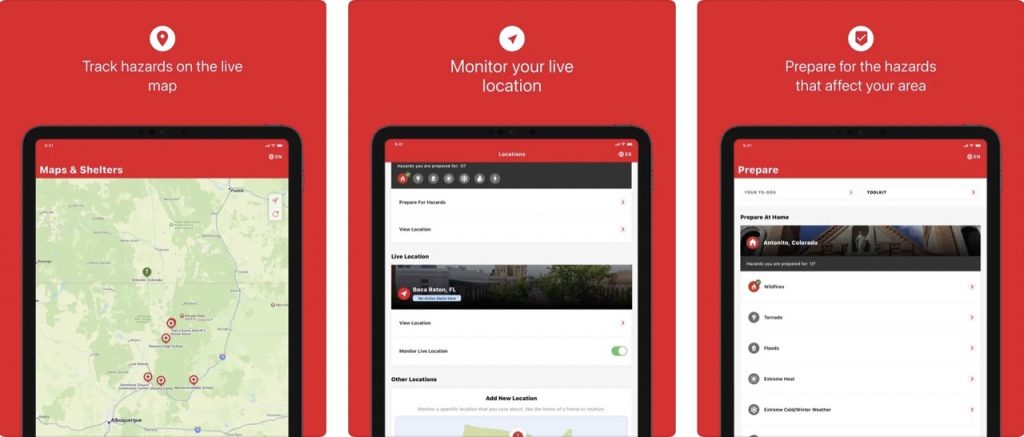 Even though you hope you'll never need it, having Emergency: Alerts from the American Red Cross on your iPhone or Android device is a wise precaution to take in the event of a natural disaster.
Emergency: Alerts are useful year-round, not just in the hurricane season because it monitors various emergencies, from hurricanes and floods to excessive temperatures and winter storms. Not only may you enter your home city and the names of people that are significant to you, but Emergency will also keep tabs on your location. In light of the increasing frequency and severity of extreme weather events brought on by climate change, the app has been updated to provide users with a wide range of notifications and advice to help them better prepare for such events.
2. Weather on the Way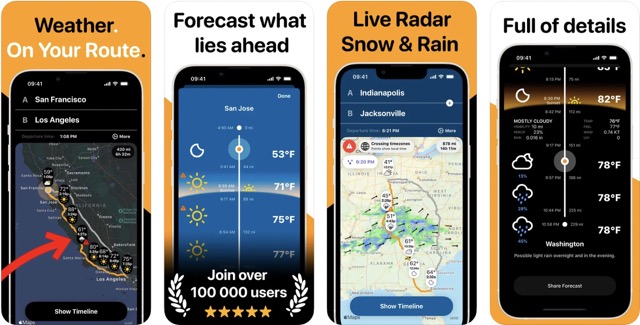 The app's name has morphed from "Weather on the Way" to "On the Way," but the idea behind it hasn't: the weather can vary radically during a road trip, so having that information on your phone can help you have a safe trip.
If you want to know if you'll be driving in rain, snow, or other potentially hazardous conditions, you may download Weather on the Way for free and use its navigation tools in conjunction with severe weather alerts.
The free version serves its purpose enough, but Weather on the Way Pro ($4.99 monthly or $24.99 annually) is a vastly superior tool. Users with a paid subscription get access to premium services such as suggested detours, enhanced road visibility, and more comprehensive data regarding weather factors like precipitation and wind speed. Weather on the Way can be a reliable traveling companion for long-distance excursions, ensuring you get where you're going without incident.
3. 1Weather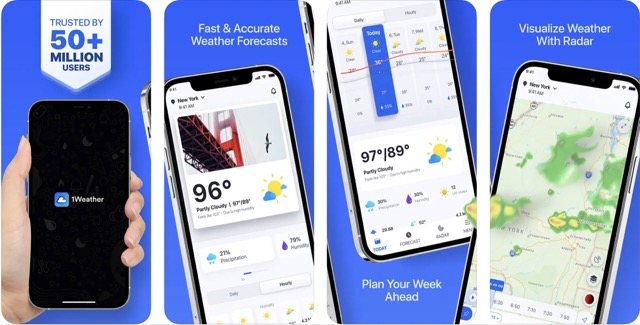 This well-designed weather app provides a wealth of information without overwhelming the user with jargon or complexity. Stay ahead of any impending weather concerns with the help of the storm tracker, tornado warnings, and temperature shifts. There is a 48-hourly prediction, a 10-day forecast, and a 12-week forecast for those who like to plan further in advance. Everything from wind speed and direction to barometric pressure may measure and track, and up to 12 different sites can be monitor at once.
You may get a quick, basic prediction, or you can go into radar maps, graphs, and even the moon's phases on 1Weather. This app also features films, maritime and aviation predictions, and individualized weather notifications. A weather widget is included, so you may view the current forecast without leaving your home screen.
Maybe the greatest free weather app is 1Weather. 1Weather is the best free weather app available. The adverts aren't too annoying, and you can always spend the extra $2 for the Pro edition if you want to. 1Weather provides all the essential weather data you require, despite the advertising.
4. Dark Sky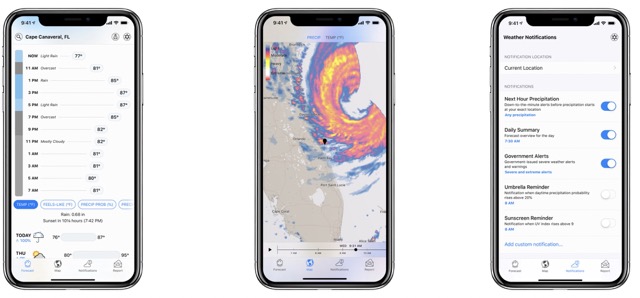 According to our research, Dark Sky is the top weather app available. While it's not free like the rest of our recommendations, it's hard to beat for avid weather watchers. The software backs by a major tech company (Apple) and records all kinds of weather (including hurricanes, tornadoes, and lightning) so that you can prepare for any eventuality.
Specifically, Dark Sky's minute-by-minute forecasts are where it really excels. You can get these accurate forecasts up to an hour in advance, and you can get them for the next seven days, as well, in increments of an hour. The straightforward design of the app displays the current and weather conditions and temperatures, and it can even alert you to impending precipitation so you aren't caught off guard. Since the essentials can be accessed from an Apple Watch app, you won't need to carry your phone around.
However, the graphics are what we appreciate most about Dark Sky. They're classy and refined, qualities that are rare in weather apps. Dark Sky stands out from the crowd because it takes a different approach to weather app maps than most others. The lack of advertisements and the low, one-time price make it a better deal than similar programmes that charge every month. You can test the app's functionality for free for seven days before deciding whether or not to subscribe.
5.RadarScope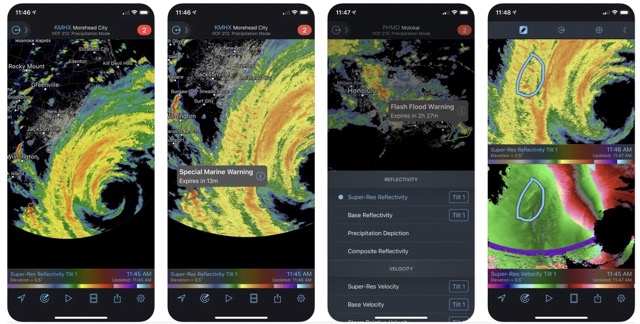 Our next app isn't going to be a weather app or even one that gives you a forecast. RadarScope, in actuality, only provides a single dimension of information, namely radar images. Despite this, it performs admirably in the context of its sole purpose. If you want to keep an eye on the weather, this is one of the most useful apps available. The radar images are updated every two to ten minutes, and the weather alerts are superimposed on top. Not only do you have access to radar information like velocity and estimated precipitation but also to around a dozen other parameters that are unavailable in your average weather app.
Even though it's not in need, we strongly suggest investing on a RadarScope Pro Tier 1 subscription. In addition to gaining access to more than two hours of data, you will also gain lightning and dual-pane radar data and the option to loop up to 30 frames. Not only may Tier 1 users compare two radar products side-by-side and have access to a data interrogation tool that can quickly identify data values for specific radar pixels.
Advanced features, such as SPC outlooks, mesoscale discussions, local storm reports, hail size and probability contours, and azimuthal shear contours in the U.S., a 30-day archive of all radar products, and the ability to use subscription features across multiple platforms are available with a Tier 2 subscription. Although it may appeal more to nerds, the price is reasonable if you need such information.
Concluding Remarks
Try out some of these applications and keep an eye on local forecasts to prepare for any eventuality. Hopefully, after exploring options outside Apple's Weather app, you could settle on the perfect one for your iPhone or iPad.