If you possess an iPhone, have you updated to iOS 16? Anyone with a supported device can download and install the update, which unlocks several previously unavailable options and customizations.
Before its release alongside the iPhone 14 in September, iOS 16, first revealed in the spring during Apple's WWDC presentation, went through many beta versions. New features and enhancements have been added to this version of iOS to enhance your iPhone's functionality. This includes a lock screen with more customization options, the ability to go back and change messages that have already been received, and a powerful photo editor. And the battery % bar has returned.
New features abound in iOS 16, which Apple recently launched for the iPhone. An entirely new lock screen is at your disposal. The Mail app has been updated to include several new functions that bring it closer to the functionality of Gmail. The Messages app has seen some of the most significant changes. When you send a message to the wrong person, Apple now allows you to delete it or change it before it's delivered.
Following the installation of iOS 16, follow these steps to make changes to and erase previously sent iMessages. To be clear, the ability to modify and remove iMessages is exclusive to Apple's messaging app.
Here's the quickest way to update to iOS 16!
Read on if you want to know how to update to iOS 16 or another operating system. The steps to updating the iPhone's software.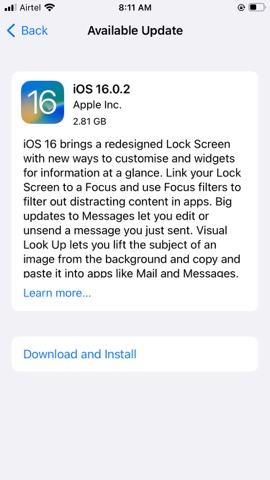 Open the Settings.

Access the General menu.

Choose to Upgrade Software.

The update should be visible; if so, just click it and follow the on-screen instructions to put it on your device.
You may be confused if you visit your iPhone's Software Update page and find iOS 15.7 available for download and installation. You can skip installing iOS 15.7 if you only want to upgrade to iOS 16 by scrolling down to the bottom of this page and tapping on the appropriate upgrade button.
It is unnecessary to update to iOS 15.7 before upgrading to iOS 16.
For iOS 16, Compatibility
When it comes to iOS, which Apple products are compatible with version 16? Any iPhone 8 or later from the last five years can update to iOS 16.
The headline is true, but users of older devices should know that they may not enjoy all of iOS 16's features. To use the LiDAR scanner, which is only included in the iPhone 12 Pro and beyond, you'll need to use the new Live Captions accessibility function, which Apple says is only compatible with the iPhone 11 and later.
In comparison to this time last year. This is a significant shift. iOS 15 will support devices as old as the iPhone 6s (2015) and the original iPhone SE, Apple said at WWDC 2021. They are no longer compatible, and even the iPhone 7 has been removed from the list of approved devices. It could be time for an upgrade if you're using one of these iPhones.
The iPhone functionality of editing iMessage in iOS 16
Launch the Messages app on your iPhone running iOS 16.

Locate the thread in which you wish to make changes and the message you wish to alter.

Focus on the message for a while

Select Edit


Once you're satisfied with your edits, click the blue checkmark to save them.

You have 15 minutes from the time you send an iMessage to make changes to it before those changes become visible to the recipient. You can tap "Updated" to see the original and the edited message(s), or tap "Hide Edits" to see only the most recent edit.
Fix iMessage's Limitations.
Apple warns users of older iOS versions that they will see both the original message and the follow-up messages with the words "Edited to" before the updated message in quote marks if they use the unsend iMessage capability in iOS 16.
As may be guessed, SMS texts can't be changed once they've been sent.
If you send a message to someone using iOS 16, and then edit it. They will receive a notification indicating that the message has been modified.
However, as mentioned above, you only have 15 minutes to make changes to an iMessage after sending. A message can be revised up to five times.
Thoughts in Concluding
What's more, that's all it takes! Next to where the read receipts usually show up, some small grey text reading "Edited" should appear. Don't be too stealthy with your message adjustments. The recipient should also have this text informing them that the original message has been edited.