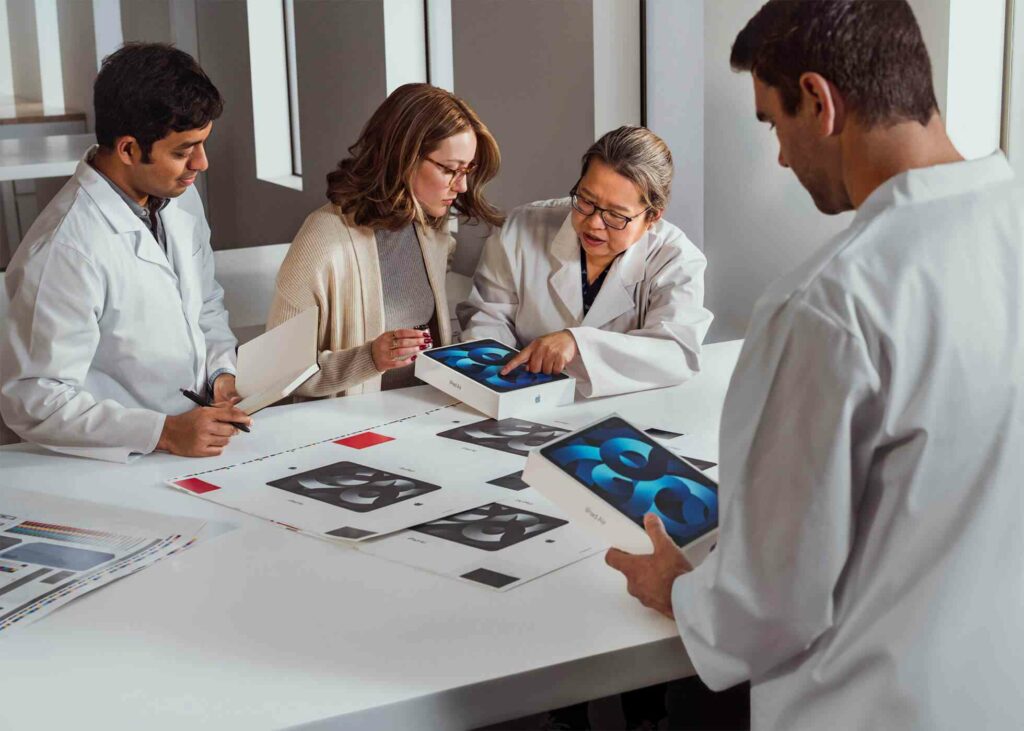 On April 13, 2023, Apple unveiled a new goal to incorporate 100 percent recycled cobalt in all of its battery designs by the year, 2025. This ambitious pursuit is part of Apple's more comprehensive agenda to augment the use of recycled materials across its products. The company furthermore aims to use entirely recycled rare earth elements in magnets and 100 percent recycled tin soldering and gold plating in its printed circuit boards by 2025.
Apple has been making substantial gains toward its sustainability plans, and its latest announcement reveals its devotion to ingenious solutions that defend the environment.
In 2022, Apple boosted its use of recycled metals, with over two-thirds of aluminum, nearly three-quarters of rare earth, and more than 95 percent of tungsten in its products coming from recycled materials. These efforts bring Apple closer to its goal of making all products with recycled and renewable materials and achieving carbon neutrality for its products by 2030.
Apple's CEO, Tim Cook, emphasized the company's commitment to environmental sustainability, and Lisa Jackson, Apple's vice president of Environment, Policy, and Social Initiatives, underlined the company's ambition to use 100 percent recycled and renewable materials in its products while working towards carbon neutrality.
Apple's Mapping the Path to 2025
Apple has made significant progress in using 100 percent certified recycled cobalt, rare earth elements, gold, and tin in its products. Apple's target is to utilize 100 percent recycled cobalt in all their batteries designed by 2025, while also incorporating 100 percent recycled rare earth elements in the magnets used in their devices. Apple has furthermore expanded the use of recycled rare earth elements from 45 percent in 2021 to 73 percent in 2022, and by 2025, nearly all rare earth in Apple products will be 100 percent recycled.
Besides, Apple is working towards utilizing 100 percent certified recycled gold plating on all printed circuit boards by 2025 and has already augmented the usage of recycled gold in various components and products.
Apple is also making advancements in eliminating plastics from their packaging, utilizing fiber choices and innovative printing approaches to lessen plastic usage. These efforts have helped detour significant amounts of plastic waste and carbon emissions.
Advancements in Ethical Sourcing of Primary and Recycled Materials
Apple is taking steps to lessen its dependency on newly mined minerals and support communities dependent on mining. This incorporates partnering with organizations like the Fund for Global Human Rights to provide support for human rights and environmental defenders in regions like the African Great Lakes, as well as vocational education programs for community members looking to transition away from mining.
Apple's uncompromising dedication to sustainability is transparent in its emphasis on prioritizing 14 key materials, including aluminum, cobalt, copper, glass, gold, lithium, and others, as part of its persistent efforts to integrate recycled and renewable content in its products. These materials make up about 90 percent of the total materials utilized in Apple's cutting-edge devices, spotlighting the company's dedication to creating more environmentally responsible products.
In 2022, approximately 20 percent of the materials utilized in Apple products were sourced from recycled or renewable sources, including the usage of recycled copper foil in the iPad, authenticated recycled steel in the MacBook Air battery tray, 100 percent recycled tungsten in the Apple Watch, and aluminum enclosures made with a recycled aluminum alloy in many Apple products.
Apple's Innovation for the Future of Recycling
Apple's pioneering efforts in research and development for end-of-life disassembly and recycling have been instrumental in driving progress toward sustainability. Through collaborations with renowned research institutions and their Material Recovery Lab in Austin, Texas, Apple's engineers and experts are actively developing innovative techniques to give materials in their products a new lease on life.
Further, their focus on design decisions that support disassembly and recovery is evident in their state-of-the-art iPhone disassembly robot, Daisy, which effectively separates batteries from other components, allowing specialty recyclers to recover valuable materials like cobalt and lithium. Since 2019, Daisy has facilitated the recovery of over 11,000 kilograms of cobalt, which has been reintroduced into the secondary market.
Additionally, Daisy has helped in the recovery of rare earth elements, which are often lost in traditional electronics recycling processes, further showcasing Apple's commitment to sustainability and responsible resource management.
In conclusion, Apple's commitment to innovation in recycling and disassembly is exemplified by their Daisy and Dave robots, which are driving industry-wide change. Daisy, their iPhone disassembly robot, and Dave, their Taptic Engines disassembly robot deployed in China, are helping accelerate the recovery of rare earth elements.
Apple's usage of overhead projector-based augmented reality systems ensures the safe and efficient disassembly of devices like MacBooks and iPads, while furthermore prioritizing human health and safety. They also publish Apple Recycler Guides for global recyclers. These initiatives, combined with their use of recycled and renewable materials, demonstrate Apple's dedication to achieving carbon neutrality by 2030.