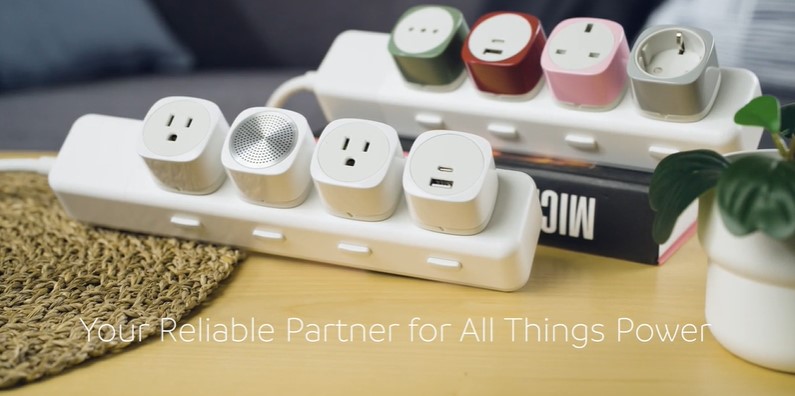 In the past, most of us have possessed simple power strips that have proven to be useful but have certain limitations. Thick adapters can be a problem for many of them, and they oftentimes lack the capacity to alter their arrangement or upgrade their features. This is where CuBLOCK- The power strip comes just in time to rescue us all. You must be wondering what are these CuBLOCK, well, let's find that out, shall we?
What is CuBLOCK and why do we need it?
The CuBLOCK Modular Power Strip advances the traditional power strip to a whole new level with its modular design. It presents a one-of-a-kind solution that allows you to tailor your power strip to suit your individual requirements. Besides that, the CuBLOCK is not solely well-designed, but it furthermore delivers a dynamic and pastel colorful powering experience to go with your interior. With 90° adjustable plugs, you can conveniently organize your cables. Furthermore, the CuBLOCK equips other features, such as a sensor lamp, Bluetooth speaker, 45W fast charger backed by GaN technology, and additional modules that you can select from to customize your setup.
The reason we require these CuBLOCK is that it presents a modular design that authorizes customization based on specific power requirements. We get to decide from a range of modules such as USB Type-A and Type-C ports along with fast chargers to create a personalized power strip that meets our specific requirements.
Secondly, traditional power strips usually have confined or fixed outlet layouts, making it hard to plug in devices with bulky power adapters. The CuBLOCK's 90° adjustable plugs authorize more significant flexibility when arranging devices, assuring that bulky adapters do not consume multiple outlet spaces, which is a common problem with traditional power strips.
List Of All Functions in the CuBLOCK
90° Adjustable Plug
Bluetooth Speaker
Switch Conveniently to your Desired Socket Type
A Sensor Lamp
45W fast charger backed by GaN technology
Design Features of CuBLOCK Power Strip
The CuBLOCK is developed to deliver versatility and flexibility in a manner that customary power strips cannot match. This is accomplished through its detachable plug extensions that can acclimate sockets of various countries. Besides that, the CuBLOCK is certified to function in nine countries, namely the United States, Canada, Japan, the United Kingdom, and Italy as well as Germany, France, Australia, and China.
Additionally, The lock mechanism of CuBLOCK ensures that the modules are firmly attached, with a force of up to 20 pounds, in order to prevent unintended detachment. The safety switch of the CuBLOCK furthermore shuts off when an overload ensues, providing protection from power surges.
Lastly, the design of the CuBLOCK is quite visually appealing, as it arrives in a span of trendy pastel color options that complement each other pleasingly, making it easy to quickly identify various plugs.
Specs And Dimensions of the CuBLOCK
#1. Specs
CuBLOCK boasts an impressive array of specifications, which includes:
Flame retardant rating of UL94 V-0
Max power rating of 1875 watts (15A/125V)
Cable length of 6 feet/1.8m
AC joule rating of 185 joules
USB power input: AC 100-240V, 50/60Hz
Further, the USB power output includes:
USB-C: 15V/3A, 20v/2.25A, 12V/3A, 5V/3A, 45W Max, 9V/3A
USB-A: 5V/3A, 9V/2.0A, 12V/1.5A, 18W max
USB-A: 5V/2A, 10W max
USB-A + USB-C: UCB-C: 5V/3A, 27W max
#2. Dimension
The CuBLOCK comprises a base as well as a separate cube that is attached to the base. The dimension of the individual cube and base respectively are:
Cube: 50x 50 x 35 mm (1.96 x 1.96 x 1.37 inch)
Base: 314 x 64 x 45 mm (123 x 281×177 inch)
Furthermore, when assembled, the cubes are attached to the base, and the overall dimensions of the CuBLOCK are 12.3 x 2.51 x 3.18 inches (314mm x 64mm x 81mm). This signifies that the height of the CuBLOCK even more increases to 3 1/8 inches (81mm) when cubes are attached to the base.
How Safe and Durable are CuBLOCKS?
The safety feature of the CuBLOCK power strip is built with fire-retardant material that meets the UL94VO fire retardancy level standard. This assures that the power strip is negligibly conceivable to ignite or spread fire in the event of a malfunction.
Besdies, CuBLOCK has an outlet shutter. It is a sorta protective cover that precludes dust and further particles from penetrating the base of the power strip, potentially inducing damage or malfunctions. Further, the outlet shutter averts accidental contact with the live electrical components of the power strip, which can pose a risk of electric shock.
As for Durability, the Socket Cubes have passed worldwide standards, withstanding up to 15,000 pull and plug tests which means that it is built to be durable and able to withstand regular use over an extended period of time span without degrading in performance or becoming sabotaged.
What is Kickstarter?
Kickstarter is a crowdfunding platform that supports an expansive array of creative projects, varying from art & craft and music to technology and design. These ingenious and visionary projects are made attainable by the direct support of backers.
The CuBLOCK project is one of the projects of Kickstarter. The prominent aspect of this platform is that they concede that unanticipated occurrences may arise despite their planning and preparation and thus they promise to communicate transparently with their backers and work to resolve any issues that may emerge in a timely manner. They show their full commitment to delivering the highest quality units to assure convenience and superior experiences for their users.
Final Thoughts
The CuBLOCK is a versatile power strip that caters to individuals with dynamic lifestyles. Whether you're a recurring traveler or a student desiring reliable charging options, the CuBLOCK is an immaculate choice. With its sleek design, modular features, and special functionality, it has become a must-have accessory for staying connected and powered up. Besides that, the CuBLOCK is mainly suited for rental properties or hosting international travelers, as well as for conference rooms where teams from various locations gather. All-in-all the CuBLOCK Modular Power Strip stands out with its distinctive modular design and customizable features, delivering a flexible powering solution.