Microsoft made an announcement regarding DirectStorage which is an API designed for Windows PCs. Though, it was originally intended for the Velocity Architecture featured in the Xbox Series X consoles. DirectStorage is a novel approach for games to access data on storage devices, enabling faster and more efficient loading of game assets. This API will be comparable to DirectX 12 Ultimate, which is a graphics API that empowers games with advanced rendering features.
In addition, by integrating DirectStorage into a game and utilizing a compatible PC, gamers can foresee notable refinements in loading times and general game performance. This is conceivable because DirectStorage will authorize games to quickly access and load assets from the storage device, which indicates games can load more swiftly and display more intricate and expansive virtual worlds than before. In brief, DirectStorage will enrich the gaming venture by delivering best-in-class IO technology to both PC and console gaming.
What is DirectStorage and how does it work?
Modern SSD and PCIe technologies, particularly NVMe, enable gaming PCs to have storage solutions that deliver higher bandwidth than older hard drive technologies, resulting in faster load times. Nonetheless, modern games load more data more efficiently by breaking assets into smaller pieces and only loading what is necessary for the current scene, generating more IO requests. Existing storage APIs cannot tolerate this high number of requests, creating jams that limit game performance invariant with fast hardware and NVMe drives.
Therefore, DirectStorage for PC is a solution to the changing storage and IO landscape in PC gaming. It is an API that will support NVMe drives on distinct systems, enriching the gaming experience. Further, Microsft also noted that, if DirectStorage is not supported on your system, there is no need to worry for you as games will resume to function as they always have.
The DirectStorage API works by moving the decompression workload from the CPU to the GPU, the new DirectStorage API accelerates the procedure. As the files must be generated by the GPU after decompression, this relocation assures that the files are in the correct location when that ensues. As a consequence, the CPU is liberated to conduct further tasks and is no longer delayed down by the decompression workload.
Besides, when game developers choose to take advantage of DirectStorage, the results can be astounding – Microsoft claims that load times can be up to 40 times faster. With such impressive performance enhancements, you may even find yourself experiencing near-instantaneous loading times in some cases.
Also Read- How To Enable Or Disable Open Search On Hover in Windows 11
What are the Requirements for DirectStorage and How to use it?
DirectStorage is a game-changing technology built into the latest Windows operating system, Windows 11. You don't have to stress about enabling it as it's already incorporated into the system. As long as your PC has the required hardware specifications and you're playing a game that supports DirectStorage, this feature will furthermore automatically be employed to enrich your gaming by enhancing load times and prevalent game performance. To take advantage of DirectStorage, your computer must fulfill or surpass the following requirements mentioned down below:
An NVMe SSD, with PCIe 4.0 is the recommended choice for optimal performance
A Graphic card that supports DirectX 12 as well as Shaded model 6.0
You are running Windows 11 OS (While Windows 10 even supports DirectStorage through a patch, it's favorably advised to operate Windows 11 for the best experience.)
Also Read- How To Delete Windows.old Folder In Windows 11
How to Check DirectStorage Support in Windows?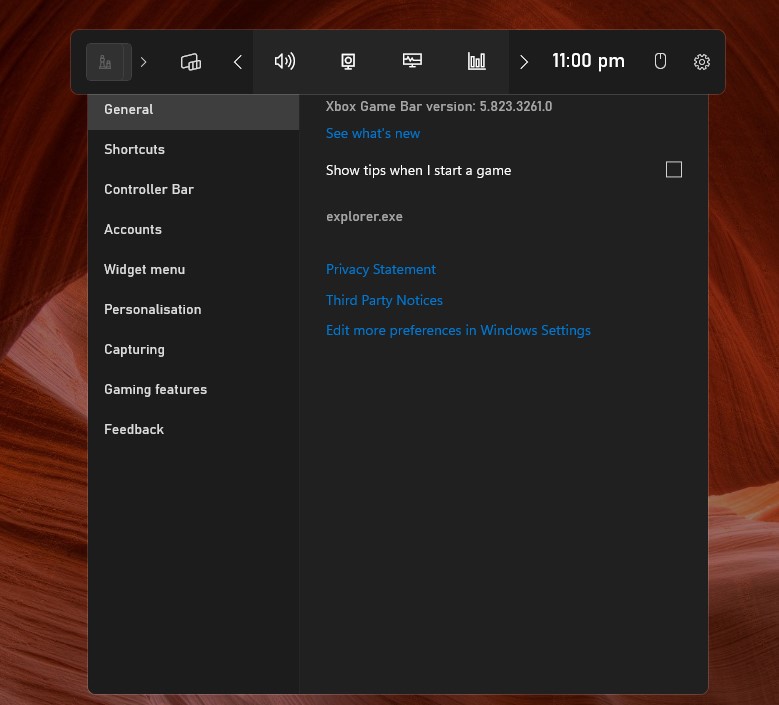 To check if your PC supports or is compatible with DirectStorage, you will require to check the specifications of your storage drive and video or graphic card. This info can furthermore be utilized to confirm whether DirectStorage can be enabled on your system or not. To Check DirectStorage Support in Windows 10 as well as 11, follow the steps given down below.
First, you require to go to the Xbox Game Bar on your Windows 10 or 11 which you can do by pressing Windows + G and after that, you have to click the Gear (Setting) icon.
Now you require to tap on Gaming Features.
Finally, you need to see the note that says Your system is DirectX 12 Ultimate ready beside Graphics, and then under DIRECTSTORAGE, check for the note DirectStorage supported.
Also Read- How To Turn On Or Off Tablet-Optimized Taskbar In Windows 11
How Can You Enable/Turn on DirectStorage on Your System?
DirectStorage is a seamless feature that doesn't need explicit activation on Xbox consoles, Windows 11 PCs, or even Windows 10 computers. If you possess the correct hardware and play a DirectX 12 game that supports the feature, you'll relish the performance improvements it delivers.
Nonetheless, if your computer doesn't fulfill DirectStorage's requirements, your games will still work but may take longer to load and may suffer from more asset pop-ins. It's worth commenting that while the feature isn't a necessity for gaming at the moment, it's conceivable that forthcoming games may require it. Still, it's anticipated that most gaming systems will be capable to take benefit of DirectStorage by that point.
Also Read- How To Adjust Transparency Of Xbox Game Bar Pinned Widgets In Windows 11
frequently asked questions
Does direct storage increase FPS?
Well, many gamers have queries that if the DirectStorage feature could impact the increase of frame rates, which are important for smooth gameplay. Nonetheless, some gamers have tested this by playing games with DirectStorage enabled to see if there is any increase in frame rates. Though the PC Gameplay test found a slight dip in frame rates of around 10 percent when utilizing a PCIe 4.0 SSD with DirectStorage, overall performance was similar. Nonetheless, load times were drastically improved when DirectStorage was enabled, making it a worthwhile feature for many gamers.
Also Read- Windows 11 Ethernet Doesn't Have A Valid IP Configuration: Issue Solved
Can DirectStorage Work on Windows 10?
Yes, it works on both Windows 10 and Windows 11, but you require specific hardware for it to function. You will require an NVMe SSD along with a DirectX 12 GPU to utilize DirectStorage. Furthermore, if you possess an older GPU, you will not be able to even operate it. For Windows 10, you should update your computer to version 1909 or later versions.
Nonetheless, DirectStorage will not perform to its full potential on Windows 10 because it doesn't function adequately with the latest APIs. Besides that, Windows 11 is additionally suitable for DirectStorage because it takes the utmost benefit of it. If you wish to have the finest gaming venture, you require to upgrade to Windows 11.
Also Read- 5 Ways To Fix "Error 0x80004005" On Windows 10/11