The eSIM or the Embedded sim allows virtualizing your mobile network on your device. It is a digital sim on your phone, which removes the need to use a physical sim. You can seamlessly use your data plans from the mobile network service provider. Even without physical sims. With the latest iPhones and other mobiles having the support for eSIM features, people are looking to convert to embedded sims. Through this article, let's look at how to convert physical SIM to eSIM.
The eSIM supports all types of mobile network service providers in the nation. It works on all supported devices like iPhones, Google Pixel mobiles, and many more. The only prerequisite needed is that the network carrier should support an eSIM feature in it.
eSIM
eSIMs cannot be interchanged or switched with each other like physical sim cards. There is only an option to change your network carrier or service provider. A mobile device designer can embed a small sim card in your device. This card stays true for any type of supported network carrier.
Though there have been many devices in the latest lineups, that support the eSIM features, it is still a limited number comparatively. The users can switch to eSIM if their mobiles support the eSIMs.
Activating eSIM
You must connect with your mobile network service provider. In order to activate the embedded sims. Or even convert the physical sims into digital eSIMs. If there is only a single slot available for the physical sim, you can activate the eSIM by manually entering parameters or by scanning the QR code that the specified network carrier has provided.
In iPhones, you can activate the eSIM through a simple eSIM Quick Transfer. Or manually ask the network provider to activate the eSIM. You can change from one mobile OS to another. And activate the eSIM by network provider connection. Or even do it by scanning some QR code given by your provider.
Through Network Provider
Let's try to look at how to convert physical SIM to eSIM through the path of contacting your network service provider.
Go to the pop-up that says mobile data plan provider. Do this when you are connected to your service provider for setting up an eSIM. It is ready to be installed. Go ahead and install it. Make a sample call to test the eSIM activation status. You can always contact your network service provider if there are any form queries in the process. You can just remove or replace your physical SIM if the card is of no functionality. This depends on what type of plan you choose.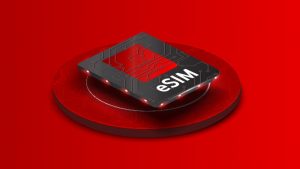 The above process is all pre-planned. If you want to currently contact the network provider and activate your eSIM, you can do it by sending an SMS/EMail from your registered phone number to your Email Id. SMS the necessary activation code text on your mobile number, and send it to the network provider's automated contact number. This activation text varies for each service provider. For example, it could be 'eSIM' to 121 number in the case of Airtel. Or 'GetESIM <IMEIcode>' in the case of another network provider. Once you text them, you have to confirm back the activation request to them through another text. Finally, you shall receive an SMS or EMail to your registered IDs. This should be containing the necessary QR code to be scanned. You can activate the eSIM provision by scanning this QR code and doing the instructed steps by the service provider.
On Other Specific devices
In the case of the iPhone, you can easily convert the existing physical sim to an eSIM. Go to iPhone's settings, and head to Mobile Data. Tap on the option that says convert to eSIM. Continue with converting Data Plan, and convert to eSIM. Once the cellular plan is converted, the previous SIM card will be discarded of functionality. Restart the iPhone to make sure that it's activated.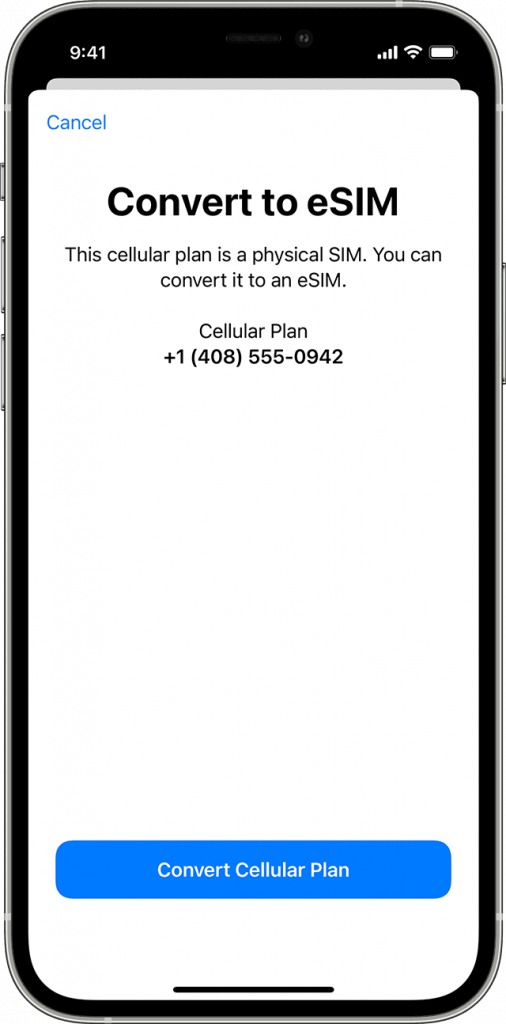 On iPhones, you can use the same QR scanning method as well. Go ahead and scan the QR on your iPhone camera, and then continue with the specified steps. A new mobile data plan shall be detected, notified, and finally added.
All these processes are basically done by adding a new mobile data plan through your device.
On other Android devices, you can open settings, as before. Choose the Connections tab and open the SIM Card manager there. Tap on the existing sim that you want to change. And tap on convert to eSIM. Select or provide your valid ID and log on to the respective service portals. Verify the request with passwords or authentications, and wait for the plan to be converted.
Essentially, it's that simple. It's the same repetitive process overall. Following these simple steps will convert a pSIM to an eSIM. We hope you have got a clear idea of how to convert physical SIM to eSIM on any of your devices. Just know the mobile OS, your sim card manager, and the network service provider, and choose a method from above that suits your needs. You will efficiently convert to an eSIM, all by yourself, as quickly as possible.