With over 500,000 podcasts available as of this writing, Apple provides access to a vast library of audio content. It's also possible to tune in on several other media players. Apple's Podcasts app is available for use on iPhones, iPads, and Macs running OS X Catalina or later. iTunes is available for users of Windows and earlier versions of macOS. Following and listening to your favourite podcasts has never been easier thanks to our guide on how to install and manage the necessary software.

To begin, let's define Apple Podcasts.
A site where you can tune into podcasts.
Once known as iTunes Podcasts, Apple Podcasts is Apple's own podcasting app. Both podcasters and listeners may use it for free (although paid upgrades are available) and it can be found via mobile and desktop apps.
Apple's Podcasts service is not a legitimate podcast host.
Contrary to popular belief, Apple Podcasts does not host your podcast file. In other words, you're not submitting the audio file for your podcast to Apple Podcasts.
Apple Podcasts use an RSS feed to track down your podcast.
Putting out an RSS feed that points to your podcast host is an essential step in the process of publishing your podcast to Apple Podcasts.
### Is there a cost associated with downloading and listening to podcasts?
If you've used Apple Music before, you know that downloading and listening to music requires a membership. However, if you utilise Apple Podcasts, you won't have to pay a dime to listen to any of the podcasts available there.
A Mac or other Apple device, such an iPhone, is all you need to listen to Apple Podcasts. When you buy a Mac, you don't need to bother about installing the programme because it comes preinstalled on the machine.
Guide to Using the Podcasts App on a Mac
The Podcasts app is available on the Mac desktop for anyone with macOS Catalina or later. To see various podcasts, use the Browse or Top Charts links.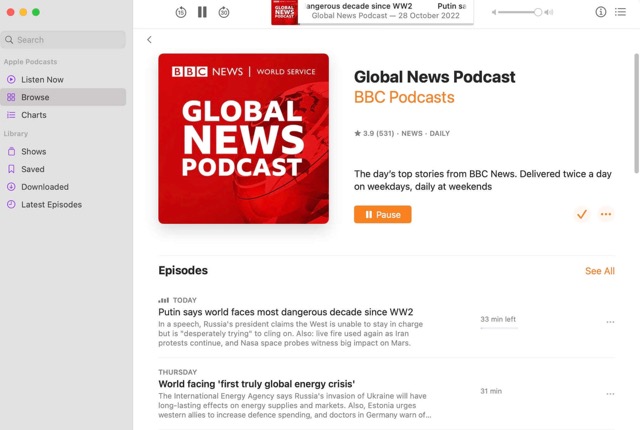 If you're looking for a particular podcast, you can do a search by typing a keyword or term into the Search area on the left side of the page. After that, you may listen to any intriguing podcast you choose. If you appreciate the podcast, you may listen to an episode and then click the Follow button.
To access the podcasts you have subscribed to, go to the Library tab and choose Shows. If you right-click on a podcast and then on the ellipsis, you'll be able to unsubscribe, conceal played episodes, and conduct other activities.

To rearrange the episodes, set a cap on the total number of downloads, or get rid of previously watched episodes, select Settings from the menu that appears.

You may delete episodes, download them, mark them as watched, and more by right-clicking on them or clicking on the ellipsis button.
Even if your favourite podcasts are already downloaded to your computer, you'll need to sync your iOS device before you can listen on the go. Launch Finder and navigate to the Location tab, where your device is displayed. If this is your first time syncing your computer with your device, you'll be prompted to select the Trust button. For Podcasts, please click the heading. Choose the box below to sync podcasts with your [device name].
Make sure the box is checked for Do a carbon copy automatically. To sync just the most recent and unplayed podcast episodes, click the drop-down arrow next to the "Sync Only" option. If you don't want to sync all podcasts, just uncheck the box and pick the ones you do want to sync by clicking on the podcast titles. To finish, choose Apply.
Tutorial: How to Subscribe to Podcasts
If you're new to the Podcasts app, we recommend starting with the "Browse" and "Top Charts" sections to familiarise yourself with the available podcasts. Every podcast episode is freely available for listening, regardless of whether or not you want to subscribe.
Hover over the cover art of a podcast and click the Play button to listen to the most recent episode. You can also listen to any episode by clicking the podcast and then the Play button next to it.
You must subscribe to a podcast to add it to your Library. Just type something into the "Search" field to find a podcast.
Enter the podcast's title into the search bar and choose it from the main menu.
Listening to Podcast Suggestions
Apple Podcasts may not be as well-known for podcast discovery compared to Spotify. But that doesn't mean you can't utilise the tool in that way.
You may use Apple Podcasts' Listen Now section to discover new programmes and episodes you might enjoy. There's a section called "You Might Like" up top. Some podcasts will be suggested to you if you expand that.
Other shows are well-liked by locals on the Listen Now page. Channels to Check Out may be found at the very bottom of the page.
If you find any shows you enjoy, you can always save them by following the instructions above.
Remove Podcasts in macOS
Removing an episode is as simple as selecting it in iTunes' Library and pressing the Delete button.
To delete the episode, right-click it in the library and select Delete From Library; to delete the file from your computer, pick Remove Download. If you select this, the episode will save in your Library for later streaming.
To confirm the deletion, choose the delete button.
Concluding Remarks
The Apple Podcasts app is a great resource for those who use Macs. In terms of discoverability, Apple Podcasts is on par with Spotify. It's also easy to migrate to Apple Podcasts from competing services like Spotify or Google Podcasts because many of the podcasts you already listen to can find there.
If you follow these guidelines, using Apple Podcasts on a Mac will be a breeze. You should now have the knowledge and resources to make the most of your experience.