Plugging in a second monitor to extend your computer from one display to two to increase your work efficiency is like an Old sayings now.Everybody knows it and have done it.It costs you extra money to add another display.But today I am going to utilize one of the existing piece of technology at my home and using it as a secondary monitor temporarily and trust me this is going to be more exciting.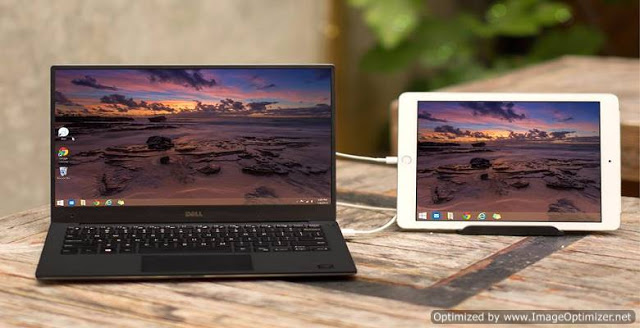 Yes I am going to add my Sansung Galaxy Tablet as a secondary display to my Laptop wirelessly.
Extending the Windows 7 Display to Samsung Galaxy Tab
The Tablet / iPad is an enormously useful little computer but when you're sitting at your desktop or laptop you can't easily use it in tandem with the larger computer.Rather than let it be lying unused when you're at your main computer, use it to extend your desktop. Whether you're extending your laptop monitor for an instant second screen at the coffee shop or using it to park your Photoshop palettes while working at your desktop, it could be best for parking IM windows, application interfaces, and other small but useful widgets and gadgets that you'd like to keep an eye on but don't want to clutter up your main screen with.I have seen engineers, musicians, designers, and artists to use multiple display to get a bigger view of different windows which also increases their productivity.
An engineer needs bigger screen space to perform multiple tasks running at a time in different softwares such as 3D Modeling software like Solid Works, CATIA, and 2d drafting software like AutoCAD and Inventor.Similarly a programmer, designer, artist and a musician also needs bigger screen space to run their multiple software at a time and to keep an eye on all the processes without much time lag.So using a Tablet / iPad or even a Android smart phone with bigger screen could be very helpful for engineers, musicians, designers, and artists.You can use these software to share spreadsheet or slide show in a meeting.Create something and share it with your audience. If you're a teacher, invite your students to join you for a beautiful demo. If you're on a meeting, share that spreadsheet with your partners. If you're having friends at your place, share family vacation photos.

Which Software should I use to extend our Desktop display to an Android phone/ Tablet or an iPad/iPhone?
There are numerous software available to extend your desktop to an iDevice or an Android device.Most of them are paid but some of them are free as well which works perfectly fine.They all have there own compatibility and limitations. Among the paid one the Duet Display, iDisplay, and Air Display are quite famous.But here I would be using the AirScreen free App to extend my display from a Windows PC to an Android device.

Here is the easiest setup of AirScreen to extend the display to your Tablet or Smart Phone
All of these secondary display software comes with a Server and a client. A server needs to be installed on Windows PC or Mac and the client software should be installed on your Android or iOS.They must be running for the display to be extended.
In order for Air Duet Screen to work, your computer and Android device must be connected to the same Wi-Fi network.
Like a wireless display, Air Duet Screen works in two ways:
(1) Extend your computer screen onto a second screen, or
(2) Move the special app onto your Android screen.

To Get Started:



1. Download and install free AirScreen Server for Desktop:
2. Get AirScreen Viewer for your android or windows device:

3. Now Open AirDuetScreen on your Android Device and Tap on computer you want the display extended from.In the below picture computer 192.168.1.106 is my Laptop so I would just hit on that.
AirScreen interface on Android
4. And now the Display from the Selected computer will be extended to your Tablet or Android device.
Windows 10 Display extended to Android Phone
5.Once the display is loaded onto the Android device then you can control the settings from the three dots option button.Tap on three dots and select Input Mode to change the mouse pointer or control the mouse from the Android.
Windows 10 Display extended to Android Phone as a secondary display
6. When you get the Windows 10 display extended to your Android, you get two different Taskbar and the start menu. The one on your Android opens only on Android and the one on your Windows 10 PC open on PC screen.You can play around with the settings to change the way display is extended.It now gives me extra space to my work folder and some references I need while writing post.You could also try this on your Smart Phone.

Windows 10 Display extended to Android Phone as a secondary display
See how AirScreen can help you be boost productivity:
Turn your device into a wireless second display for PC at anytime and anywhere without Internet.
You can extend main display via connected USB,it can provide the fast video play with more than 40 frames/sec of smooth display output.
Extending your desktop,Move your Facebook window,QQ window, office window to your secondary monitor.
You can see a movie in the main display and edit mails in second display.
Share your screen with everyone in the room,If you're on a meeting, share that spreadsheet with your partners.
Easily switch between portrait and landscape screen orientations.
AirScreen not only gives you a wireless computer screen extender, but also works as a tablet input device.
Fill your AirScreen screen with your utility apps such as mail,file manager, and Calculator.
Secondary display with touch-interface is the right place fortool palettes of music and graphic editing applications,PowerPoint and music playback controls.
Business: Move all of your Office palettes and inspector windows onto AirScreen, and let your document fill the screen.
Devices supported:
All iPhones with iOS 7.0 and later
All iPads with iOS 7.0 and later
All Macs with 10.9 (Mavericks) and later
All PCs with Windows 7 or later
Alternative to AirScreen- Secondary Display App
Now there is a limitation of AirScreen that it is not available for Mac or iOS so another Similar App like Duet Display and iDisplay could be the best alternative but I am afraid that these two are paid Software.They have their Secondary display Server Software free for the Mac / Windows whereas the Client display software are Paid.
Duet Display was the first app of its kind that allows you to use your iDevices as an extra display for your Mac using the Lightning or 30-pin cable.Duet display became very famous as it works on Lightning or 30-pin cable which reduces performance lag/ time Lag as compared to the wireless technology used to extend display.It allows you to use your iPad or iPhone as an extra display but isn't available for Android. It was developed by a team of ex-Apple engineers for the purpose of increasing productivity for engineers, musicians, designers, and artists.
Its very easy to setup,you need to download a Duet Display server on Windows / Mac which is free.And then download the Duet Display Client on your iPhone / iPad which cost you $9.99.And then just open the Duet Display App on your Mac or PC (for free) and on iOS. Connect your iDevice to your Mac using a lightning or 30 pin cable. It'sDone.After you install Duet Display, you can just drag windows off the side of your display.
Duet Display use by a Musician
Duet Display- Secondary display App

No need to worry about firewall settings, Wi-Fi speed or your 802.11n network. Duet is secure, simple, and allows you to use your iOS and OS X devices in harmony.And feel free to use your touch screen for interaction with your new secondary display.
Features:
Lag Free
Plug and Play Setup
60 Frames Per Second
Retina Display (optional)
Secure Wired Connection
Touch Enabled
Devices supported:
All iPhones with iOS 7.0 and later
All iPads with iOS 7.0 and later
All Macs with 10.9 (Mavericks) and later
All PCs with Windows 7 or later