Telegram is a free instant messaging platform that places special emphasis on user security. The open-source, cross-platform service offers features such as end-to-end encrypted video calling, VoIP, and file sharing. In addition, the platform also offers an optional end-to-end encrypted "secret" chat. The Telegram app for Android has over 500 million downloads on the Google Play Store. Whatever your reasons for using Telegram, it's a solid messaging app. It makes for a great alternative to WhatsApp and SMS messaging. Here are some tips and tricks you should know about to make your user experience even better while using the app.
Also Read: Top 10 Upcoming WhatsApp Features 2022!
---
Content:
Migrate Contacts, or add a second account
Secret Chats
Customize
Bots
Edit Sent Messages
Schedule messages
Delete the sender's message
Telegram slow mode
Hashtags and movies
Share GIFs and Youtube videos
---
1. Migrate Contacts, or add a second number
Have you ever needed to change your phone number, but, you are worried about transferring all your contacts and other information to the new number? While this can be a lot of work, Telegram does it all for you. You can easily change the phone number attached to your account without losing any of your chats or contacts.
To change the number you use with Telegram, open Settings (which is inside the left menu on Android). On iPhone, in the next menu, tap Edit in the top-right corner. This step isn't necessary on Android.
Then choose Change Number and follow the instructions. This will move all messages, clients, and media to your new mobile number. Plus, Telegram will automatically add your new number to the address books of all your contacts.
If you want to add a second number instead of migrating, Telegram also lets you use multiple accounts at once. For Android, on the left sidebar, tap your contact info to expand the account switcher and choose Add Account.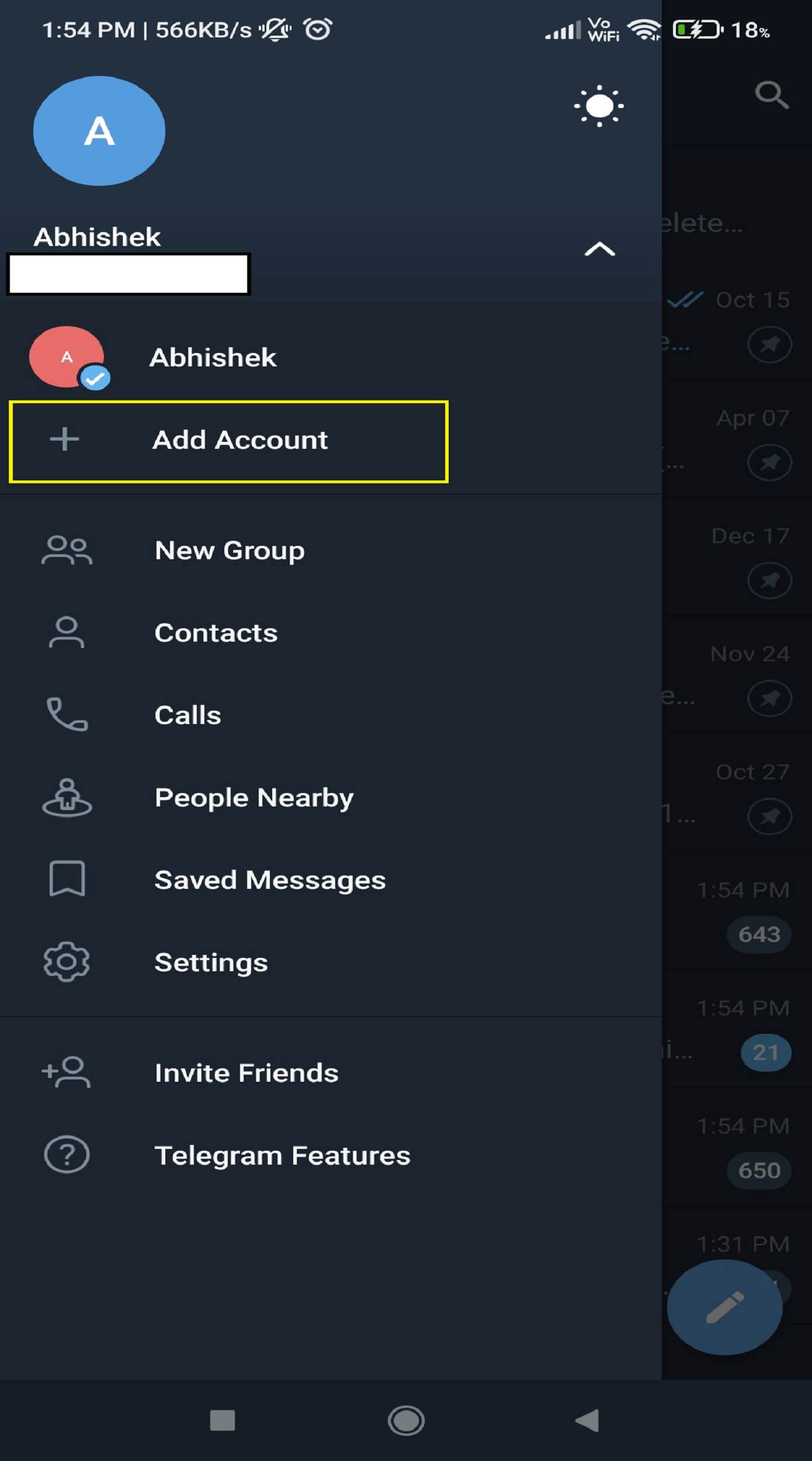 On iPhone, tap Edit on the profile page and choose to Add Another Account.
You can use this to, keep your personal and professional lives separate on Telegram without having to use another messenger app.
Also Read: 10 Features You Don't Know About Telegram
---
2. Telegram Secret Chats
While all Telegram chats are client-server encrypted, default chats are still stored on Telegram's servers. This conveniently allows you to access your messages on multiple devices, but it might raise privacy concerns.
For maximum privacy, you can create secret chats that use end-to-end encryption. These aren't stored on Telegram's servers, so you can only access them with your specific phone. If one party deletes a message, it disappears on both devices. And you can specify a self-destruct period for all media if you like.
On Android, simply slide out the left menu and choose New Secret Chat to start a new one. On iPhone, open a chat, tap the contact's name at the top, choose More, and then hit Start Secret Chat.
Also Read: Telegram Messenger Adds An Extra Layer Of Security To Protect Your Account In 2021
---
3. Customize 
In Telegram, you can adjust the color and background. If you like, you can even set up your own custom theme to make Telegram look exactly the way you like.
To adjust the theme, go to Settings > Chat Settings on Android, or Settings > Appearance on iOS. Here you can change the text size, bubble colors, night mode settings, and similar options. Choose Chat Background to set a new wallpaper for your groups.
To create your own theme, tap the three-dot button (Android) or go to Chat Themes (iOS) and choose Create a new theme. Here, you can create your own look if you don't like any of the default options.
Even better, thanks to Cloud Themes, you can share your custom themes.
To find more themes, Android users can try the Themes for the Telegram app. If you use an iPhone, have a look at the Telegram Themes subreddit.
Also Read: 5 Secure Messaging Apps For Android In 2022
---
4. Telegram Bots
Like many communication apps, Telegram includes chatbots. Bots add useful functions both on their own and into your chats; they can do everything from checking the weather to playing games. There are thousands of bots available on Telegram.
---
5. Edit Sent Messages
Telegram allows you to edit messages that have already been sent. To achieve the same you will need to select the sent message you want to edit and tap on the "Edit (pen)" icon at the top. The app will show you an "Edited" label after you have made the changes. It is important to note that you can only edit messages up to 48 hours after sending them.
---
6. Schedule Messages
You can schedule your messages on Telegram. You can schedule a message just by pressing and holding the "send" button. Here, choose "Schedule message" and pick the date and time. The message will be sent at your preferred time
---
7. Delete Sender's Message
While using Telegram, you can delete the messages that you have sent on the app and also delete the messages sent by other users. To make use of this particular feature, select the received message and tap on the delete button. You can then select "Also delete for X" and tap on "Delete". The message will then disappear from both ends.
---
8. Slow Mode in Telegram
Telegram groups and channels can accommodate up to 200,000 users. An active group/channel will have hundreds of messages daily, making it difficult to keep track of who said what quickly. Thankfully, Admins have the option to activate Slow Mode which will require members to wait a set time before they can send another message.
Open the group and tap on Edit > Permissions, and select the duration at the bottom of the page.
This will reduce spam as now members will put some thought before hitting the Send button and use one message to say it all instead of breaking it into 2-3 messages.
---
9. Telegram Hashtags & Movies
You are probably already using #hashtags on social media sites like Twitter and Instagram to search and filter topics. The same concept works here too. It is easy. Just tap the search bar and enter a hashtag followed by a keyword to find all messages that use that particular hashtag. This is an excellent way to filter messages and organize chats. And in the same manner, you can search for any movie or web series in the telegram app. Telegram is like a hub of movies and web series. There are many channels that post content without any permission which later get copyright strikes.
---
10. Share GIFs and Youtube Videos
You can find and share GIFs and YouTube videos in groups and channels on the fly. Just type @vid keyword to find videos from YouTube.
Similarly, you can also search for GIFs by typing '@gif keyword'. These are bots that we discussed above but the beauty here is that you don't have to add these two bots before using them. These are universal bots that work everywhere inside Telegram like groups, channels, and single chat rooms too.
---
Conclusion
So these are some tips that help you in becoming a pro in telegram. These tips help you in the smooth working of the app. Hope you liked the article.