Are you a bookworm who feels homesick without a book in its hands? Are you an introvert who doesn't know how to feel less lonely among strangers without a book in your hands? We have good news for you! You don't have to act all weird only because you forgot your favorite novel at home. You don't have to put a full stop to your favorite pastime just because you don't have a book with you. All you need is a Smartphone and you will have a whole new world of books to explore!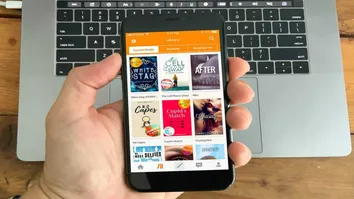 There are several apps on your Smartphone that provide you with an exceptional reading experience- better than the paperbacks. You can express your thoughts on your favorite thrillers, discover new books to read based on your taste, try social networks dedicated to book lovers and what's not!
Here we have brought to you a list of curated apps especially for book lovers on both iOS and Android devices that deserve a mention in 2021.
Wattpad
If you want some change from reading paper books, you should definitely check out Wattpad. This is a very popular app for book lovers that lets you connect directly to the authors. You will also be encouraged to write your own novels on this platform.
You can search books based on authors, genres and you will also be suggested to read books based on your preferences. Each book is divided into several chapters and you can freely comment on the paragraphs, sentences, and even words. You also have a dark mode to help you read during bedtime.
OverDrive
OverDrive is one such app that has made it possible to bring the offline library into the virtual world. You can download this app on Android and iOS smartphones and access the digital library from your fingertips. Now you don't have to hunt your favorite books or buy them from Amazon. You can easily borrow a copy of the book on OneDrive.
OneDrive's digital catalog offers books and content based on your location. Apart from e-books, you also have access to a large number of Audiobooks as well. All you have to do is to issue a local library card to get your hands on them.
You can also use this app to watch movies and TV shows that are being offered by the library.
Goodreads
Goodreads is more like a social networking app dedicated to book lovers. Besides it is also the greatest place to discover new books, join reading communities, come across readers with the same book interest, get in touch with your favorite writers, and read reviews of books before reading them. You will also find on-the-point book recommendations on this app.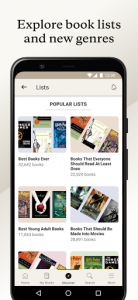 GoodReads has been bought by Amazon so you can also use your Amazon account to login into the platform. Your Goodreads reading list is available on Kindle and Kindle highlights can be accessed through an Amazon account on Goodreads.
Inkitt
Inkitt is also a book reading platform specially dedicated to fiction lovers. You will find only some of the fiction genres- fantasy, sci-fi, and romance written mostly by indie authors. The app has been designed beautifully and is soothing to look at.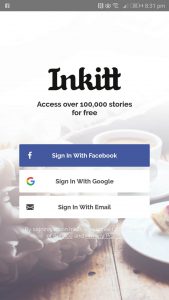 This app is quite similar to Wattpad and is designed only for reading books. It does not have a community for book lovers. Inkitt provides the best reading experience to its readers. You can easily view your reading history, create a wishlist of books and even view your weekly and monthly stats.
Leio
Leio is a reading tracker app only for iPhone users. You can easily jot down everything related to the book you are reading. You can update and monitor the progress of many books that you have been reading simultaneously. It also has a time tracking feature to analyze how much time you took to finish the book.
As you keep adding data in the app, it will monitor your reading patterns and plan your future progress using the Goals tab. As you go on reading, you can unlock achievements, refine your reading habits and plan your upcoming books.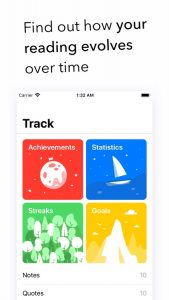 Unlike Goodreads, this app has a very modern and intuitive UI which makes it easy to use. Leio is a very good alternative to Goodreads if you are frustrated with its clumsy and boring interface.
Conclusion
These are our top picks for the best apps for book lovers. We hope these apps can fulfill your expectations as a bookworm, provide a better reading experience than your paper books, and suggest interesting books to read.