Turn Off iOS 15 Safari Address Bar Dictation
In June 2021, Apple released iOS 15, the most recent version of its iOS operating system, which was launched on September 20, 2021. Redesigned FaceTime capabilities, tools to decrease distractions, a new notifications experience, enhanced privacy features, entire redesigns for Safari, Weather, and Maps, and more are all included in iOS 15.
In iOS 15, notifications have been revamped to include contact photographs for people and larger app icons. A notification summary collects notifications in one place for distribution at a convenient time and organizes them by importance to reduce distraction.
Also Read: How To Install And Use Custom Fonts On iPhone And iPad: iOS15
All New Safari in iOS15
Safari now has a whole new look. Controls are now easier to access with one hand, allowing users to focus more on the content of a webpage. Users may now effortlessly slide between tabs thanks to a new, condensed tab bar that hovers at the bottom of the screen. Tab Groups enable users to keep tabs and access them from any device at any time. For the first time, there is also a customized start page and web extensions.
All controls have been relocated to the bottom of the screen, making one-handed usage considerably more convenient. A new tab bar appears at the bottom of the screen, making swiping between tabs a breeze. There's also a Smart Search feature on the tab bar for faster web searches.
Tab Groups let you organize tabs into folders and sync them across all of your iCloud devices. A tab overview grid view is now available to provide you with a quick overview of your tabs.
Do you need to refresh a web page that is taking too long to load? To renew it, simply pull it down and let go. You can use voice search and personalize your start page. Finally, Safari on iOS supports browser extensions.
Because Apple values privacy, iOS 15 includes Intelligent Tracking Prevention, which prevents trackers from using your IP address to "follow you." Last but not least, Safari will upgrade unsecured HTTP connections to secure HTTPS connections for sites that enable it.
Also Read: How To Use Apple Translate App On iPhone: iOS15
Changes To The Safari Address Bar
Upside Down Address Bar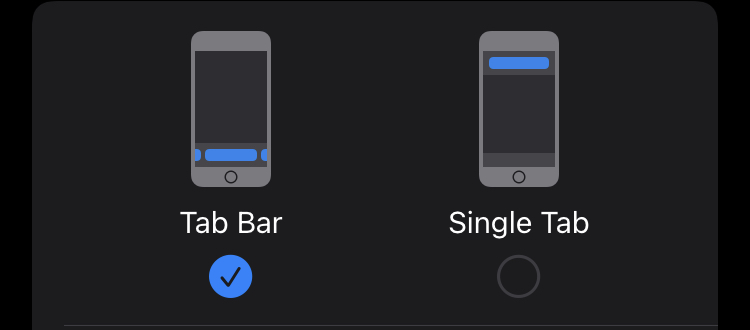 When iOS 15 was released, users were taken aback by the fact that Safari appeared to be inverted. Earlier iOS 15 betas featured an even more radical design that hid numerous common functionalities. The refresh, share, and tab buttons were completely hidden in the earliest betas. Thankfully, Apple only turned it on its head. This change was made for good reason by Apple. iPhones were significantly shorter before the iPhone 6, and most people's fingers could easily reach the top of the screen. iPhones have become increasingly taller over time. Even with huge hands, reaching the top of the screen, where Safari's address bar sat, required a lot of stretching.
Apple turned it to a "tab bar" and placed it to the bottom of the screen, where everyone can easily reach it, to solve that worry (reachability doesn't seem to be a big deal). Just like the old address bar, you may tap it to enter a URL or search word.
Another good feature of the bottom-mounted tab bar is that you can now rapidly switch between tabs by swiping left or right. You can also slide up on the tab bar to expose all tabs instead of pressing the tab button in the lower-right corner, though that action is a little tough on a Face ID-enabled iPhone because you have to start just above where you'd ordinarily swipe up to return to the Home screen.
However for those of you who are not very happy with this change. You can easily switch the address bar back to its position by visiting the Settings>Safari> choose the tab settings.
Safari Voice Search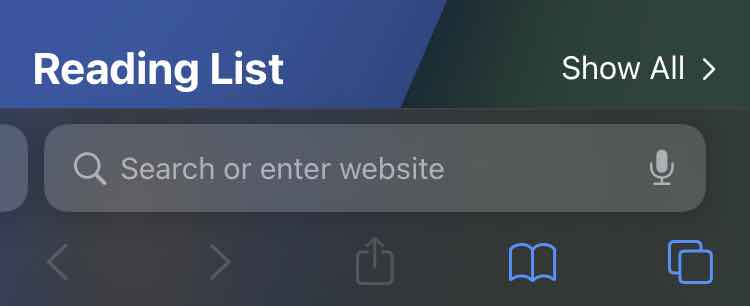 The second most common issue that most customers are facing with the new safari address bar apart from its layout is that with the automatic address bar diction.
Since the upgradation to iOS15, the dictation mic located in the safari address bar gets activated. As it is extremely near to typing space on the bar, one can accidentally tap on the mic. Upon activation, this mic starts listening for a dictated search or web address. This can be highly annoying if it keeps happening multiple times as it is nothing but an interruption.
To get rid of this, you can try the following steps.
Go to Settings
Select General
Under General, go to Keyboard
Tap the Enable Diction Switch to off. If you plan to enable this setting, then turn it on but if you want to disable this setting, turn it off.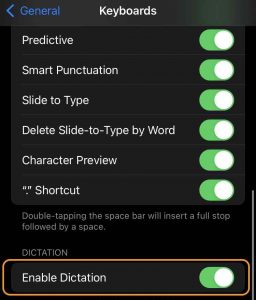 You can now check if this method has worked.
Another way that you can try is here:
From your home screen, Go to Settings
Under Settings, select Safari
As you scroll, locate the microphone
Select Deny
After this, you can go and check Safari.
These methods will help you solve this annoying issue.
Final Comments
However, if the issue still persists, you can visit apple support or wait for the new iOS update and hope that Apple offers other solutions to it.