Apple introduced the brand new iPhone 14 series back in September 2022. The Cupertino company finally made it easy to tell the difference between the standard and Pro models. The company decided to incorporate most of the interesting new features on the 14 Pro and 14 Pro Max iPhones in an effort to increase Pro sales. Furthermore, there aren't many novel features to be found on the standard 14 or 14 Plus models. If you want an iPhone in 2022, you should probably get the iPhone 14 Pro. In order to enjoy all the cutting-edge features the newest iPhone has to offer, yes. It's a good idea to pick up a case, too, as replacing the rear glass may get pricey. Attention now turns to next year, when the iPhone 15 and iPhone 15 Pro will be released.
Although the official release of the iPhone 15 isn't anticipated until September 2023. Speculation about the next generation of iPhones has already begun in earnest.
Example: it appears that Apple will abandon the Lightning connector in favor of USB-C charging. The iPhone 15 Ultra, a rumored future model, might represent the pinnacle of the iPhone Pro line with its ultra-robust titanium construction.
A new periscope zoom lens is expected to be exclusive to the iPhone 15 Pro series, suggesting that Apple will continue to preserve a wide gap between the ordinary and Pro versions. Lets get down to the rumours:
Speculations Regarding the Supposedly New iPhone 15
#1. 5G Modem for Apple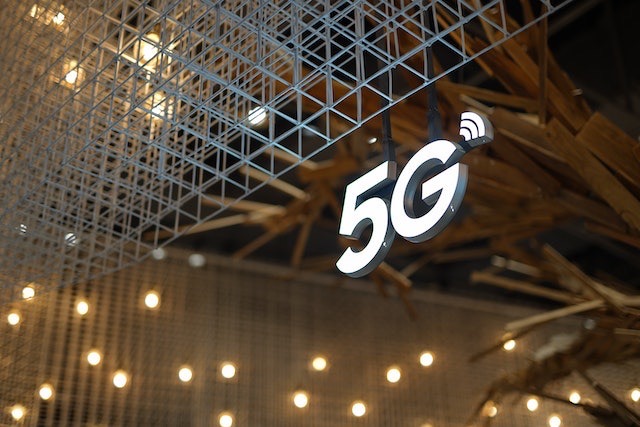 Because of its history of problems with third-party modems, Apple decided to develop its own. Apple bought Intel's modem division as it was leaving the industry.
For the time being, Apple has relied on Qualcomm to supply the iPhone with 5G modems. Apple is slated to start using its modems in 2023, so this cooperation may not last long.
Apple's preference for having complete control over its devices' user experience extends to the modem, which may be more conveniently integrated into the company's stack. By manufacturing its own modems, Apple can save money and improve the efficiency with which it integrates modem technology into its own Apple Silicon.
#2. Design of iPhone 15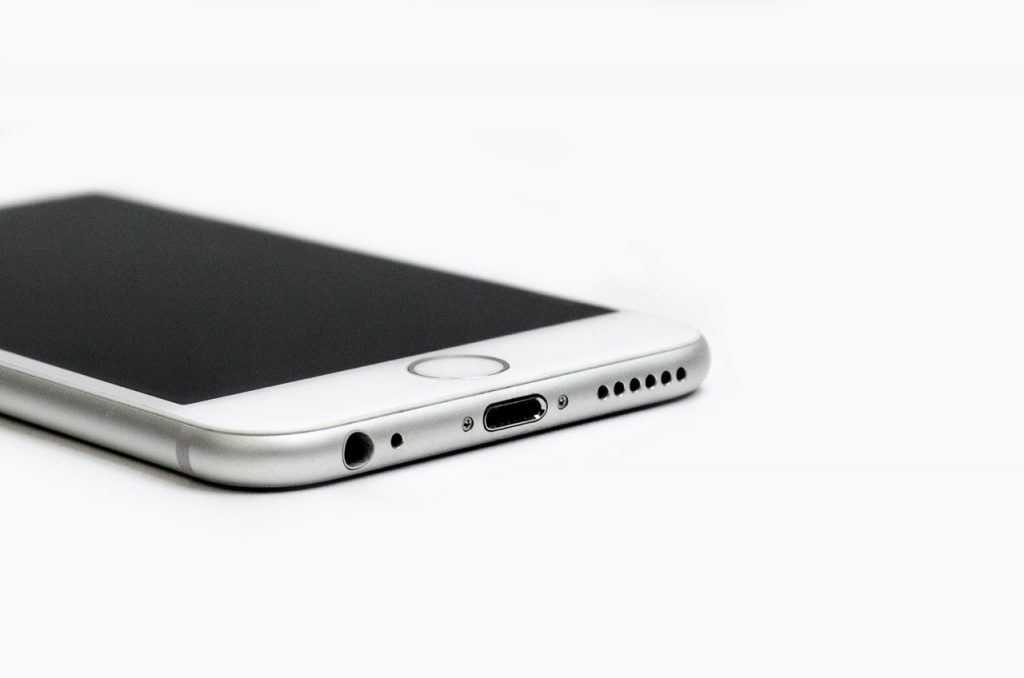 It's possible that the iPhone 15 will undergo a more radical redesign than the iPhone 15 Pro. Standard iPhone 15 devices will likely use the new capsule front-facing camera introduced with iPhone 14 Pro models in 2023. Considering how extensively Apple has promoted iOS 16's "Dynamic Island" design element, which makes the capsule more of an asset than a liability, this is likely to be a feature Apple would want to see implemented across the board.
There's also a chance that Apple may integrate a fingerprint sensor beneath the screen. However, the lack of a fingerprint sensor on the contemporary iPhone has been highlighted by the Covid-19 outbreak, despite the fact that Face ID continues to outperform Android's face recognition rivals. Fair play, Apple fixed this by improving Face ID's facial recognition for people wearing masks.
On the other hand, the recent rumours imply that the iPhone 15 will continue the fundamental squared-off redesign introduced by the iPhone 12. That shouldn't be surprising, considering how well received this design has been across Apple's whole product range and how rarely the firm makes design changes.
#3. USB-C
With the exception of wirelessly charging devices like the Apple Watch, the European Union (EU) has mandated that all portable electronics (including phones) must use USB-C for charging connections. It's possible that Apple will make the same global changes to all of its devices as it made recently to the 10th-generation iPad and Siri remote rather than create separate USB-C versions for Europe. All iPhone 15 models probably will include a USB-C connector.
The current USB-C power adapters may still be used with the new iPhones; the only difference will be the USB-C to Lightning cord and port. That's the good news. The potential for increased charging and data transfer speeds for iPhone users who connect their devices to Macs or PCs.
#4. iOS 15 Pro: Naming Scheme
Apple has used the naming strategy of iPhone Mini, iPhone, iPhone Pro, and iPhone Pro Max for a number of years now. The smaller Mini model was axed from the iPhone 14 range in favor of the bigger 6.7-inch Plus model. It's possible that more shifts will occur in 2023.
There have been whispers that Apple may replace the Pro Max with an Ultra model. The most expensive model, instead of just being a Pro Plus with a few extra bells and whistles, will apparently have its own unique set of improvements. This might lead to the release of the iPhone 15, iPhone 15 Plus, iPhone 15 Pro, and the iPhone 15 Ultra.
#5. Dynamic Island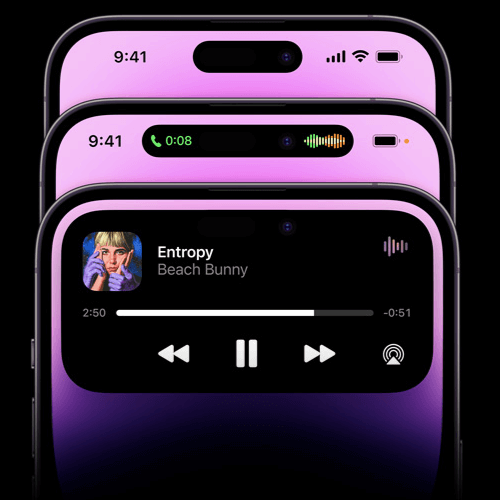 Following the launch of iPhone 14, the future of Apple's iPhone range in 2023 is more obvious. Instead of going with a complete redesign for its most recent models, Apple focused on improving the display technology and including larger cameras.
Dynamic Island is a key differentiator between the iPhone 14 Pro and earlier generations. As a replacement for the notch, a pill-shaped and hole-punch sensor housing was integrated into the screen. Instead of exhibiting these components separately, Apple linked them together using a piece of software called Dynamic Island.
For the time being, it's only available on pro versions, but reports claim Apple may finally get rid of the notch with the "iPhone 15" series. In 2023, this would mean that the Dynamic Island feature would be included in every iPhone.
The new iPhone firmware may allow Dynamic Island to cover much more ground. Intriguing rumors circulate about a model that allegedly has not one but two selfie cameras, the purpose of which is unclear.
#6. Periscopical Cameras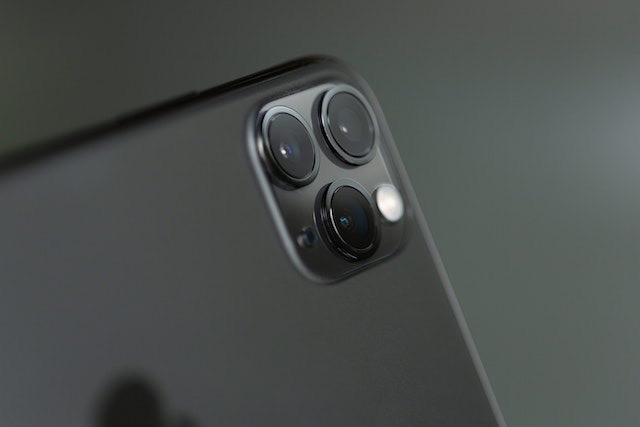 The rumored "iPhone 15" may include an upgraded camera technology that allows for greater optical zoom. By adopting a folding camera system within the iPhone, more room may be created between the lens and the sensor, allowing for considerably greater magnification. It's unclear whether this would be in addition to Apple's current Telephoto lens or whether it would be a replacement.
The maximum zoom available on the iPhone 14 Pro is 3x, which translates to a focal length of 77mm. The 77mm focal length is ideal for taking close-up portraits or moving in on a medium-sized subject, but it is still insufficient for photographing faraway animals or faraway sports. Longer lenses are needed to catch the topic in certain circumstances.
Samsung employs periscopic technology and proprietary algorithms to capture high-quality images at 100x magnification. This is made possible via a large lens that is tucked away inside the phone's casing. For future iPhones, Apple has been experimenting with such a lens, but whether or not it will be included is unclear at this time.
Ming-Chi Kuo had previously projected that this technology will debut in the "iPhone 14". However he has since moved back his estimate to the iPhone of 2023. Since this technology requires internal space to function, its introduction may coincide with other space-saving innovations, such as the removal of the Lightning connector.
In a report published in December 2021, Kuo reiterated his earlier speculation that the "iPhone 15" would use a periscope lens system. It's still not clear if this is a replacement for the current telephoto lens or a brand new fourth lens that will be included.
#7. Specifications
The new A17 chip may be reserved for the iPhone 15 Pro and iPhone 15 Pro Max. While the A16 seen in the iPhone 14 Pro might power the basic iPhone 15. Starting with the iPhone 14 and iPhone 14 Pro, this looks to be the new method Apple distinguishes between the base and Pro variants of the iPhone.
According to rumors, the A17 processors will be manufactured using a 3nm technology by TSMC, the iPhone's longtime chip provider. With this change, the A17's power usage and thermal output would both improve. The 3nm A17 processor will be 15% faster and more powerful than existing 5nm CPUs while also being 30% more energy efficient.
According to another rumor, Apple may increase the iPhone 15 Pro's RAM from 6GB to 8GB. Capacity changes to storage are also possible, with the baseline amount being dependent on the iPhone 15's features. The iPhone 14 Pro's maximum storage capacity is 1TB, although that might increase to 2TB with the iPhone 15 Pro.
The speculation that Apple was developing its own modem chips internally has not materialized as of yet. The iPhone 15's modem chips will presumably still come from Qualcomm, Apple's current supplier.
#8. An Update to Touch ID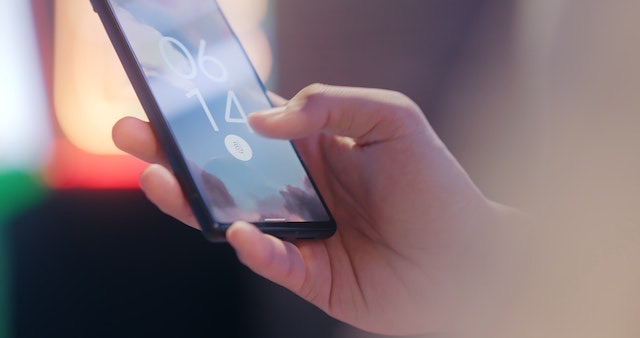 When Apple released the iPhone X, it ditched Touch ID in favor of Face ID. This change was made so that the Home Button wouldn't have to take up precious real estate on full-screen devices. According to Apple, the odds of a false positive unlock with Face ID are one in a million.
It wasn't a perfect answer, though, because in order to unlock the smartphone. Face ID is required to view the user's eyes, nose, and mouth. This eliminated the difficulty some users had while trying to unlock their iPhones after touching anything dirty. Also, it made it more difficult for them to unlock their phones if their faces were obscured.
When the epidemic hit, people all over the world resorted to using masks to protect themselves. Hence, which caused an unprecedented problem with Face ID on iPhones. Users were upset by the new restrictions on unlocking their devices and petitioned Apple to reinstate Touch ID.
Rather, Apple provided a middle ground for Apple Watch users. As soon as Face ID realized the user was concealed behind a mask. It would check the Apple Watch for authorization before allowing access to the iPhone. Although helpful, this workaround was limited to Apple Watch owners, a far smaller demographic than iPhone owners.
In conclusion, Apple may alter expectations for what a Pro iPhone 15 is.
Apple began clearly differentiating between the standard and Pro iPhone models in 2022. The only real difference between the iPhone 14 and 14 Plus is the larger display, but otherwise, they're virtually similar. Similarly, the iPhone 14 Pro Max would only be purchased by those who specifically want a bigger screen size on a Pro model. It appears that in 2023, this will be altered.
It's possible that the iPhone 15 and 15 Plus are identical save from minor design tweaks and battery capacity. The Pro models, on the other hand, may start developing their own distinct personalities. Due to the Ultra usurping the highest-end title and leaving the 15 and 15 Plus in the "low-end" category. The iPhone 14 Pro may become a "mid-range" premium iPhone by embracing camera (and maybe other) exclusivities.