In today's fast-growing population, the usage of technology and devices are also rising rapidly. More people are now going toward urbanization, leading them to buy various devices that are difficult to keep track of, and sometimes you may lose them. So to keep their user's devices safe, Samsung has introduced a new technology. A SmartThing station, an easy-to-use smart home hub that will turn your homes into Smart living spaces with the help of Samsung's automated home environment. A considerable range of Smartly designed products is available. It gives users the freedom to control each device. And require just one controller or the SmartThings app.
To keep a record of your belongings and to find your missing gadgets, Samsung has inserted a technology, a rapid asset tracking device. Double press the Smart button, and it will ring your nearby misplaced devices, helping you find them more quickly and easily. This technology will also help customers keep track of their gadgets like earbuds, tablets, watches, and even their wallets. The key locations are detected only if Galaxy SmartTag or SmartTag+5 is attached. It will immediately sense if the gadgets are leaving or entering the house or the place and alert the users through a notification on their mobiles.
Parents can also get help from SmartThings Station. It will help in sharing their children's location which will grant them the satisfaction of their child's security. In the same way, pet owners can also attach the Galaxy SmartTag or SmartTag+5 to their pet collar or any other accessory. The owner can also attach the Galaxy SmartTag or SmartTag+5 to their pet's collar to keep an eye on their pet's location.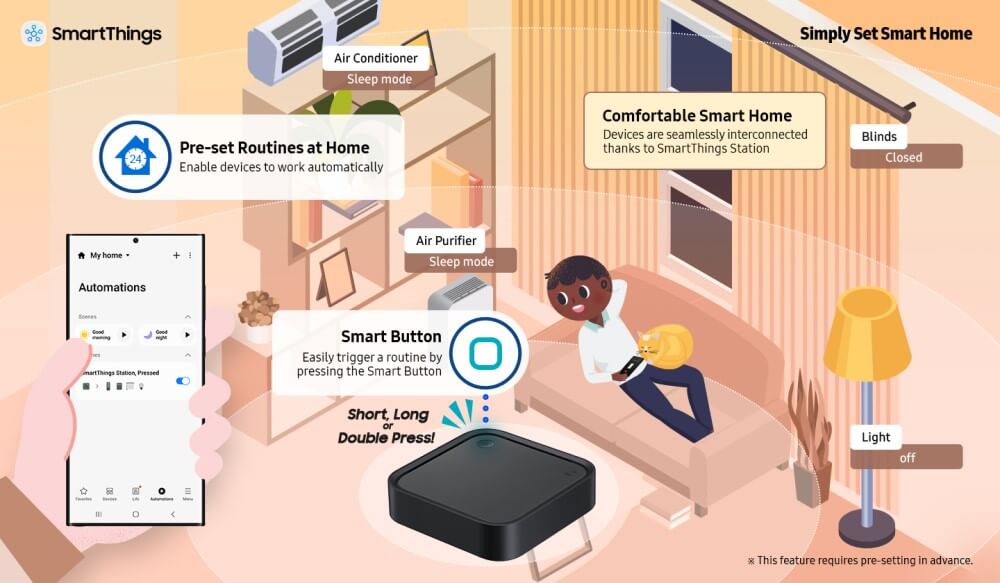 Moderate Home with Minimum Effort
A lot of people might think that the installation of smart products might be difficult or tricky. But Samsung has just made it easier for every person to install devices in their homes. They made their design and technology as simple as imaginable. Just after the installation of your SmartThing device, a pop-up message will appear on Samsung's smartphones. Next, it will ask to set up a particular device, which can be set up by scanning the QR code.
Adjust The User's Daily Routine
The lighting and thermostat setting of multiple devices adjust according to the user's liking with Samsung's new smartly designed technology that connects smart devices altogether. SmartThings stations help the users to adjust the lighting and the environment of the surroundings. The settings adjust from the app installed in your smartphone, no need to control each device individually. Users can create a routine on their smartphone apps from which they can set up their whole lighting system, Air conditioning, curtains, etc. Moreover, customize your routine again and again to your liking on the Smart app. To activate your preferred routine, give a single press to the Smart button on the SmartThing station. As simple as cutting a piece of cake!
A quick trip to sleep? Just press the sleep routine on your app and curtains will be leveled on their own. The temperature is set according to your routine on the app.
Want to avoid distraction on a gaming night? Turn on the "Do not disturb" mode and press on your gaming routine to which the lights and surroundings of the room will give you a cool vibe. Save electricity when leaving home by using SmartThings as it will turn off the appliances that are not in use. As well as provide your place protection by activating the security system. These facilities activate just after a quick tap on the SmatThing app.
A Fast Charging pad – Perfect Fit For a Smart Home
The SmartThings stations also work as a super-fast wireless charger that will charge your phone as well as other devices like watches and earbuds. It also informs you about the completion of the charging device. You can pick up the device and start from where you left off or put the other device to charge.
When will it be available in the market?
SmartThings station is launching in early February 2023. The product will take its first launch in Korea and U.S.