The American tech giant Microsoft, is determined to give the new Windows 11 a makeover from start to finish. So, on June 24th, the company unleashed its dynamic upgrade on a virtual event on YouTube. It's been thirty years since Microsoft Windows came into our existence. From office files to playing games to accessing the internet, this software has allowed its users to get the maximum output in every aspect. However, in terms of its look and style, Apple's OS has been overpowering it for a very long time. It is, therefore, a piece of great news to all Microsoft users that they have nothing to lose with the new upgrade launched by Microsoft. These days news of Microsoft's Blue Screen Of Death Changing To Black In Windows 11 is trending everywhere.
Read : Windows 11: What's New In Upcoming Windows Version?
Black Color Replaces The Blue Screen Of Death
On July 1st, The Verge released the news of Microsoft changing its Blue Screen Of Death, i.e. BSOD, to none other than Black. Senior Editor of The Verge, Tom Warren, posted pictures of both the screens, bidding adieu to the former.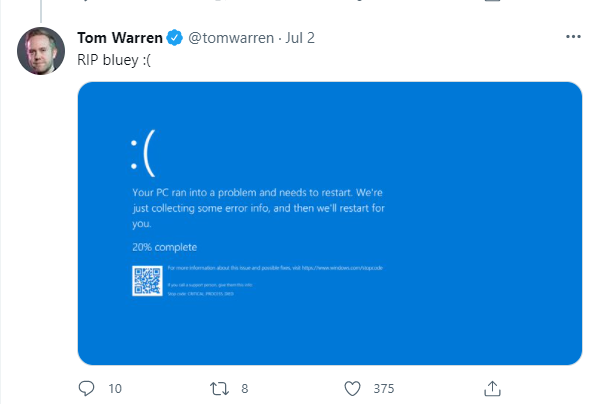 What Is The Black Screen Of Death All About?
According to Warren, Microsoft decided to change its Classic Blue Screen Of Death to match its current upgrade. The tech company has not commented anything on its new update for the screen of death yet. But loyal users like Warren are trying to find their own meaning.
Theories are going around about the new Black color being a part of Windows's recent overhaul. Windows 11 comes with a whole new modern version that matches the speed and need of the pandemic hour. The new Black color matches well with the logon and Shut Down screens and is also a breath of fresh air. Apart from the color, the rest of the screen remains the same.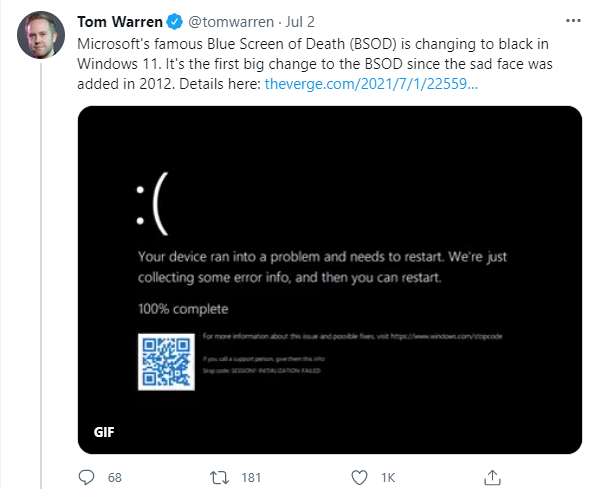 Back in 2012, Microsoft introduced the Blue Screen Of Death with a sad face emoticon and QR code. It was a new update in Windows 8 and remains the same as per the preview version of Windows 11.
What Is The Purpose Of The Blue Screen Of Death?
Microsoft introduced its Blue Screen Of Death with the 3.0 version way back in the 1990s. Through this screen, IT professionals and support staff could access more information when a system crashes. In Warren's own words, a Microsoft-owned kernel error/bug check containing tons of information to fix software and hardware issues.
Conclusion
In addition to the Black Screen of Death, Windows 11 also comes with a host of upgrades. For instance, the start button, widgets, high-quality gaming, and much more.
Also Read: How To Customize The Taskbar In Windows 11?