Microsoft has revealed a new version of Bing, its search engine, that uses advanced artificial intelligence technology called the Prometheus model. Besides, this technology is powered by OpenAI, the company behind the popular language model ChatGPT. Further, the new Bing has features like generating content to let users begin writing, more relevant search ranking, and a chat feature to comprehend more about search results. The AI-powered Bing is available today in limited preview mode for desktops and will be more widely available to preview in the future weeks.
Before we dive into the steps to preview the AI-Powered Bing Chatbot, we should talk about the smart features that it has incorporated into its model.
Also Read- How To Use Bing AI With Siri On iPhone
Some Prominent features of the new AI-Powered Bing Chatbot
The new Bing search experience provides more relevant outcomes for basic queries. Besides, a new sidebar has been added that displays further comprehensive responses if desired.
Bing explores all over the web into the well of data or information to find and summarize the answer to a query, making it more effortless for users to find what they're looking for.
The chat feature can also help with trip planning, providing recommendations and links for specific locations and transportation routes, as well as TV research by providing links to product reviews and shopping websites.
Also Read- How To Use The AI-Powered Bing Chatbot on The New Bing Search Engine
How to Get a Preview Peek of "The New Bing"?
Although "the new Bing" is currently invite-only, you can see a functional peek. Certain users have been given early access to test out the updated version of Microsoft's search engine that integrates OpenAI's ChatGPT technology. There is now a queue for access to Bing as Microsoft expands its user base in the upcoming weeks. However, if you immediately want to check out how it functions, a desktop live demo is available right now. To check out the new Bing, follow these steps.
Step 1: On the Bing homepage, click either "try it" or "learn more" to preview the feature and get an idea of what it offers.
Step 2: On clicking on the "try it" option you will see the following prompts. On the Bing web, Click on the next arrow button to see the new prompt example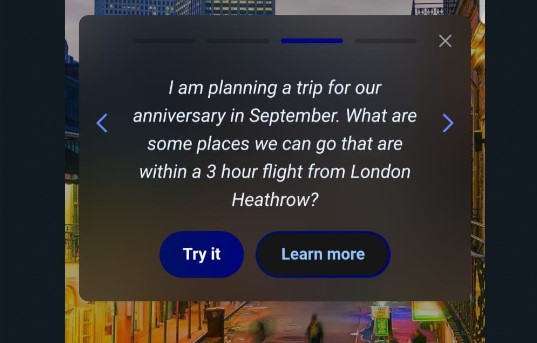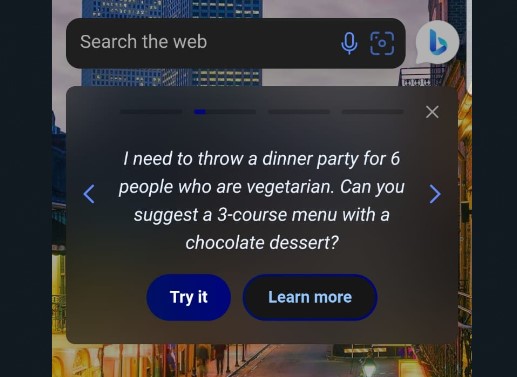 As you can see in the above pictures, these kinds of questions you can ask the Bing chatbot.
Step 3: Now click on try it, and you will get these responses: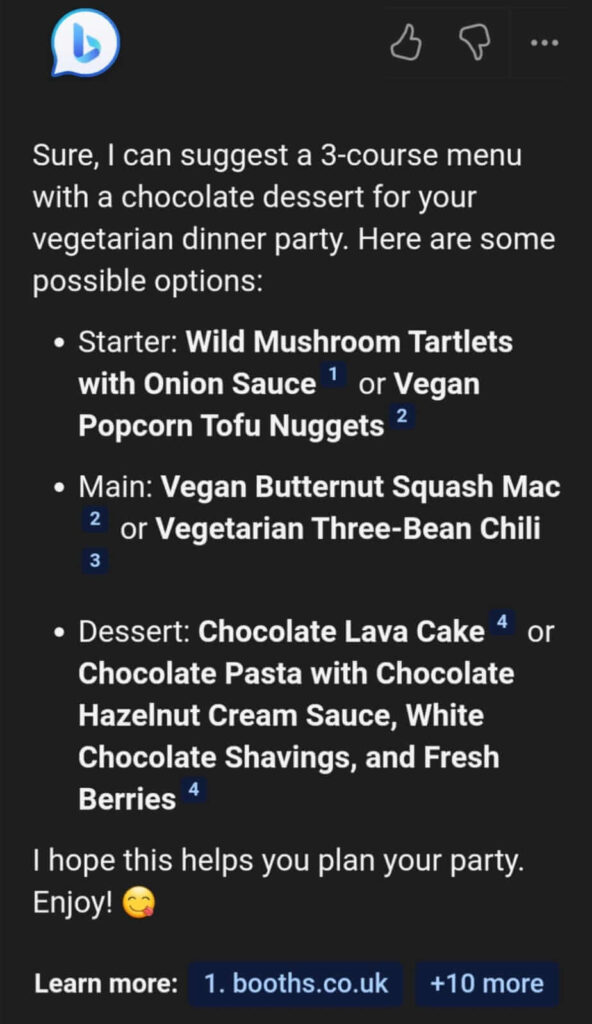 As you can see how friendly this Chatbot is, it even added a fun emoticon in the end just like humans would. It provided you with relevant links so you can even explore further.
Also Read- ChatGPT, Google Bard, Microsoft Bing- How They Are Similar But Yet Different
Let's move on to see some more preview examples
Tap "Learn more" for a better Preview
Step 4: Now, if you click on "Learn more", you will see the options as illustrated in the picture below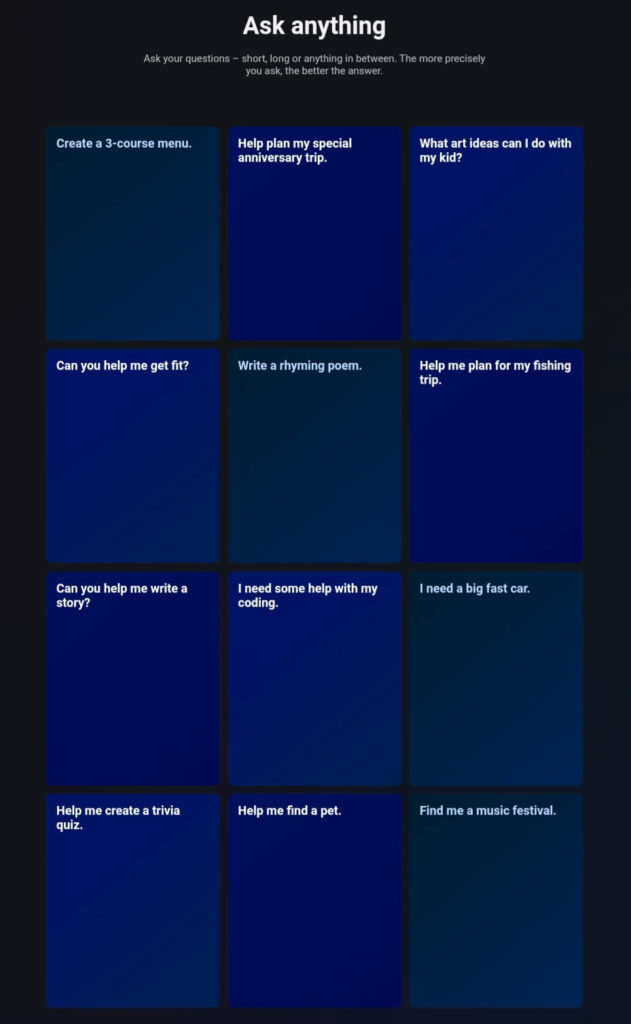 To just get an idea of how it works, when I clicked on "Help me plan on my fishing trip" it started giving me preparation tips to guide me and make sure of things beforehand. It also gave me links to the website or source it fetched the footpoints for me. Look at the illustration given below to gain an even better view of how this Chatbot is going to be useful in the future.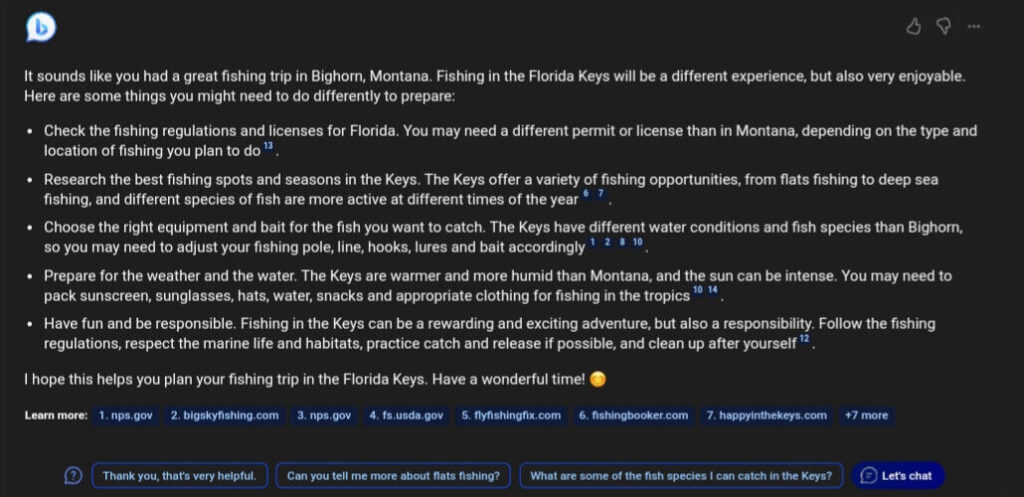 Now, if you are eager to get early access to these features, we have some tips for you that will help you increase your chances of checking it off the list.
Also Read- Microsoft Bing AI-Powered Chatbot: Everything You Need To Know
Tip 1: "Join the Waitlist" to test the latest search interface
To join the list, you have to go to the Bing webpage and then click on "Learn more". Clicking the "learn more" button, will then take you to a page where you can do so. To reserve your place, tap the "Join the waitlist" option below.
Tip 2: Log in to your Microsoft Account
You will be prompted to into your Microsoft account after clicking the "Join the Waitlist" button. Simply establish a new Microsoft account if you don't already have one, and it will still function.
Note: You cannot sign up for the waitlist using your work email. Or an email linked to an organization you are a representative of.
Also Read- Future Of Artificial Intelligence – 8 Ways It Will Change The World
Tip 3: Shift to Microsoft Edge
According to Mehdi, to optimize the initial experience, preference is being given to users who have made Bing. And Edge their default search engine and browser, and who have installed the Bing Mobile app. You can also see the tweet where he especially mentioned it below
So, follow his advice and download Edge, and set it as your preferred browser. And also set Bing as your default search engine to increase your chances of lifting from the waitlist. Install the Bing Mobile app as well. The new Bing app is available on Playstore as well as App Store.
All that remains for you to do is wait until you have finished all of these tasks. An email then, sent to you informing you of your status if you lift off from the list. Hopefully, you get off the list soon!
Also Read- How To Use ChatGPT In Excel