These days, you can do just about anything digitally, and that includes using drawing programs. They make it simple and inexpensive to experiment with digital art. You can forget about buying paints and brushes and risking paper cuts on an immovable canvas. Instead, you've got a blank slate onto which to unleash your next brilliant idea and artistic masterpiece.
To help you get started on your next masterpiece, we compile a list of the top drawing apps for iPad. These apps work with any iPad!
Also Read: 10 Best Drawing Apps -November 2022
We curated the list based on the ratings in the app store
1. Pixelmator Pro
Pixelmator Pro is a great choice if you want access to powerful tools for modifying your photographs. This app makes it simple to clean up images, increase quality, and create gorgeous designs from lousy photos, so you don't need to be a professional photographer to use it.
The platform has a shallow, intuitive learning curve for new users right out of the gate. It may take some time to get used to the layout, but once you do, you won't have any trouble locating anything. Just spend a minute or two learning how to use it, and you'll have all you need at your disposal.
Its main advantage over its leading rivals is the lower, one-time cost.
It has highest rating of 4.9
2. Sketch Club
While many of the other premium drawing applications we've discussed can be very costly, Sketch Club is reasonably priced while still offering useful tools for artists of all skill levels.
Brushes, blurring, filling, procedurals, selection, smudging, text, and vector tools are just a few available in Sketch Club. No need to stress over achieving perfectly round or square forms, either. Aspect ratio snapping is automatic in the shape tools, so your work will always appear great. Sketch Club allows for the use of layers, canvas sizes up to 16K with defaults, and high-quality 300 DPI printouts.
The community aspect of Sketch Club is where you'll find the most inspiration and motivation from your fellow users. There are challenges every day, weekly tournaments, meetups every month, a yearly awards ceremony, and more. If you want to improve at drawing, you can learn a lot from the lessons.
With a 4.8-star rating, it's highly recommended.
3. Adobe Fresco: Sketch & Draw
Even though there are many other graphic design programmes available from Adobe, Adobe Fresco is the only one optimised for the iPad and Apple Pencil. Fresco is a fantastic medium for artists of all skill levels and interests.
Adobe Fresco provides a variety of brushes, including those from Photoshop, vector brushes, and the brand-new Live Brushes, so you may create artwork in any style you like. The user interface is adaptable to fit your demands rather than the other way around, and it includes selection and masking capabilities, both of which are crucial for illustrators. Adobe Fresco is part of the free Creative Cloud suite, however there are expensive upgrades available.
Positioned at #67 in the AppStore's Photography & Videography category. The average rating is 4.7.
4. Paper 
If you need something simple and convenient, Paper by WeTransfer fits the bill. A variety of sketchbooks and notebooks we can draw with Paper. Paper's extensive tool set is well-designed and easy to master.
Paper provides you with six fundamental tools that can be used for sketching, outlining, and writing. Diagrams, collages, and cut-and-fill are some of the other features that may be unlocked with a Pro subscription, costing $8 for six months or $12 for a year. Adding many photographs to a journal and using simple tools like a cut, stick, and fix to rearrange them without the need for complex layers leaves a lot of space for creativity with Paper. As a bonus, if you upgrade to the Pro version of Paper, your sketchbooks can be styled whatever you choose, and your work will be synced across all of your devices.
Paper's full potential is unlocked by upgrading to the Pro plan, but the app's bare bones are available without charge, so there's no harm in giving them a try before making that commitment. Or, if you're OK with just the bare minimum of features, you won't have to pay anything at all.
It has a 4.6 rating.
5. Illustrator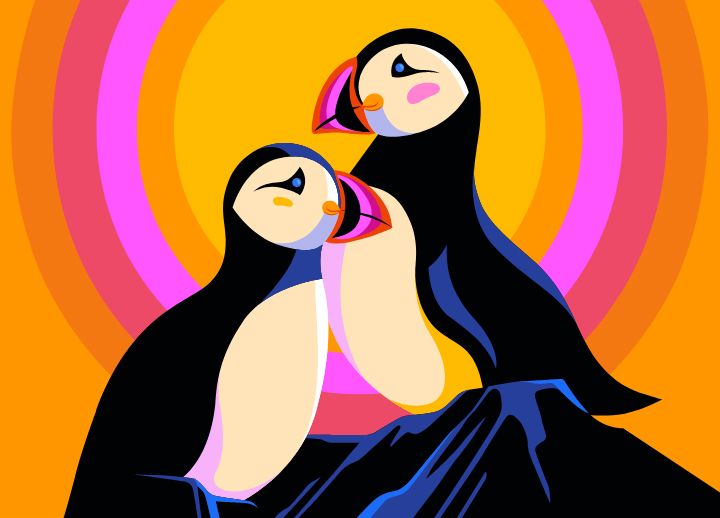 The digital art community as a whole has a strong affinity for Adobe Illustrator. The programme is free to download, but optional in-app purchases are available for additional capabilities like radial, grid, and mirror repeat, all of which are well worth the cost. The app's portable version has the best features of the desktop version.
Using the Illustrator software on the new iPad Pro (M1, 2021) with the Apple Pencil 2 yields a smooth, controlled, and improved digital art experience (be sure to check out the iPad Pro deals and the Apple Pencil 2 offers if you don't already own these devices). The app is only available through a paid subscription and is not compatible with devices running iOS versions older than 14. On the plus side, you can easily move your files from your desktop app to the iPad app and back again.
A 4.6 rating is given to it.
6. Procreate
You have probably heard about Procreate by now. The app's numerous features, adaptable UI, and 3D painting capabilities (even compatible with Zbrush, Blender, and others) have caused a sensation in the digital art community.
According to our analysis, Procreate's most appealing feature is its adaptable and customizable user interface. A wide variety of customization choices available, from the color picker to the brush size, can speed up your process. You can make your own palettes, access a wide variety of colours, and even get suggestions for new colours from Procreate's extensive collection of hues. We're huge fans of the app's new 3D drawing capabilities, which allow you to make anything you can imagine. The only drawback is that it can only use on an iPad.
The overall software is well-design and easy to use, and it only costs £8.99/$9.99 on the Apple App Store, making it affordable for most people.
This item is 4.5 stars out of 5.
7. Inspire Professional
Inspire Pro is probably the only app you'll need to draw, paint, and sketch. To put it another way, imagine having an app that contains everything you could need as an artist.
This app's capabilities include a comprehensive library of brush types that the user can easily modify and control. The user interface of Inspire Pro can adjust to fit the user's preferences.
There are up to eighty high-quality brushes to choose from in the programme, including textures, chalk, airbrushes, oil paint, and simple forms. Paint Splatter, Seven Sets of Complex Shapes, Spray, and the like are just a few categories into which the other 70 amazing brushes may be found.
The brushes have two different textures, making it considerably simpler to achieve the look you want in your sketches. And it gets much better because you can set up a canvas of any size, even up to 16K, with this programme.
This item is 4.5 stars out of 5.
8. Linea Sketch
Linea Sketch is a drawing app for the iPad that is both simple and easy to use, and it is well suits to provide a pleasant sketching and drawing experience. Linea's interface is straightforward, with the tools on the right and the colour picker on the left, much like Adobe Draw. Users can sketch on one of five predefined layers.
Options to modify the stroke size of each tool are conveniently located next to the tool. Color Sets are a useful feature in Linea Sketch. There is a wide variety of colours and tones to choose from in these collections, from bright and dark tones to app design colours and warm and neutral greys. By blending commonplace hues, artists can make their own unique palette. In addition, you may lock your canvas in place and turn it horizontally or vertically. If you're looking for a straightforward but functional iPad drawing app, give Linea Sketch a try.
The average rating is 4.0.
9. Affinity Designer for iPad
It is an award-winning vector drawing app that has been fully optimising for iOS, with features like Touch controls and Apple Pencil compatibility, and it has the same codebase as the desktop version. Our tests praised its ability to handle large, multi-artboard canvases with an unlimited number of layers and a zoom level of over one million percent.
It's possible to create both digital and printed works of art with Affinity Designer thanks to the program's support for CMYK and RGB and a complete Pantone library in the colour swatch panel. Over a hundred different brushes are at your disposal, representing media as varying as paint, pencil, ink, pastel, and gouache, and may be exports to numerous file types (including JPG, PNG, PDF, and SVG). This is one of the few iPad drawing apps aiming exclusively at the business sector.
A 3.9 Rating
10. Zen Brush 2
One iPad sketching software, Zen Brush 2, simulates the experience of using real Japanese calligraphy brushes. Our analysis shows that its rendering engine is quick and fluid. And we're aware that such a restricted use is standard practice, therefore it's all right with us.
The ink dispersion effect in Zen Brush 2 is beautiful. The gallery feature lets you store your work in progress so you may return to it later. In addition to using various colors, not just black, you can now utilize a pressure-sensitive stylus like the Apple Pencil.
Average Rating: 3.9
Conclusion
That wraps up our recommendations for the top iPad drawing applications. This collection has something for creative types of all stripes. It's not just for drawing; the iPad can do much more.