Invideo is used not just for fun or rapid pleasure, but also as a means to make money for creators. As the first online video editor without a watermark, invideo.io strives to make video production available to everyone. It should be possible to make a high-quality video online regardless of where you are, what kind of gadget you have, what language you speak, or how fast your Internet connection is.
The company's ambition is reflected in its affordable price plans, extensive library of professionally-designed video templates (over 4,000 available), and 8 million pieces of material (including some of the greatest stock footage available online, from companies like iStock).
The platform is used not just for fun or rapid pleasure but also to make money for its creators. Because of invideo's browser-based video editing capabilities, thousands of professionals worldwide have been able to produce high-quality films for their businesses and clients.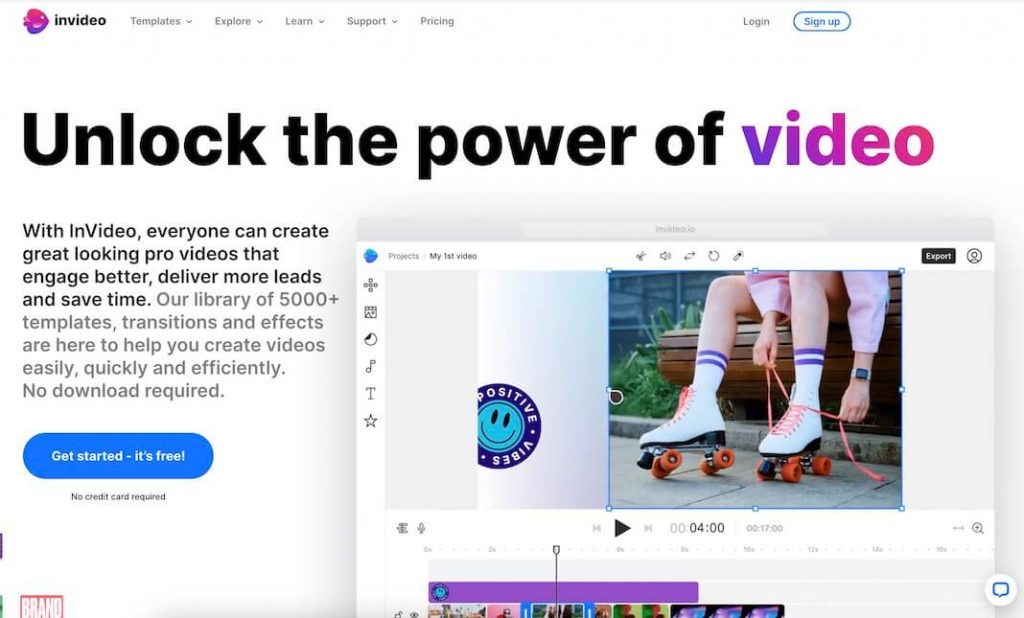 Invideo, born in India, boasts a user base that spans the whole planet (195+ nations). Create compelling films with invideo, the best video editing software available today. Invideo offers ready-made and customizable video layouts and blank and high-end options for making your own videos. You may also use invideo to turn written pieces into moving pictures.
Distinguishing Characteristics Of Invideo
Let's take a close look at what this service has to offer.
Making Videos using Storyteller
invideo's Storyteller films are a great addition to any article, blog post, or listicle. They can serve as a video summary of the post's main points or as a brief introduction to featured items. If you want to keep visitors on your site, this may assist. If you do this, your SEO will improve because of the longer people spend on your site.
2. Media Repository
The media catalog is on par with similar services, but their unlimited monthly use of Premium footage is where they truly shine. It's great that the Business plan provides 300 films per month, and the Limitless plan provides unlimited videos per month. Most other platforms provide fewer monthly downloads and come at a steep price. In addition, their music collection rivals that of any comparable software.
3. Support
The platform's speedy assistance is one of its best features. Within 5 minutes is the typical response time from the platform's support team. Moreover, the platform takes feedback from its users of the Facebook group while developing new tools. It also gives the most functionality for the lowest price of any program that customers have found. While invideo lacks artificial intelligence, it allows users to create many complex films. It would merely require more time and energy to make.
4. Powerful New Editing Tools From The Enhanced Editor
The platform's advanced editor is where the vast majority of its capabilities are hidden, thus it may appear to have less options than it actually does. All of your video's customization options are right here. The sophisticated editor allows users the freedom to rearrange elements, alter color schemes, adjust the overall style, and play with with transitions.
5. Video Formats & Presets
Instagram, Facebook, and YouTube video production is now within the reach of anyone. Although the service does not officially "enable" LinkedIn or Twitter videos just yet, users may easily get around this by creating a square video for YouTube and a Twitter-style video for LinkedIn. Users seldom utilize the templates since most of their movies are script-to-video or "article-to-video" conversions. You can always rely on invideo for any visual article production needs.
6. Usability
The mobile app's simpler UI makes it easier to edit films than the browser-based version. Here, instead of working with clips in a linear timeline, you organize them into layers to make a seamless video. Also, clips are moved around in a stack, numbered so that you can see the sequence in which they will be played, to make changes. The clip's duration may be modified using in/out points, and then transitions and effects can be applied with minimal effort.
Although the browser version is typically well-organized, not every feature is pleasant to newcomers. It's impossible to apply transitions between clips, for instance, if you're working in the Layers view and can only add clips to the active scene. Working in the Scenes view is required for the use of transitions.
It would be more natural to work in the Layer view, where you can right-click between clips to apply transitions and select from various choices in the pop-up menu. It is now awkward and time-consuming to go back and forth between the two perspectives.
7. Outcome Quality
Given that the highest resolution available in the free edition of invideo is 720p and in the paid version, it's 1080p, it's safe to assume that the app's primary purpose is to produce content for sharing on social media.
Optimizing videos is a breeze with the plethora of simple controls and effects available. Additionally, some templates are superior to others, yet, all of them provide a starting point for creating stunning, professional-quality designs in minutes.
Advanced capabilities like Automated Text to Speech function well, but the resulting audio has a distinct robotic tone. Thus, they should be used only when recording a voiceover is impossible. Also, when it comes to removing the backdrop from still photographs, Photoshop's Remove Background tool isn't nearly as precise or effective as doing it by hand.
8. Cost and User Experience
The invideo video editor offers two subscription tiers: Unlimited and Business. The primary distinctions between the programs are the monthly export limit for videos and the amount of Premium Images and Videos that may be used. Users on the Business plan can only make 60 exports per month and can only watch 300 Premium Videos per month. However, Unlimited is more than enough to meet your requirements. Infinite exports and video recordings are at your disposal. The monthly cost of the Unlimited plan is $60, with a monthly cost of $30 if paid annually. The monthly cost of the Business plan is $20, while the yearly cost is only $10.
Making professional-looking films has never been simpler than with invideo. They work especially well for advertising campaigns, presentations, and other forms of advertising. This service makes it easy to produce instructional videos by providing a wide variety of pre-made layouts to work from. With access to over a million media assets, users may quickly and easily create professional-quality videos.
The system is both simple to use and highly sophisticated. It provides the resources for anyone without technological expertise to generate stunning films and express their imaginations. invideo is user-friendly for novices because it comes with more than a hundred pre-made designs. You may also start with a search of the categories to locate a product that meets your needs. Also, you may modify any part of it, adding or removing features as you see fit. You may customize your post with whatever you desire, whether it is stickers, text boxes, videos, images, etc.
Functioning of invideo
#1. You may either use one of invideo's many pre-made templates and customize it to your liking, or you can start from scratch.
#2. One of the best things about invideo is the large number of templates already made. You can change the themes by adding your photos and videos or keeping the animations and transitions that come with the theme.
‍#3. This is a guide for startup/small company owners and freelancers interested in testing out some editing software. Thus, we'll be focused on using templates. Templates on the platform are divided into two groups:
‍#4. Video ad layouts pre-made for the most common types of commercials, such those for products or presentations, are provided.
‍#5. An essay, advertising, or other textual material can have an accompanying video made using Text to Video templates.
‍#6. invideo is a one-stop platform for making videos.
Ready-to-use templates
‍For those who have never made a video, using a template will help you get professional-looking results with minimal work. Content producers may quickly pick a template they like, tweak it to their liking, and then utilize that same format for future projects. Any YouTuber or company that plans to release several videos using the same format and aesthetic will benefit greatly from this.
‍There are already more than 5,000 templates available in various categories for use across businesses. The color scheme, text, animation, and transitions may all be modified without much trouble, regardless of the template you use. Most themes may be modified to meet your needs, for example, by adding your company's logo or choosing a color palette to match existing branding.
For what kinds of projects would you find a use for invideo's library of ready-made template designs?
It's normal practice for new companies to need to create brand introduction films. You aim to demonstrate your value to the world by showcasing your skills and abilities. For this purpose, invideo provides a separate set of premade videos. You may customize it to seem more like your company by making minor changes, just like any other site template.
invideo also provides miniature commercial formats for easy distribution. Use these if you need to make an advertisement for a website that restricts the length of advertisements. Many layouts are geared toward industries like real estate, depicting picture-perfect estates and quiet neighborhoods.
‍Entrepreneurial and retail enterprises that offer their items online must have product video commercials. Video product demonstrations may be especially useful for online retailers since they can encourage people to buy without physically visiting the shop (if one is there). Products where still images don't provide potential buyers with enough information might benefit from the invideo's in-depth explanation films.
Formats for Creating Videos from Text
Text-to-video scripts are available on invideo. These script/writing-to-video templates are just what you need. Fewer than the pre-made templates, there are just over fifty to choose from.
Using text-to-video templates, you may build a slideshow of photographs to accompany a vacation blog or a montage of images for your firm, complete with the company's values and slogans.
How does the editor work?
Creating and editing videos with invideo couldn't be easier. Select a template you like the appearance of before entering the editor. Important to keep in mind is that you cannot copy and paste content from one template into another. You'll have to make another if you don't commit to your choice.
After that, a variety of video-editing tools are at your disposal. You may modify the video's text size, color, font, and letter distribution by dragging and dropping original photos or photographs from a royalty-free source. You may pause, playback in slow motion, or fast forward through your video.
Animating text or pictures, blurring or sharpening images, and modifying transitions between images or clips, is a breeze to implement. If you're starting as an editor or don't have a clear vision, the new virtual assistant in invideo can guide you through choosing colors, aligning text, and adjusting text size.
You may also choose from several royalty-free tunes to utilize in the background of your film. There are entire recordings and shorter snippets of twenty seconds or less.
Instructions for Using invideo
Making use of invideo is a breeze and as easy as pie. There is no requirement for users to engage in creative thinking before using this system. Getting started is as easy as going to the website and doing the things listed below.
Determine the platform and its location.
The first step is to determine where we want to put this on social media, such as on your timeline, in a Facebook Story, in a YouTube Landscape video, etc.
Please choose the video's topic.
To help you save time and energy, we have a wide variety of creative templates arranged in groups according to the topics about which videos can be made.
You can check for your theme in the search bar if the aspect ratio you want isn't shown on the site.
A guided tour of the most important features of the video-making software.
Collection of Media Files
You may search through millions of photographs and movies in a media library to discover the perfect ones to use in your video effects. (likely, the selected template doesn't have the particular media files you were hoping to use). The following transition is fully customizable to fit any video project you can imagine. Make use of the tool, and you'll quickly appreciate the high caliber of the extensive video editing options it provides.
Database of Musical Selections
Add some tunes to liven up the atmosphere.
You may find a variety of usable sound effects and music for the video in the music library. If you don't like any of the available music for your video, you can always add your own by uploading an audio file.
Library of Scripts and Typefaces
Not only can you choose from several different fonts, but you can also utilize one of the cool calligraphy templates they provide. Where pre-formatted text with color and motion effects may be found. Incredibly effective medium for commercials.
Sticker collection
One thousand or more animated stickers are available for use in the film. As a call-to-action in your film, you may utilize stickers.
Stickers from the CTA, with messages like "Call Now" and "Get Started."
This is a very fascinating function, in my opinion.
Library of animated effects
Animation effects may be selected from a library and applied to your video in post-production.
Video file exportation
Before exporting, review the movie's chronology to see if there's anything else you can add, and make sure the video is the right length and resolution. When you select the "Export" button in the upper right, you'll be asked if you want to save the movie in 720P or 1080P resolution.
Select one and store your recorded media.
In addition, invideo's clients have access to continually updated documentation and tutorials to ensure they are fully informed about the software and its capabilities.
Assistance to Clients
If you have any questions or concerns, you may contact the organization via phone or live chat for the quickest response. You may get in touch with them immediately if you encounter any issues.
In addition to the recorded webinars, they also host live webinars where you can learn from their video experts and ask any questions. They also have a frequently asked questions page and a lessons section on their website.
You can email them at info@invideo.io if you still have questions after searching the site. To get in touch with the team directly, email support@invideo.io, and you'll get a reply within 48 business hours.
Consistent with other invideo testimonials, we found their support team to be helpful and fast to respond with answers to any queries or concerns.
Is

invideo

easy to use?
Anyone, from novices to seasoned veterans, may benefit from using invideo. Its user-friendly design allows even those with little experience editing movies to produce high-quality results in minutes.
How much does

invideo

cost per month? or Is there no cost to use InVideo?
Based on a freemium business model, invideo allows users to create videos without paying anything, with some limitations. Their lowest-priced package is only $10 per month. However, if you sign up with invideo, monthly payments will be reduced to only $8.
Is the video editing program

invideo

developed in India?
The Mumbai-based company invideo produces video editing software.
Can I use I

invideo

in languages other than English?
Can I use I

invideo

in languages other than English?
Indeed, invideo supports the creation of videos in any language. All the files, including text and audio, need to be uploaded.
Conclusion
Anyone, regardless of age, experience, or aesthetic preferences, may use invideo, the first newly launched video editing application that employs Intuitive AI Technology, to build amazing, realistic invideo films in 30+ languages instantly.
invideo may make and sell various movies for different purposes, including whiteboard animations, video demos, video tutorials, promotional and advertising videos, and more. You may offer invideo to an unlimited number of customers under your brand name in addition to the commercial license, as it's open source and can be easily customized. Besides the obvious monetary and time advantages, you may also benefit financially from providing this service through the commercial rights that come with running your firm or working for yourself.