Long ago, Facebook practically ruled the virtual world with nearly every internet user signing in to it. It was more than a decade ago, and Orkut was coming to a close. It's 2021, and the number of social media websites are on the rise. Still, FB, WhatsApp, Instagram, Twitter, and YouTube are in the number one position. Of course, there are others like Telegram, Snapchat, and Pinterest, but their followers are not close to the former ones.
However, the lesser-known social site DTube seems to be running its own race, ready to fight with YouTube. Launched in 2016, it is the only video-sharing platform that could beat other competitors and might very soon beat YouTube in its own game. DTube announced its partnership program, and you might benefit from knowing about it.
Also Read: 5 Chrome Extensions To Enhance Your Reading Experience
What Is DTube, And Why Should You Care?
As discussed above, DTube is a video sharing, uploading, and downloading website similar to YouTube. It also borrows its name from there. However, DTube or Decentralised Tube is futuristic in its approach, which might be tempting for many of you out there. For instance, DTube does not display the number of views in a video. Instead, it displays the amount of money it earned, making the financial aspect transparent. This is the first reason why DTube might be the future of video-making platforms.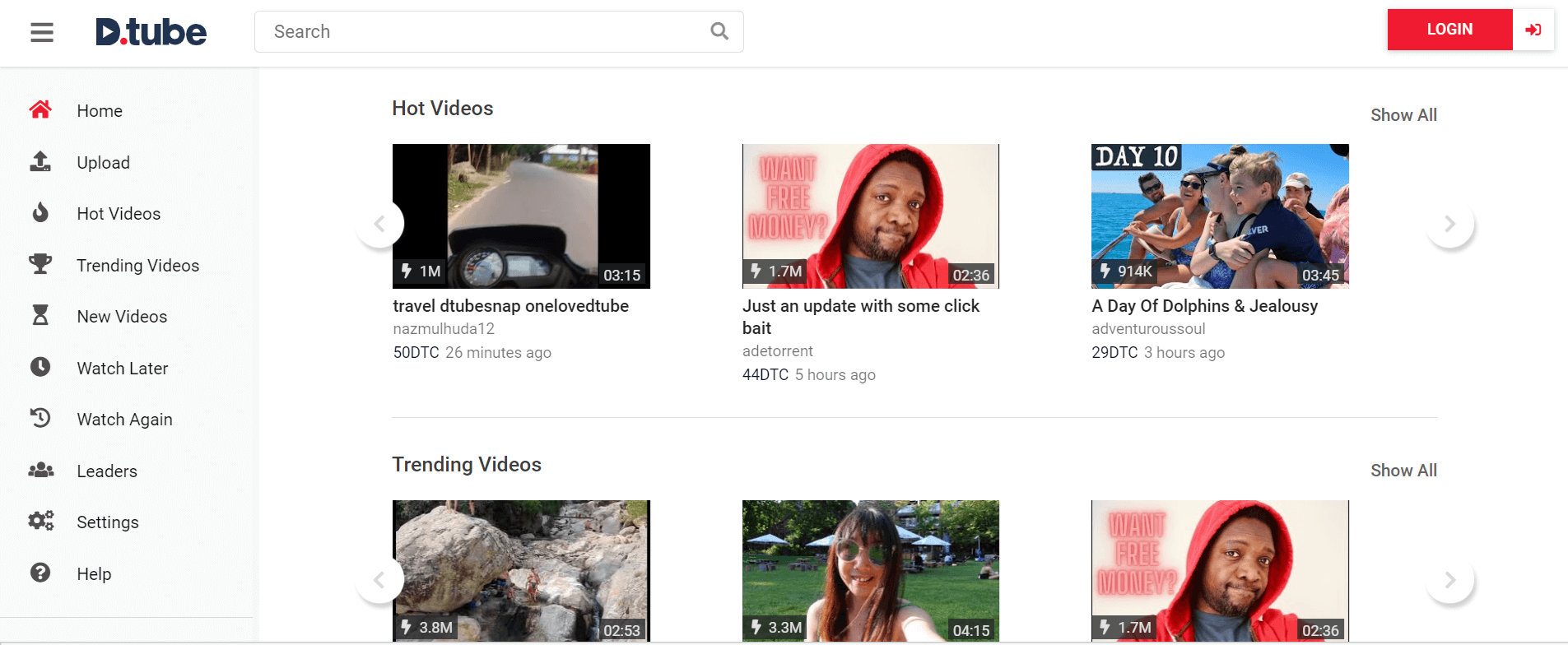 Whereas in YouTube, the financial aspect is always kept discreet, which does not make sense. Moreover, DTube videos don't earn money from traditional advertisements. Rather than paying users with traditional cash or currency, DTube pays them with Steemcryptocurrency. Thus, DTube is perhaps one of the first social media platforms to understand and realize the importance of digital money.
Those who are interested in cryptocurrency may find this a great source of revenue generation. Based on the IPFS peer-to-peer network and the STEEM blockchain, this site pays out every seven days. However, older videos will not earn anything past the seventh-day mark.
DTube is not only beneficial for content creators but also regular users who consume this content. Once a creator uploads their content, they are not allowed to change the video after its uploaded. Users cannot even delete any of their videos. However, the need for doing so will be less likely as DTube does not follow strict censorship. As a creator, the platform will pay you, upvote your video and promote it.
Also Read: How To Self-Publish And Market Your Book On Amazon: Step By Step Guide
How To Expand Your Brand/Business On Instagram?- An In-Depth Detailed Guide
DTube Partnership Program 2021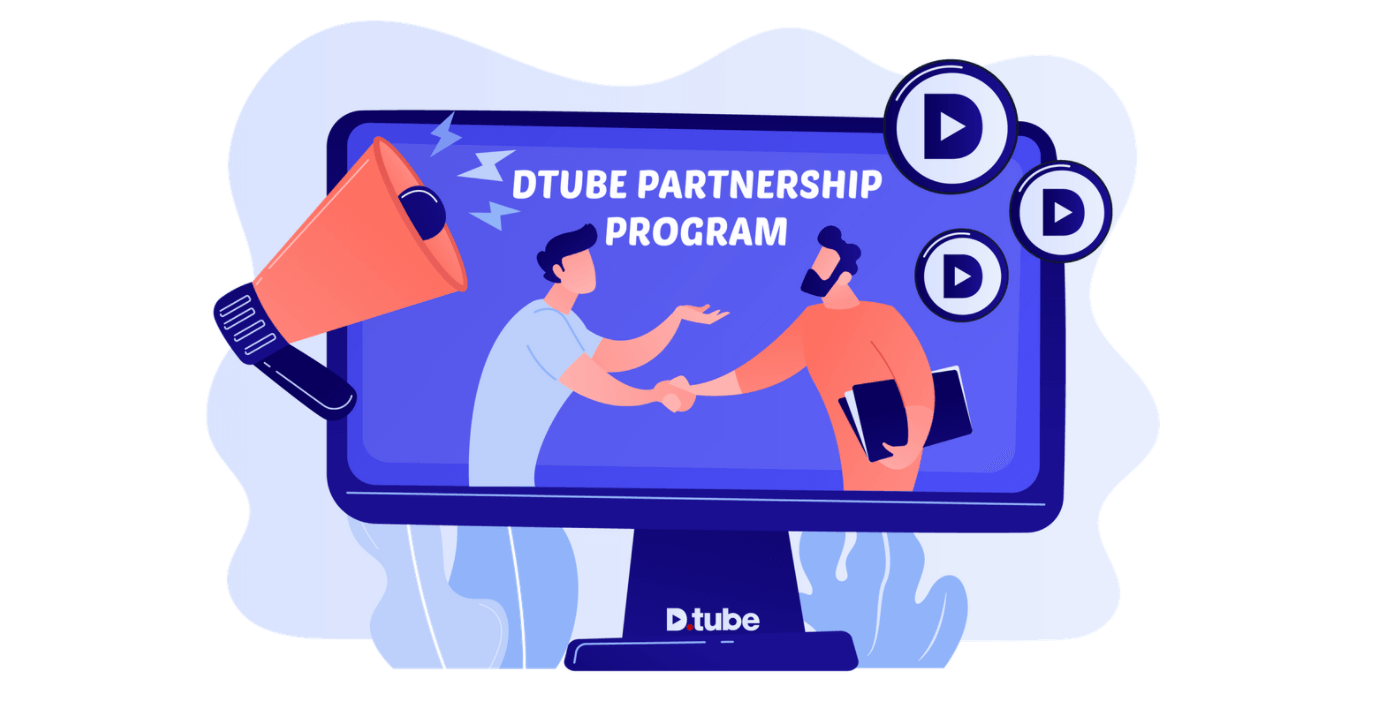 DTube is releasing its partnership program for content creators and project owners. They want to collaborate with content creators who have dedicated followers on other social media sites. They want content creators and project owners to onboard new users and work on community building on the site. DTube has a lot of voting power which they want to utilize by empowering users and content creators.
This is beneficial for both DTube, and the content creator as content creators will get upvoting for their content and earn Dcoins. Their fans and followers, too, will be able to earn Dcoins. However, content creators will earn only as many news users as they would be able to bring into the platform.
Content creators can fill in the application, after which they will receive a referral link that will lead to DTube sign up. In addition, DTube will transfer its voting power to every content creator. Thus, voting power directly translates to the number of Dcoins you earn and the referrals you get.
Also Read: How To Set Up 3 Monitors In Windows 10?
How Can You Apply To DTube Partnership Program?
You can easily apply for the partnership program from the website peakd.com. A Google form will appear that will look like this image below.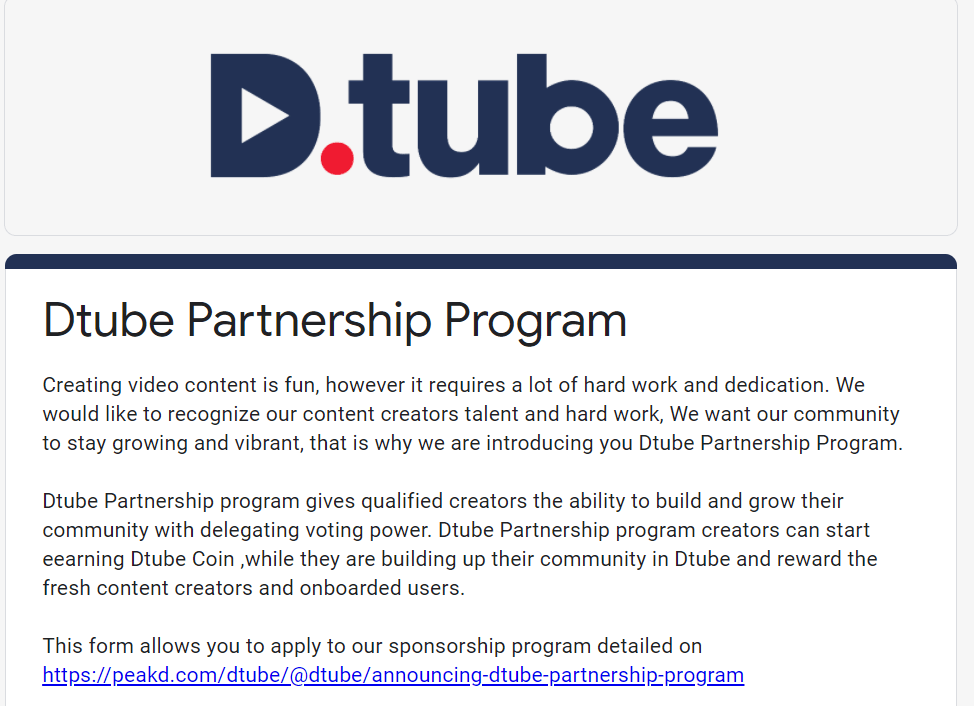 However, not everyone is eligible to apply for the program. Only those who:
Have an established following on social media
Voluntarily want to be a community member to empower other content creators
Voluntarily want to promote Dtube and bring new users on the platform
And Add Value to the DTube community
As you can see, there is no specified number of followers required. But the willingness to create value for the Dtube community. Moreover, you will also need to give the following details:
Tell DTube about yourself and your channel/account in less than two hundred words
Add links to your social media accounts with followers
Your interest and vision with your DTube channel
The approximate number of new users you can onboard from among your following
And finally, your contact details.
Also Read: How To Use Microsoft To-Do List To Organize Your Personal And Work Life
Conclusion
After you are done filling in these details, click on submit. The team of DTube will review your application and get back to you within seven days.
Read: Cool Google Tricks You Need To Try Out When You Are Bored