You can Get iOS audio directly to your Mac if there is any problem with your device. Just imagine, if you'd like to play or transmit some of the music from your iPhone through your Mac, perhaps for a podcast you're recording. You may use your iPhone as an additional audio input on your Mac without much hassle. Please continue reading to find out how to implement it.
A Lightning to USB cable, such as the one that came with your iPhone or iPad and is used for charging and syncing, is required to play audio from either device. Launch Audio Midi Setup on your Mac after plugging in your iPhone or iPad via cable. You'll find it in the Applications/Utility folder.
Even while Apple's iPhone speakers have gotten much better thanks to stereo settings, they still can't compete with the bigger speakers on a Mac. The speakers on even the most basic MacBook Air are of high quality and improve the listening experience.
It would be fantastic if the iPhone could stream music or podcasts through the mac's speakers instead of the headphones. Sounds would be louder and richer than they would be coming from an iPhone. This method can also serve as an entertaining party trick when you don't have a Bluetooth speaker to link to and many people in the room.
There's only one catch: you can't use the trick to play phone calls, so it's not a good way to record talks. In any case, it's a neat skill to have under your belt. Let's check out the configuration options.
How to Fix Issues with Your Mac's Audio Output
Open System Preferences, select "Bluetooth," and verify the device is connected if you're experiencing problems sending sound to a Bluetooth-enabled device (such as AirPods or Bluetooth speakers).
The vendor likely has updated drivers available for download if the device in question is a USB audio interface and you're using a Mac. You may need to install those drivers for the Mac to identify the device. You can also swap out the USB cable you're using to link the gadget to your Mac and see if it helps. A USB cord may develop a malfunction on occasion.
It's tempting to believe that every monitor has speakers built in, what with so many of them having them these days. Find out if audio output is a feature of your display by looking at the technical specs. You may need to connect external speakers if you want to listen to audio on your Mac at a reasonable volume.
1#Utilizing Airplay
Apple's new macOS Monterey includes a neat feature that allows your computer to function as an AirPlay speaker. So, if you have an iPhone or iPad, you can use AirPlay to wirelessly stream audio and video from your iOS device to your Mac's internal speaker. This is the procedure that should be followed.
You first need to make sure your Mac and iPhone are running the latest software versions. Macs running earlier versions of OS cannot benefit from this approach.
The second step is to use the same Apple ID to sign in to both your Mac and your iPhone
Activate Wi-Fi on both your iPhone and your computer.
The fourth step is listening to music or audiobooks on your iPhone. You can access the Control Center by sliding down from the screen's upper-right corner. On iPhones equipped with a home button, you can access it by swiping up from the bottom.
Access media settings by tapping and holding the Music widget in the Control Center.
Select the AirPlay icon. Your Mac is classified as a Television or Audio Device. Use your finger to tap it.
The sound can be heard through mac speakers. To revert to the iPhone's internal speakers, open the media widget again from the Control Center and select iPhone.
2#Using USB cable
In contrast, this is an older, simpler technique. You can play the iPhone's internal audio through your computer's speakers if you connect your iPhone to your Mac and set it as an input source. You can use the cable that came with your phone, or you can look into the top USB-C to lightning cords for iPhone.
First, connect the Lightning end of the cord to your iPhone and the USB end of the cable to your Mac. You can use either a USB-C or USB-A cable.
Second, once you're linked, launch Spotlight Search by pressing the Command key plus the space bar on your Mac.
Third, select Audio MIDI Setup from the drop-down menu and hit Enter.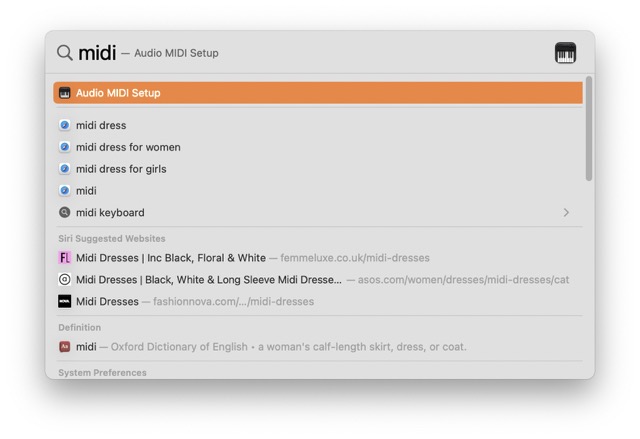 4. Launch the Audio MIDI Setup application on your Mac. All of the input and output audio devices currently connected to your Mac will be displayed here. The left column will detail the various audio outputs, such as the built-in speaker, microphone, and headphones.
5. You'll find that your iPhone is now listed as a device on the left side of the screen. Choose the Enable button down below.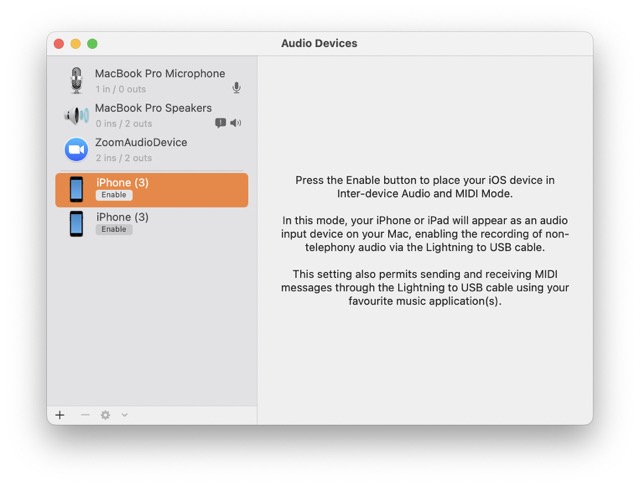 6. You'll be able to see that your iPhone is now connected to two incoming lines but no outgoing ones. Your iPhone is now functioning as a sound input for your Mac.
7. Use your iPhone to play an audio or video file, and it will be played over your computer's speakers.
In other words, you can only use this technique to play media like music and videos. However, incoming phone calls will go directly to your iPhone, bypassing the Mac entirely.
To turn off iPhone playback. Simply return to Audio MIDI Setup and select the Disable button located directly beneath your device.
Conclusion
Now you can stream videos from your iPhone to your Mac's larger display and listen to music through the more powerful speakers. This is a fantastic replacement for a separate external speaker and will improve your media-viewing experience.