Google has recently announced access to an experimental project called "Bard". It aims to enable users to collaborate with a generative AI system. Those who are interested in trying it out must sign up for the waitlist. And wait for access to be granted, much like the signup process for Bing Chat AI.
Google launched Bard, its chatbot, to a selected group of testers as a competitor to OpenAI's popular ChatGPT. However, the initial announcement of Bard was marred by controversy after a moving graphic displayed an AI hallucination or falsehood. Thus, causing a considerable decline in Google's parent company's shares. Rather than a wide release, Google is providing demos to a few insiders and a waitlist for others to gain access.
Moreover, the Bard homepage warns that the chatbot is still experimental. And may display erroneous or offensive information that doesn't represent Google's views. Nonetheless, this is not strange for AI chatbots, as Microsoft Bing's AI chatbot had more concerning misbehavior last month and is still receiving high traffic.
Also Read ChatGPT, Google Bard, Microsoft Bing- How They Are Similar But Yet Different
So, what is Google Bard?
Google Bard is powered by the tech giant's highly-anticipated LaMDA technology. Designed to contend with the popular chatbot developed by OpenAI and backed by Microsoft, Chat GPT, Google Bard leverages advanced AI technology to yield answers to input queries and commands that closely emulate human speech. As a prediction engine, it generates responses by selecting words that are likely to come next when given a prompt. To ensure creative responses, flexibility factored in rather than always choosing the most probable choice. The more users interact with LLMs like Bard, the better they become at predicting helpful responses.
Despite their potential, LLMs have some limitations. These language models learn from a multifarious range of data that can reflect real-world biases and stereotypes, which can lead to biased outputs. Furthermore, LLMs may confidently present inaccurate, misleading, or false information.
Bard enables users to enhance their productivity, creativity, and knowledge acquisition. For instance, users can ask for tips to increase their reading pace, seek simplified explanations of complex topics like quantum physics, or generate outlines for blog posts. Additionally, Bard is currently seeking feedback from users to improve the system and make it more useful and effective.
Also Read Everything You Want To Know About Google Bard
A Comparative Look at Bard with ChatGPT and Bing Chat
When compared to ChatGPT and Bing, Bard has some similarities but offers a different experience. In early tests, Bard showed high levels of creativity but at times lacked consistency in their writing style, leading to repetitive word choices. The AI-generated content output is in three drafts, which makes each response feel less definitive. Like Bing's AI chatbot, Bard provides citations for its responses occasionally but may struggle to answer sensitive questions. While Google has stated that they will not place ads in early versions of Bard. The potential for monetization exists given Google's significant revenue from ad placements.
Also Read- Future Of Artificial Intelligence – 8 Ways It Will Change The World
access Bard AI on Google
Initially, Google Bard will be accessible to a limited number of users in the US and UK, with curious users having the option to sign up for a waitlist. However, Google has not provided a specific date for when the language model will be fully available to the public, and the roll-out expects to be gradual. In case you are located in an unsupported location. VPN app users can access the website and sign up for the waitlist.
If you're interested in accessing the Google Bard preview, here are the steps you can take:
Step 1: Open the Google Chrome browser. It is recommended that you use Chrome for the best experience. After that, navigate to the Bard waitlist page by following the attached link.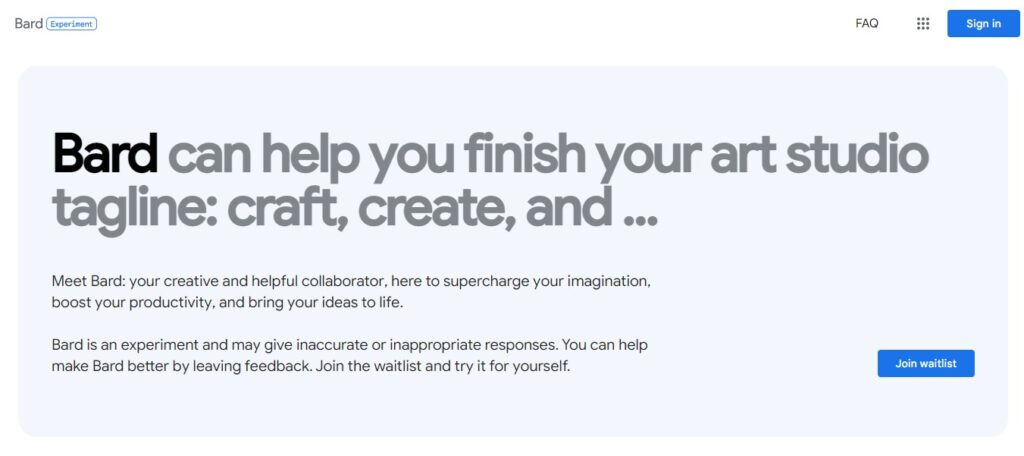 Step 2: Now, you need to tap the "Sign-in" button in the top-right corner of the page. This will prompt you to sign in with your Google account which is necessary to join the waitlist. Confirm your Google account credentials and then jot down your email and password to sign in.
Step 3: Click the "Join waitlist" button. This will add you to the waitlist for the Google Bard preview. After that, you need to check the box "Opt in to receive email updates about Bard" option to further join the waitlist to access Google Bard. If you want to stay updated on new developments with the chatbot then tap the "Yes, I'm in" button to confirm your sign-up.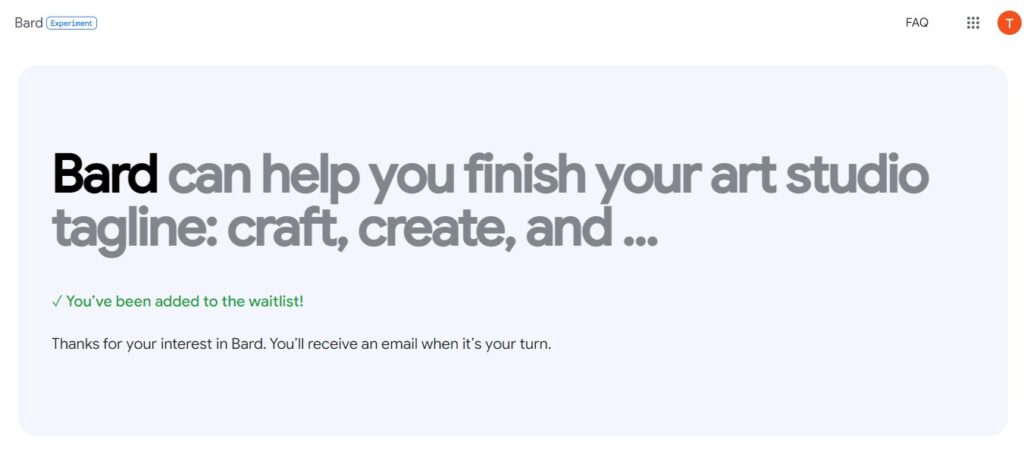 After finishing these steps, you will acquire an email verifying your access to the pristine Bard experience. Nevertheless, since Google is still in the earlier stages of the public preview for this chatbot. It is vague how long it will take to obtain an invitation to join the waitlist.
Also Read- Learn To Create Your Own AI Animated Character With Voice
Conclusion
Bard, Google's latest foray into the AI search engine arena, remains poised to be a game-changer. With cutting-edge LaMDA technology at its core, Bard has the prospect to revolutionize the online search experience. Google users can peek forward to the improved search functionality and a more seamless browsing experience. While access to Bard remains currently limited to those on the waitlist. It's an exciting prospect for those eager to try out this new service. As we await the full release of Bard, we can only imagine the possibilities it holds for the future of online search.
Also Read- 10 Areas Of Your Life That AI Is Likely To Disrupt