In today's society, it's rare to meet someone who hasn't heard of emojis. It's not surprising to believe that these little images have taken over the world, given their widespread use. Since their invention in the 1990s, these tiny icons have become inextricably related to virtual text communication. In this article, we will be discussing how tikolu.net emoji mix works.
Well, honestly, the purpose of this article is not to enlighten you about the power of emojis. Because almost everyone is aware of that. So, the main motive of this snippet is to talk about an awesome emoji mixer provided by tikolu.net.
Also Read: All About Tikolu.net Emoji Mix
"If emojis are fun, using mixed emojis is more fun."
How tikolu.net emoji mix works
Steps in short:
Go to the tikolu.net emoji mix page.
Tap the Click here to begin option.
Start combining emojis.
To combine randomly, click on the Shuffle icon.
To copy an emoji, click on the Copy icon.
You can also easily share an emoji on Various social media platforms such as Facebook, Instagram, WhatsApp, etc.
Also Read: Taylordle: Wordle For Taylor Swift Fans
Now, steps to mix emojis online on Tikolu
(in detail)
Using tikolu.net for emoji mixing is the simplest thing you can do in this whole world. Really. It is not an example of hyperbole. But it is just to make you believe that it is indeed a piece of cake to mix emojis using tikolu.net. So, steps to combine emojis online on tikolu are mentioned below:
Go to the emoji mix page of tikolu through this link. -> https://tikolu.net/emojimix/
 By clicking on this link, you will directly land on the emoji mix page where you can combine various emojis online in no time.
Now, tap on the Click here to begin option as shown below in the screenshot.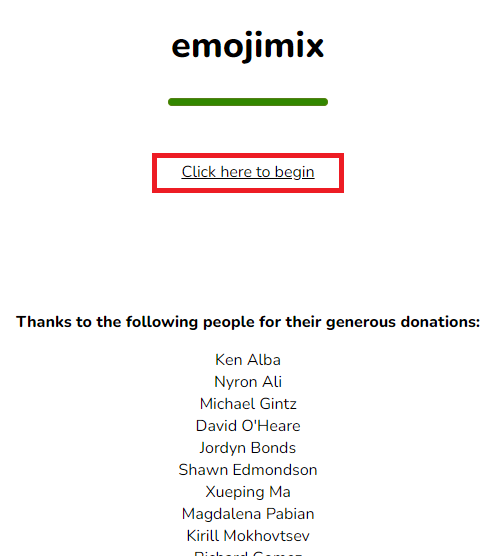 Now, click on the shuffle icon to mix any two emojis randomly.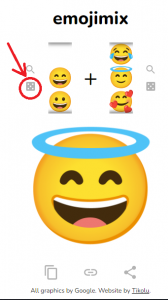 If you want to choose emojis according to your choice, scroll down/up on the emojis as given below in the screenshot.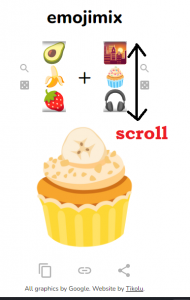 For example, here Rolling on the floor laughing, and Pleading faces have been combined to create a wonderful emoji.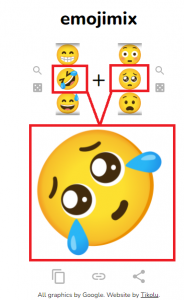 Now, in the next instance, Nerd face and Thinking face emojis have been mixed to get a marvelous combination.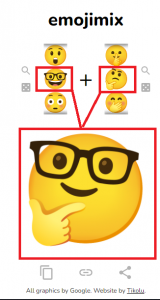 Like this, there are thousands of combinations you can get using this awesome emoji mixer.
Benefits of mixing emojis on Tikolu.net
Share with friends
The greatest part is that you can even copy these combinations of emojis or share them directly with your friends and family members by clicking on the Share icon. As already mentioned, there are thousands of combinations available. So, it is indeed super fun. It is a matter of fact that you can never get enough of this emoji mixer.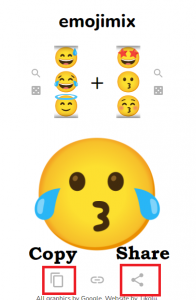 2. Free-to-use
The fact that it is absolutely free to use is the icing on the cake. To use tikolu's emoji mix service, you don't have to spend a single dime. So go ahead and mix and match emojis, then share them with your pals.
3. Works on almost any device
This emoji mixer is compatible with practically all devices. It works nicely on iPhones, Android devices, and Mac computers. As a result, you don't have to be concerned about your gadget. It performs at the same degree of efficiency on any device.
4. No app needed
The cherry on top is that you don't need to download any app to utilize tikolu.net's emoji mix service. All you have to do is click on a simple link and start putting emojis together online. Then show them to your friends and have a great time.
These days, combining emojis is a lot of fun. It's because these little images give text communication more richness. Emojis are as important to text communication as body language is to verbal conversation. They are something that everyone is aware of. Emojis assist you in expressing your true feelings because text communication could be misunderstood and is open to ambiguity.
Wrapping Up
So, that's all for now. If you really love to use emojis in chatting and texting, then this tool is tailor-made for you. Using it, you can combine emojis and have great fun. It is a fact that emojis are very powerful. This article mainly focuses on how the tikolu.net emoji mix works. This tool takes amplifies the potency of these little icons and helps you convey your message in a better manner.