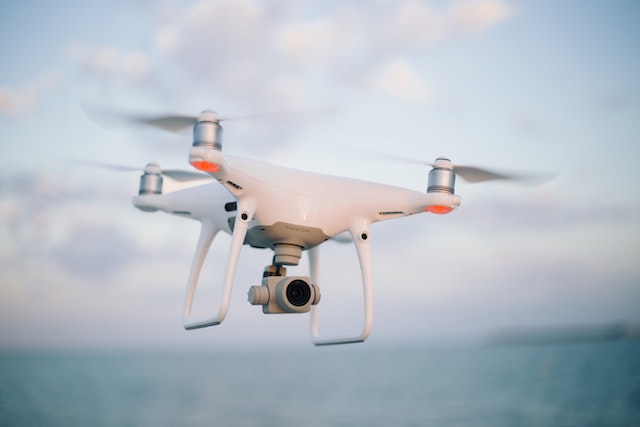 Have you considered the prospect of procuring a drone? Whether you're seeking some lofty competition or simply desirous of some outdoor entertainment, drones provide an ideal amalgam of relaxation and exhilaration. Furthermore, they can elevate the field of both professional and amateur photography and videography to unprecedented heights.
Our informative guide is tailored to aid you in selecting an optimal drone for your unique needs. Within its pages, you'll discover invaluable insights on how to make an informed decision, ensuring that your investment yields maximum returns. Whether you're seeking to capture breathtaking aerial views or engage in thrilling aerial contests, our guide provides a wealth of information to guide you along your journey.
So, embark upon your drone procurement endeavor with confidence and allow our Ultimate Drone Buying Guide for Total Beginners 2023 to illuminate your path toward attaining the perfect drone for your individual preferences.
Also Read- Top 3 Camera Drones To Kick Start Your Passion For Filming
Unmanned Aerial Vehicles (UAV) or Drones
In the realm of aviation, there exists a unique marvel – the unmanned aerial vehicle, colloquially referred to as a drone. Unlike traditional aircraft, these innovative machines operate without any human pilot, crew, or passengers aboard. Originally conceived in the twentieth century for military purposes deemed "dull, dirty or dangerous," UAVs have since evolved to serve a multitude of roles.
The world of drones is a fascinating one, boasting an expansive spectrum of applications that grow far beyond the realm of military reconnaissance and transportation. Nevertheless, it's aerial photography drones that have been making headlines in recent times.
The unveiling of the Parrot AR Drone in 2010, the first camera drone handled by a smartphone, paved the path for several drone cameras to hit the market, including the DJI Phantom and 3DR. The rise of drones quickly grabbed the attention of enthusiasts worldwide, ushering in a fresh era of pictorial storytelling.
Most drones, particularly those utilized for photography and videography, are designed as multi-rotors. These drones typically feature more than two blades, with quadcopters being the most popular type. As the name suggests, quadcopters have four propellers, much like a helicopter. As the pilot, you have full control over the movement of your drone, deciding its flight path and speed using a remote control or even your smartphone. Quadcopters are incredibly maneuverable, making them perfect for capturing stunning aerial footage.
Fixed-wing drones, on the other hand, take off vertically and utilize kinetic energy to move forward. While they're ideal for covering vast distances, even with limited battery life, their primary drawback is their inability to hover. This feature is particularly crucial in landscape photography, where capturing the perfect shot requires precision and stability.
Q-1 Quick Tips for Buying the Perfect Drone
Flying a drone can be an exhilarating experience, though before you take to the skies, it's significant to evaluate a few things: budget, skills, and intention. Here are some pointers to keep in mind before you take off:
Start with a Toy Drone: If you're new to the drone game, start with a cheaper toy drone to get the hang of things before you upgrade to a more advanced model.
Choosing the Right Drone: Drones come in all shapes and sizes, and so do their price tags. Most models fall into two categories: affordable options under $200 and pricier models that cost over $800. While cheaper drones offer basic features and controls, the higher-end models often come with fancy features like high-def cameras and autonomous flight modes.
Repair Costs: While most drones can be fixed after a crash, the cost of substitute parts can quickly add up. Keep this in mind when considering your budget for your desired drones.
Battery Life: Battery life restricts flight time for all sorts of drones. Make sure you're aware of your drone's battery life and plan accordingly.
Stay Within Signal Range: It's crucial to abide within the drone's signal range to bypass losing control. Be sure to acquaint yourself with the range before flying.
Use a Drone Simulator: If conceivable, utilize a drone simulator to get some practice before your first flight. This can assist you to get restful with your drone's controls and capabilities.
Evaluate Your Skills to choose the right Drone
Before purchasing a drone, it's essential to evaluate your flying skills and experience. While consumer-level drones, such as those in the DJI series, come equipped with cutting-edge stabilization and automatic flying modes, apprehending how to navigate them in different environments takes practice and experience.
For beginners, logging in as many flying hours as possible is essential. Experiment with flying in windy conditions, during different times of the day, and over various terrains to build confidence and adaptability. Expect a few close calls with obstacles, disconnections, and other technical issues that require diagnosis and troubleshooting. Overcoming these challenges will help you appreciate larger drones and approach flying them with greater assurance.
The world of drones is diverse, offering a vast array of models to suit varying preferences and budgets. From high-end drones loaded with cutting-edge technology to more affordable models perfect for leisurely flights in your backyard or garden, there's a drone for everyone.
Also Read- Top 15 Technologies To Learn In 2023
1. Toy drones
Toy drones are the perfect intro to the world of unmanned aerial vehicles. With their uncomplicated design and basic controls, they offer a safe and fun way to enjoy the great outdoors. And while they may not have all the bells and whistles of their more advanced counterparts, high-end toy drones can still deliver an impressive flight experience that rivals that of lower-end camera drones. Even professional drone enthusiasts may find themselves admitting that their high-tech flying machines are, at their core, just awesome toys.
Who can use Toy Drones?
Beginners
Children
Indoor Flying
Toy drones are simple and uncomplicated to operate, suitable for nearly all ages, and can provide a fun venture of flying a drone without the complexity of progressive models. They are lightweight and have safety features to minimize the risk of injury or damage.
Also Read- Apple's Swift Playgrounds app – a free iPad learning app now supports robots, drones…
Best Toy Drones in the Market
Selecting the perfect toy drone can be challenging as it concerns negating different factors such as features, battery life, weight, and more. To simplify the process, we have created a list of the top toy drones available in the market. Our list will provide you with detailed information on each model's key features, advantages, and disadvantages, enabling you to make an informed decision.
1. Techboy TB-802 One-Key Drone
Price: $24.99 (Walmart)
This drone is an excellent indoor toy for kids, operated not by a traditional remote controller but by hand motion. It includes a motion-sensor controller that mimics the user's hand movements. Weighing only 34g, the drone is safe to fly around the house and won't damage any objects. It has a flight time of 5-8 minutes, making it an ideal choice for short bursts of fun.
Features
Equipped with a motion-sensor controller
Comes with a pair of spare propellers
Can be charged via USB cable
Offers a remote distance of 20 meters
2. Potensic A20
Price: $39.49 (Walmart)
The Potensic A20 mini-drone is a perfect choice for kids and novices, weighing just 190 grams. With its compact and weightless design, it is extremely effortless to handle. Besides, it features a built-in one-key take-off and landing process, which authorizes children to operate the drone with ease. The included remote controller makes it simple to control the drone for up to 15-18 minutes without the need for an iPad or similar device. Additionally, the drone has an emergency stop feature that ensures a safe flying experience for kids.
Features
Quick take-off/landing
Emergency stop
Easy remote control
15-18 min flight time
Also Read- What Devices Will You Find In The Smart Kitchen?
2. Beginner Drones
Beginner drones are perfect for first-time flyers as they are effortless to use and affordable. These models are intended for entry-level or novice pilots and are equipped with camera sensors capable of capturing decent footage, allowing users to enhance their flying skills. Although they may not have advanced features and filmmaking skills like premium drones.
After extensive testing, we have gathered a list of the soundest beginner drones. Our buying guide wraps up a variety of top options, from affordable budget drones to more advanced beginner models.
But, before diving into it, let's have a look at some of the important aspects to consider before buying a beginner drone.
Q-2 What are some important aspects to consider when choosing a drone for a beginner?
Durability: When looking for a beginner drone, it's important to prioritize durability, especially since crashes are likely to happen. Only consider drones with a track record of being tough and long-lasting, and preferably ones that have been personally tested.
GPS or Altitude Hold Functionality: While GPS is the easiest option for beginners, it can be expensive. Instead, consider a drone with altitude hold, which allows you to focus on flying in four directions without worrying too much about the up and down axis.
Camera Capabilities: If you're just learning to fly, a camera is not necessary. However, if you do want a camera, consider the drones below that have the best camera for their respective price.
User-Friendly Controls: Instant and responsive controls are essential for a beginner drone. Avoid drones controlled by phone apps, as they can make it more difficult to master the basics.
Best Beginner Drones in the Market
1. Ryze Tello
Price: $62.42 (Amazon)
Ryze's Tello, a compact and lightweight drone, is designed in collaboration with DJI and is perfect for mastering the basics. You can control it via Wi-Fi and the Tello app on your smartphone or a Bluetooth gaming controller (with limited range). It proved to be a responsive and lively flier, making it an excellent tool to master twin-stick quadcopter flying. Additionally, the stability sensors minimize drifting, and the 13-minute battery life is impressive.
Features:
Dimensions: 3.6×3.6×1.6 inches
Weight: Approximately 2.8 ounces (including battery and propellers)
Battery: Detachable Battery- 1.1Ah/3.8V
Charger: Micro USB Charging Port
Modes: EZ Shots, Throw & Go, 8D Flips, Up & Away, and Bounce mode.
Frame rate: 30FPS
Video resolution: HD 720p
Video transmission range: 100m
Pros:
Responsive controls for easy flying
The design is both compact and lightweight, making the device highly portable and convenient to carry around.
Decent battery life of up to 13 minutes to enjoy longer flights
Cons:
Poor performance in windy conditions
The controller is not included in the Drone package
Also read- How To Clean Your Gadgets?
2. DJI Mini 3
Price: $759.00 (Amazon)
The DJI Mini 3 is the best edition for beginners yet, with a lightweight and compact design, easy-to-use controls, and automated filming modes. However, like the previous Mini models, it doesn't come with collision avoidance and requires an upgrade to the Pro version for that feature. The drone only showed issues with drifting in extremely windy conditions.
Features
Weight: 8.74oz / 248g
Dimensions: Folded 148×90×62mm / Unfolded 251×362×72mm
Battery: The drone has two battery options: a standard 2453 mAh Li-ion battery that provides up to 38 minutes of flight time, and a plus 3850 mAh Li-ion battery that provides up to 51 minutes of flight time.
Charger type: A USB-C cable and an AC Mains DJI 30W USB-C hub are available as separate accessories.
Modes: Cine, Normal, Sport
Video resolution: 4K, 2.7K, 1080p (FHD)
Frame rates: The camera supports different frame rates, including 4K at up to 30fps, 2.7K at up to 60fps, and FHD at up to 60fps.
Range of video transmission: The maximum video transmission distance of the drone is 7.5 miles or 12 kilometers.
Pros:
Responsive controls for easy flying
The drone features a design that is both lightweight and compact, making it easy to carry around and highly convenient.
Decent battery life of up to 13 minutes to enjoy longer flights
Cons:
Poor performance in windy conditions
The controller is not included in the Drone package
Also Read- Gadgets That Can Help You Focus, Meditate, Relax And Sleep
3. Professional Drones
The professional community demands the biggest, strongest, fastest, and most capable drones available on the market. These machines are utilized by the movie industry, commercial agencies, and search & rescue teams to perform a variety of tasks. While some smaller consumer drones can fulfill simpler professional drone needs, we are thrilled to see how many of them are up to the challenge.
Flying drones can be an enjoyable hobby even if you don't use them for work, but they often come with a hefty price tag.
What are some important features to consider when choosing a drone for a Professional?
With the advent of professional drones, individuals can now access professional aerial photography or enrich their workflows creatively and effectively. Nonetheless, since each drone possesses distinct features, determining which drone to pick is not a straightforward task. To choose the right drone, one must thoroughly probe the various characteristics of each model and decide which one best suits their requirements before making a purchase.
Size and Weight: When choosing a professional drone, the size and weight are crucial to consider for storage and transportation. Although specialized suitcases and backpacks are available, it is important to specify if you require a light and compact model that can be carried anywhere. It's fundamental to note that this will limit the camera that can be used, as drones used in the film industry require heavier and more professional cameras.
Flight Time: Flight time is a vital specification to consider, particularly when you want to utilize the drone for commercial intents. Therefore, it's crucial to pick a drone with a more prolonged flight time to get more out of your investment.
Gimbal: The gimbal is essential as it plays an important role in stabilizing the drone chamber. It lessens the influence of the vibrations of the propellers, and it also authorizes the camera to rotate around its axis freely, thus increasing the ability to take professional photos.
Camera: Another crucial decision to make when picking a drone is whether you want the model to have an already integrated camera or not. If you like a drone with a camera, check the camera's specifications and the picture quality it equips. If you want a drone with the capability to affix and change the camera, check the compatibility of the model with various cameras.
Also Read- Researchers Push Boundaries In Heart Health With Apple Watch
Best Professional Drones in the Market
1. DJI Mavic 3 Enterprise
Price: $1,893.21 (Amazon)
In late 2022, DJI introduced the Mavic 3 Enterprise, which comprises two models – Mavic 3E and Mavic 3T. The optional RTK module, an outstanding Micro Four Thirds camera inherited from the original Mavic 3, and the ability to fly for up to 45 minutes are shared features of both models. The Mavic 3E is specially designed for mapping and surveying applications, while the Mavic 3T is geared towards delicate inspection tasks and is equipped with a thermal camera.
Features:
The drone is compact and portable
It has a 4/3 CMOS wide camera with 56× hybrid zoom
A single charge can provide up to 45 minutes of flight time for the drone.
It uses RTK for centimeter-level positioning
Incorporate DJI O3 Enterprise Streaming capabilities
Features a 640×512 px thermal camera
It has a loudspeaker with a high volume
Pros:
The drone features a Micro Four Thirds camera and can fly for up to 45 minutes.
It has a flight range of up to 15 kilometers and offers an optional RTK GPS for improved positioning.
The data encryption has been upgraded to enrich security, while the obstacle avoidance system has been improved for safer flights.
Cons:
The cost of optional software and accessories can be high.
It can be challenging to justify upgrading to more progressive models of the Mavic 3 if the base model meets your needs.
2. DJI Inspire 2-Camera Drone
Price: $3,019.00 (Amazon)
The DJI Inspire 2 is an excellent choice for most professional drone users due to its interchangeable cameras with up to 6K video capture, hot-swappable batteries, and capability to keep up with highway traffic. Although there are more technically progressed drones available, the Inspire 2 is surprisingly affordable compared to those typically used on a Hollywood film set. The drone stands user-friendly and can be operated by a single pilot or with the option to connect a second controller, enabling a dedicated camera operator.
Features:
Obstacle sensing range: 0.7/30m
Max video resolution: 5.2K
Video live view at 1080p
The DJI Inspire 2 camera drone has a maximum flight speed of 94 kilometers per hour.
The remote control has a range of 3.5 kilometers when operating at a frequency of 2.4 GHz, and a range of 2 kilometers when operating at a frequency of 5.8 GHz.
The flight time for the drone can range from 25 to 27 minutes, depending on the camera selected.
Pros:
The drone is competent in fast flight.
The drone has a variety of great camera options to choose from.
It authorizes multi-operator usage.
It is straightforward to fly, making it accessible for users of all skill levels.
The drone has hot-swappable parts for added convenience and ease of use.
Cons:
Two operators are recommended for optimal use
Limited obstacle avoidance capabilities
3.1. FPV Racing Drones
These high-performance drones are a specialized subset of professional-grade model drones, designed for boosted speed and maneuverability. Rigged with HD cameras, they equip operators with an explicit view of the racing course.
Further, as drone competitions gain popularity around the world, the demand for high-performance racing and stunt drones is on the rise. To excel in these fast-paced events, a good racing drone must prioritize speed, with capabilities of reaching up to 80mph. In addition to speed, agility is also crucial for navigating tight turns and corners. Responsiveness is key to staying in control and maintaining a competitive edge. For those who prefer stunts over racing, the exciting world of stunt drones offers endless possibilities for aerial tricks and displays. With full 360-degree control, these drones can flip and roll through the sky to create stunning aerial performances.
What are some important features to consider when choosing a drone for a Racing Drone?
Battery Performance: In FPV racing, battery life is crucial since races usually last no more than 5 minutes. As long as you can quickly replace and recharge your battery, you should be good to go!
Drone Agility and Control: When it comes to maneuverability, there are several factors to consider, including control response time, stability (which depends on the drone's software), and lift power (which is influenced by the type of propellers and motors used).
Velocity and Acceleration: If you want to win in drone racing, you can't overlook the importance of top speed. This metric, along with your piloting skills, will determine whether you can leave your competitors in the dust.
Selecting the Suitable FPV Racing Drone
1. Ready-to-fly (RTF)
Ready-to-fly (RTF) racing drones are an immaculate pick for beginners who like to hop directly into the action, as they come pre-assembled and are inclined to fly straight out of the box. With RTF drones, there is no requirement for any further assembly, which makes them an exceptional choice for those who are fresh to the hobby or merely want a quick and easy setup.
2. Kits
Kits are another option for those who want to build their racing drone but do not want to initiate from scratch. Further, Kits and bundles of suitable pieces that need to be put together usually contain the frame, the motor, connecting pieces, the controller, the transmitter, and/or additional items. This option allows pilots to choose their preferred components and build their drones from the ground up, making it a popular choice for those who want a customized setup.
3. DIY racing drones
For those who want complete control over their racing drone system, DIY racing drones are an excellent choice. Pilots can handpick each component of their system and build a custom racing drone from scratch. While this option requires the most time, effort, and technical skill, it also allows for complete customization and control over the final product.
4. Bind-and-fly (BNF) racing drones
For those who are looking for a little more customization, Bind-and-fly (BNF) racing drones are an excellent choice. These drones come fully assembled but require a separate controller to be purchased and connected. This option authorizes pilots to choose their preferred controller and set up their drones in a way that works best for them.
Maximize Your Drone's Capabilities with Essential Accessories and Add-Ons
If your drone has enough power to spare, you can enrich its functionality by attaching various types of hardware. To determine how much weight your drone can lift, check the manufacturer's specifications for lift capacity. Typically, drones that can accommodate external cameras can handle at least half a pound of additional payload. Keep in mind that adding extra weight puts more strain on the motors and can impact flight performance and stability.
Spare Batteries
One of the most significant drone accessories is the spare battery, as it can immensely increase the time spent flying a drone. While drone batteries can equip 5-25 minutes of power per charge, recharging can take an hour or more. However, using a spare battery can quickly replace a low-power battery and allow for extended flight time. Therefore, it remains recommended that drone enthusiasts invest in several spare batteries to make the most out of their flying sessions.
Stocking Spare Propellers and Parts
Having spare drone propellers and parts on hand is advisable because occasional mishaps and imperfect landings are an inevitable part of flying drones. However, drones are designed to endure crashes, with their exterior components made of durable materials such as polypropylene foam and carbon fiber to shield sensitive parts like CPUs, motors, and transmitters. The parts that are more likely to break, such as propellers, are typically the least expensive and easiest to repair or replace.
New drones often include extra propellers, and additional spares can purchase separately. As drones need propellers to rotate in opposite directions for stability, it's recommended to keep spare propellers for both clockwise and counterclockwise rotations.
Other Useful Drone Accessories
Drones can be customized with various add-ons depending on their intended use. For photography drones, lens filters can add to improve image quality. Other useful accessories include LED bands, propeller guards, and extra landing gear. A quality bag or case designed specifically for drones is also an essential investment to protect them during transport. Drone bundles often come with a range of accessories, but it's important to ensure that drone cases have a foam interior that fits the device and its accessories, providing optimal protection from damage.
Safe and Responsible Drone Flying
Drones can be an enjoyable and thrilling pastime, but it's crucial to fly them responsibly to prevent any possible injuries or damages. Even miniature toy drones can cause harm if they collide with someone or if fingers get entangled in the rotor blades. While some drones feature built-in shields to safeguard the rotors, they are not entirely foolproof. Therefore, it's necessary to fly drones with prudence and attentiveness.
To ensure drone safety, there are five quick tips that every drone enthusiast should follow:
Read the instruction manual before the first flight to familiarize yourself with the controls.
Always check the drone before flying to ensure that the motors and rotors are not damaged.
Never fly near people or animals to avoid any potential injuries.
Fly with caution and always land before the drone's battery runs out.
Be courteous to those around you and respect their wishes if they ask you to stop flying.
There are some trustworthy resources such as the Academy of Model Aeronautics and remote-control flying clubs to learn more about drone safety and techniques. To guarantee the drone's proper functioning, it's significant to update all software and firmware before takeoff and read the drone's manual thoroughly before use. Also, it's essential to stay informed about the latest drone regulations in the area to avoid any legal issues. For drone registration requirements and further information on drone safety, it's recommended to check your respective aviation website.
Legal Considerations for Flying Drones
Last but not least, it is crucial to determine that there are legal requirements and regulations that you must follow. Before taking your drone out for a spin, it is significant to research and understands the laws in your country regarding drone usage.
In some countries, flying a drone may require a license or special paperwork. This is particularly authentic if you plan to fly your drone in certain areas, such as near airports, military bases, or other restricted zones. In some cases, there may be specific rules and regulations regarding how high you can fly your drone or how far away from people and buildings it must be.
In addition to national regulations, it is also important to research any local laws or restrictions that may apply to drone usage in your area. Some cities or towns may have distinct rules regarding where drones can be flown or when they can be utilized.
Failing to comply with these regulations can result in penalties, legal trouble, or even confiscation of your drone. It is vital to take the moment to explore and apprehend the laws before taking your drone out for a flight, to guarantee that you are operating it safely and within the boundaries of the law.
Hopefully, with the help of our Ultimate Drone Buying Guide for Total Beginners 2023, you will be able to choose the drone that best suits your preferences!