As a parent, are you sick of manually filtering out unsafe websites and monitoring the online activities of your kids? You don't have to worry anymore; thanks to the Google SafeSearch feature which provides a safe online experience especially for children.
Are you curious what Google SafeSearch can do? Can you really trust it? And most importantly, how can you enable it on your browser? We will talk about all of this in this article.
Must Read: How To Expand Your Brand/Business On Instagram?- An In-Depth Detailed Guide
What Is Google SafeSearch?
It is a feature of Google Search and Google Images that automatically filters the explicit content as well as anything questionable to ensure that kids do not come across anything inappropriate. In other words, you can consider it as a search engine for kids. Interestingly, the safe search can be set up on all types of devices- smartphones, tablets, and desktops.
Introduced by Google on 11th November 2009, SafeSearch allows the Google Account Users to lock Safe Search on the web as well as image results.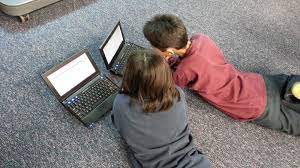 If you are using the Google search engine at home or at the workplace, enabling SafeSearch is a must to filter out offensive and inappropriate content from your results feed. By default, this feature is enabled for children when they are logged in to their google account but it has to be turned by in the adult accounts.
Also Read: Tips to Keep Your Kids Safe on the Internet
How to Set Up Google SafeSearch in Your Browser
You can easily enable Google SafeSearch on your desktop browser. SafeSearch is supported in all of the popular browsers – Firefox, Safari, Internet Edge, as well as Google Chrome. However, you have to enable safe search on all of the browsers separately.

To enable SafeSearch on any of the browsers:
Enter 'https://www.google.com/preferences' in the browser's address bar to enter Google Search Settings Page.
In the "SafeSearch filters" sections, check the box that says 'Turn on SafeSearch'.
You can also enable SafeSearch from the Google homepage by clicking on Settings visible in the bottom right corner and choose search settings.

SafeSearch can be enabled when you are logged in or logged out of your Google Account. However, when you are not signed in, the settings are restored to default when browsing history is cleared. Similarly, on the incognito tab, the settings are lost when the window or tab closes.
Read: Tips To Protect Your Business Against Cyber Crime
How to Enable Google SafeSearch on Android
Here are the steps to use SafeSearch on your Android mobile:
Open the browser on mobile.
Type https://www.google.com/preferences in the search box to go to Google Search Settings.
Go to the SafeSearch filters tab
Turn on Filter explicit results.
Save the settings by clicking 'Save' at the bottom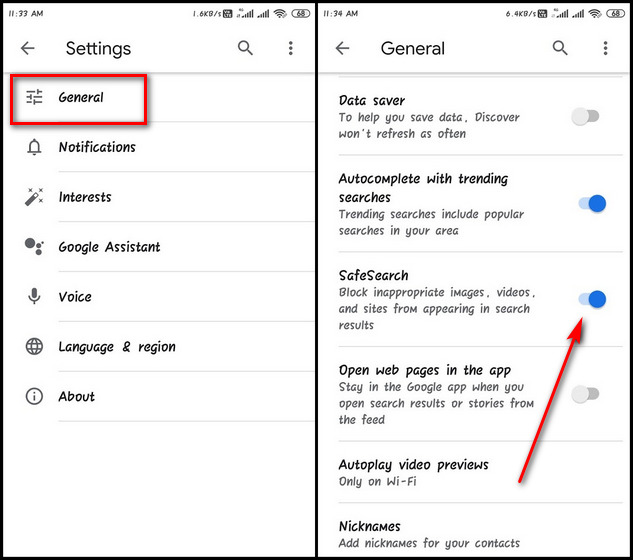 Alternatively, you can also follow these steps to enable SafeSearch:
Open your browser on your Android phone.
Click on the three dots present on the right.
On the next page, scroll down and select settings.
Choose 'General' settings.
In the 'General Settings', turn on SafeSearch
Now, SafeSearch is enabled on your android device.
Read: Your Doorbell Can Be Hacked: Here's How to Protect It
How to Enable Google SafeSearch on iOS
You can directly enable safe search by going to the preferences page of Google Search Settings as you did for Android phones.Alternatively, you can enable SafeSearch on iPhone and iPad by: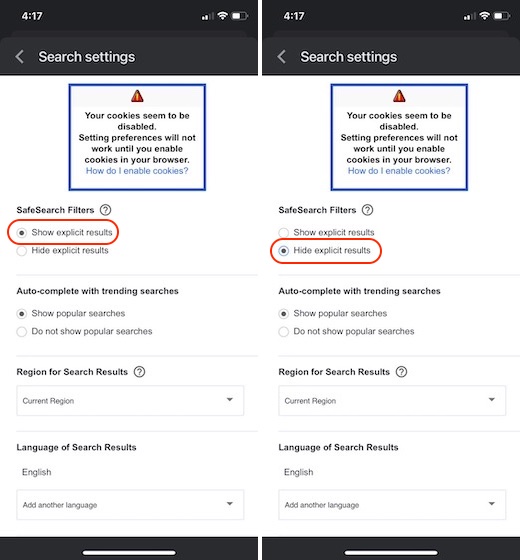 Go to the browser
Tap on Google account picture and go to settings.
Further, go to the General tab and then search settings.
You will find 'SafeSearch filters' on the Search settings page, find the 'SafeSearch filters' section.
Now to you can choose to enable or disable safe search depending on your requirement.
Read: What Devices Will You Find In The Smart Kitchen?
Why Safe Search is important for kids?
The Internet has a number of wonderful websites for kids to enhance their knowledge but sadly at the same time, it is filled with treats, risks, and inappropriate content that innocent kids should not be exposed to.
Kids often perform such actions which they do not understand and sometimes even share their personal information. When web filtering is enabled, children remain safe from harmful content and websites. Other benefits are as follows:
Inappropriate content does not appear on the screen.
Parents can take control of the online activities of their kids.
Less risk of malware infections as harmful websites are blocked.
Personal and financial information is not leaked online
Parents also get the list of websites visited by their kids so that they can know about their activities.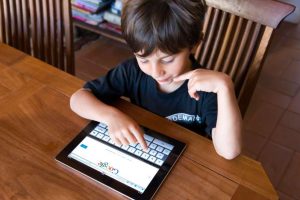 Is SafeSearch Really Safe?
SafeSearch works on keywords filter to block the loading of web pages that have objectionable words. SafeSearch also comes with a lock so that only they can change the setting. However, since it is just a web filtering technique it has its limitations. Sometimes DNS limitations block safe search and display content already cached on your device.
So you should always flush DNS catch so that it can be refreshed in the next 24 hours.
You can also report any inappropriate content that manages to slip by the filtering algorithm so that it can be reviewed and blocked in the future.
Also Read:How To Change A Wi-Fi Network In Windows 10 From Public To Private?
Conclusion
This is all you need to know about Google SafeSearch and how you can enable it on your web browsers as well as on iOS as well as Android devices. While SafeSearch can filter out the inappropriate content from search results that were triggered unintentionally due to the algorithm, it is not 100% accurate. So the only way to ensure the safety of your kids online is by making them aware of the dangers that prevail online and how they can be safe from them.