The new MacBook Pro is releasing this year somewhere around October and November. Though some people say it might release in the last week of September, that seems highly unlikely. The new Apple iPhone is releasing in the first half of September, and that is what Apple is gearing up for now. But since the new MacBook release is also around the corner, leaks, rumors, and designs are making it to the news every day.
Recently, a tweet convinced users that Apple will shorten its Touch Bar from the previous MacBook pro version. And instead, it will add the Apple Pencil dock with magnetic ends to retain the pencil. It is controversial in the sense, the idea seems absurd. However, there are always two sides to a coin, and we cannot discard either of them. And while it is still a rumor, we don't know if it is true or not. But the way Apple introduced the touch bar in a short span of time, it could be true too.
Also Read: How To Fix Mac Bluetooth Not Working
What Was The Problem With The Touch Bar In MacBook Pro?
While the rest of the world is waiting patiently for the next MacBook to release, it looks like the tech company has surprises for Mac users. And no, if you think that people are waiting to see the new display and new features. In fact you will be disappointed to know that that's not the case. Instead, most Mac users are waiting to get an extra port, better battery, reliable keyboard, and an inexpensive repair from their service center.
Apple laptops no doubt have a superior operating system that most Windows users are envious of. Their ultra-sleek body with a metallic finish gives them an incomparable premium look. Now add unique features like a Touch bar, that as most users mocked, add nothing of functional value except for its aesthetics.
The touch bar started a lot of controversy among mac users. While some absolutely loved this feature and bought the MacBook right away, tech geeks outright resented it. A touch bar meant higher price in exchange for the same hardware that came in previous models. Today if you ask a Mac user, what they think about the touch bar, they will tell you that they never really used it. A touch bar on a laptop keyboard…duh! Apple seriously?!
Also Read: Unnecessary Windows Programs and Apps You Should Uninstall
Apple Brings The Apple Pencil Dock As Mentioned By Patently Apple
On 12th August, a Twitter handle Patently Apple released a post that was big news—announcing that Apple has invented a MacBook that integrates the Apple pencil so that you can use it as a mouse cursor and F-key functionality. The hour they released this tweet, tech blogs like 9To5 Mac and tech YouTube channels relayed the information in no time.
With the onset of the announcement, users worldwide expressed their opinions both for and against this possible upgrade.
Some experts believe that the dock will come in the new MacBook that will be launched later this year. However, Apple has not commented anything on this. For this to work, the laptop must have a touch screen which Lt. Steve Jobs declared is impossible for a laptop. It's not that they cannot create touchscreen laptops, but from an ergonomics point of view, the idea is a disaster.
Read: How To Transfer Files From Mac To iPad Or iPhone And Vice Versa.
Apple Patently's New Tweet Confirm Its Possibility
For the Apple Pencil dock to replace the touch bar completely, the laptop has to be flexible in its built. It definitely cannot be a practical choice for users using the MacBook Pro for heavy use like editing and designing etc. Apple Patently announced yet another news that made this far-fetched goal a possibility.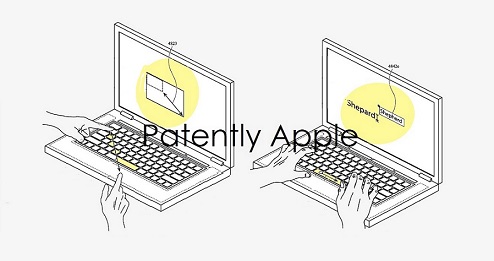 It said that Apple won the patent for a removable keyboard with in-built trackpad functionality. Even though it's not exactly what users wanted, it is close to the design that can support the Apple Pencil. If the Apple Pencil truly becomes a reality, it could change many things for artists like designers and illustrators.
Conclusion
Apple keeps bringing interesting and innovative features for its users every year. With the new macOS Monterey, users are expecting a great drive in their productivity and workflow. Moreover, the 16-inch MacBook Pro models that are yet to be launched might come with mini LED.
Read: How To Create And Remove A Hard Drive Partition On Mac?