This week, Google released its first wristwatch, the Pixel Watch, to eager Pixel fans. The Pixel Watch's sleek appearance is a plus, and its seamless support for Fitbit's services boosts its desirability even more. It's true that not everything that shines is gold, but you know what they say. If you're considering spending several hundred dollars on a smartwatch, here's everything you need to know. Check out our hands-on with the Google Pixel Watch if you'd prefer to get a peek at the device in action.
A pristine version of Google's Wear OS is what's under the hood here. Users get access to all of Google's finest tools. Such as Google Maps, Google Assistant, and Google Wallet, in an intuitive and adaptable user interface. Access to the Google Play Store is built in, so you may build out your experience with other apps.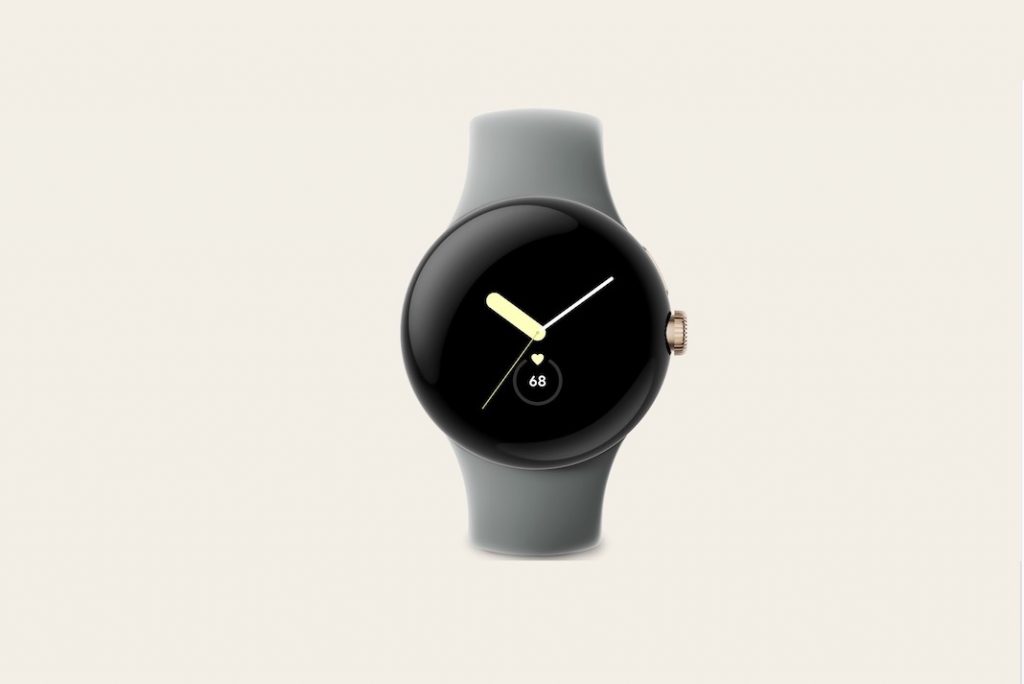 The Pixel Watch's inherent compatibility with the Fitbit ecosystem is, however, the device's main selling point. Connected wirelessly to the Fitbit mobile app, the watch tracks a variety of vital health and fitness data. Such as steps taken, calories burned, resting heart rate, time spent in the Active Zone, and the intensity of your activities. Six months of Fitbit Premium membership are included with the purchase of any Pixel Watch (as well as three free months of YouTube Music Premium access).
Applications and software for the Google Pixel Watch
The Pixel Watch is the clearest demonstration of Google's newest Wear OS 3.5. Pixel Watch's user interface is built around tile-based navigation and a practical app drawer. Wear OS Tiles allow users to quickly glance at information or access apps with a flick of the wrist in any direction. This includes swiping up for alerts. Swiping down for fast settings and functions, and swiping left or right for short glances. There are no hiccups or slowdowns in performance, and setting up the gadget is a breeze. The device's button and spinning crown can't be altered, unfortunately.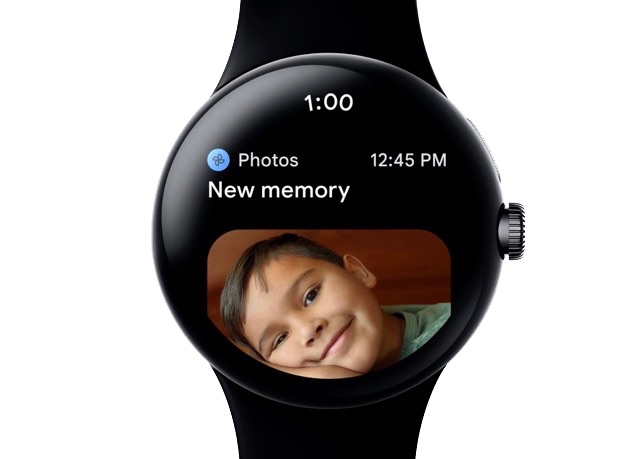 The Pixel Watch is, first and foremost, a Google product. As such, it has a wide range of Google services, including Google Maps navigation, the Google Home app, and Google Wallet for contactless NFC payments. In addition to receiving alerts from Google Calendar and Gmail. Users may set watch faces based on photos stored in Google Photos. The Google Pixel Watch app already has a tonne of different watch faces you can tweak, but this is even more options.
If you don't like any of the built-in watch faces on the Pixel Watch, you can always download new ones from the Google Play Store. Countless third-party apps, such as Spotify, Strava, MyFitnessPal, and Calm, are available. Moreover, with the purchase of a Pixel Watch, you will receive a free 3-month trial of YouTube Music Premium.
Design and hardware of the Pixel Watch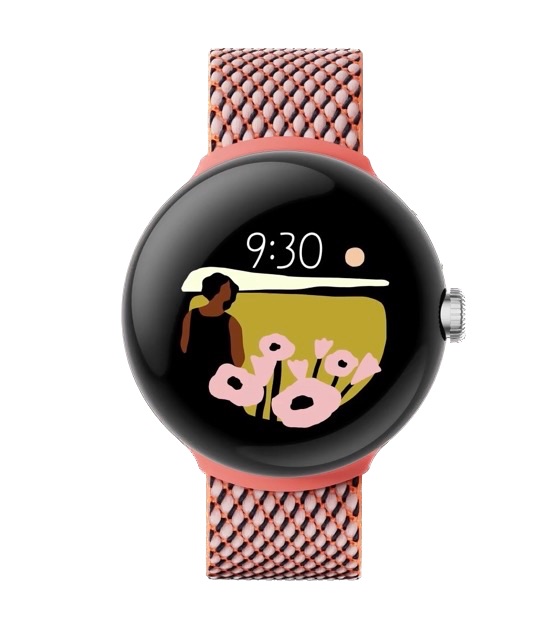 The Pixel Watch, as previously noted, has a dome-shaped AMOLED display that can reach up to 1,000 nits of brightness. There is a touchscreen, a rotating crown, and a curved button on its 41mm circular watch casing, which is composed of 80% recycled stainless steel. With a 5ATM water resistance certification, the case is accepted for the shower or the pool, but not for diving or other high-impact water sports.
A dual-processor design, consisting of an Exynos 9110 main CPU and a Cortex M33 co-processor, lies behind the Pixel Watch's crystal clear display. Two gigabytes of random access memory are included. GPS, an optical heart rate sensor, an altimeter, a gyroscope, an accelerometer, an ambient light sensor, and a blood oxygen sensor are just some of the sensors on board (though it currently stands inactive). The smartwatch's functionality is rounded out by its ability to process NFC payments, as well as by the device's in-built microphone and speaker.
The Pixel Watch's 294mAh battery is somewhat less than those seen in other Wear OS devices, but it's still quite powerful for regular use. For instance, the Galaxy Watch 5 has a battery capacity of 410mAh. However, according to Google, the device may be used for a whole day before needing a recharge. Furthermore, Google estimates that charging the gadget from zero to one hundred percent will take about eighty minutes. It should take roughly 30 minutes to fully charge the battery from empty to 50% capacity.
The watch's magnetic charging system is a patented design that comes standard in the packaging. However, it is incompatible with conventional wireless chargers and cannot be used for Google's exclusive method of wirelessly charging the Pixel phone from the other direction.
How Long Can Its Batteries Last?
The Pixel Watch's 294mAh battery allows for a full day of use between charges. According to Google, a full charge would take around 80 minutes. Only 30 minutes on the charger will give you 50% power. We won't be able to confirm that until we actually get our hands on the smartphone. But in the meanwhile, let's compare the real-world battery life of the most recent offerings from Samsung and Apple.
The smaller 284mAh version of the Galaxy Watch 5 and the larger 410mAh version each have their own batteries. With the always-on display on, my tests revealed that the tiny Watch 5 lasted roughly 30 hours on a single charge. By turning off the display's constant illumination, we were able to increase the battery life to a whopping 36 hours, enough for two full nights of sleep monitoring.
The battery life of the Apple Watch Series 8 ranges from 282mAh for the smaller model to 308mAh for the larger one. With moderate to heavy use, I was able to get 30.5 hours out of my big Series 8 and got up to 40 hours when I didn't need to use it too much.
The Pixel Watch is powered by a Cortex 33 co-processor and an Exynos 9110 SoC. Both of which are somewhat dated. In a blog post, Google claims its dual-processor design "is tailored to offer you precise heart rate data while ensuring all-day battery life."
The Pixel Watch is water-resistant to a depth of 164 feet for 10 minutes. Making it comparable to the Galaxy Watch 5 series. Using it in high-velocity or high-temperature water is not recommended, according to Google.
Google Pixel Watch now has Fitbit built in.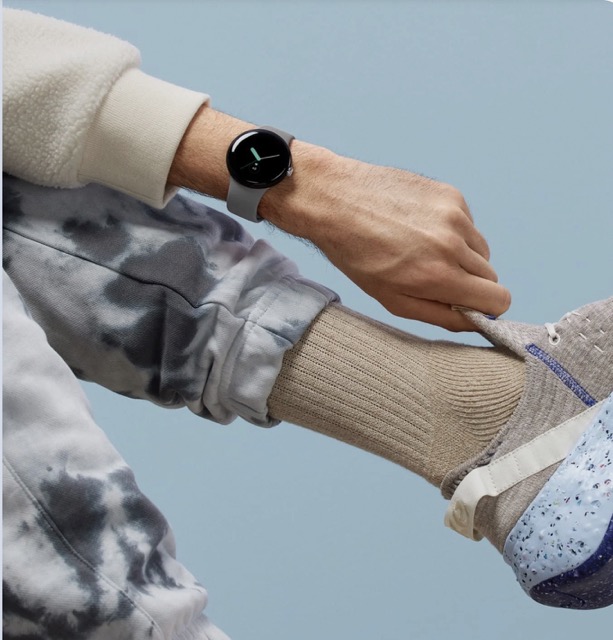 The native fitness and health monitoring on the Pixel Watch is powered by Fitbit's ecosystem. The gadget can sync with the Fitbit app on your linked device, as well as three other Fitbit applications. This article will provide a quick summary of the Fitbit capabilities included within the Pixel Watch. To learn more, check out our in-depth article on the Pixel Watch's compatibility with the Fitbit.
The Pixel Watch is compatible with the Fitbit Exercise app, allowing users to begin exercises and examine real-time workout statistics. The software offers 40 different training modes. Such as classic outside activities like jogging and cycling, as well as indoor and alternative activities. There is no wrist-based exercise detection feature on this watch.
Steps, floors climbed, distance traveled, Active Zone Minutes, calories burned, and heart rate are just some of the fundamental activity metrics that the Fitbit Pixel Watch records. In Fitbit Today, you may view this information, which is also synchronized with the Fitbit app on your associated iPhone. The Pixel Watch integrates with Fitbit's sleep monitoring software to provide its customers with a Sleep Score every day. However, the Fitbit Sleep Profiles app is not available to Pixel Watch users.
The Pixel Watch also has the Fitbit ECG app, which can be downloaded from the Google Play Store. This app can take an ECG whenever you need it and analyze it for indicators of atrial fibrillation (AFib). The watch features the most precise always-on optical heart rate sensor, according to both Fitbit and Google. However, unlike other Fitbit products, the Pixel Watch does not alert you to high or low heart rates.
Options for the Google Pixel Watch
With a starting price of $350, the Pixel Watch isn't exactly the best smartwatch in terms of value for money. Those who currently own an iPhone will find that the Series 8 and the second-generation Apple Watch SE are the best choices among the three models. These two combine a high level of polish in their hardware with the greatest ecosystem of fitness-centric services.
The Galaxy Watch 5 is the best alternative, though, if you like Wear OS and dislike Apple's ecosystem restrictions. The Galaxy Watch 5 Pro is among the finest in its class, and it excels if you value toughness.
There's also the Fitbit Sense 2, which starts at $300. Andy Zahn, writing for Digital Trend, proclaimed the Fitbit Sense 2 "the greatest fitness and health-focused wristwatch, period."
Watches like the Skagen Falster Gen 6, Fossil Sport, and the Mobvoi TicWatch E3 together with the TicWatch Pro 3 Ultra GPS should be considered for those who wish to travel further afield.
Final Statements
Any Android user, but especially those who rely heavily on Fitbit, would benefit greatly from purchasing a Pixel Watch. You get all the greatest Fitbit features plus the convenience of a Wear OS wristwatch, making it like a Fitbit Pro. Even if you've never used a Fitbit before. You still have a chance to benefit from Google's offer of a free subscription to Fitbit Premium for six months.