CarPlay in iOS 16 is introduced by Apple Inc., the next edition of Apple CarPlay, at their annual Worldwide Developer Conference (WWDC). It is a conference for software developers.
Changes to apps that already exist
With iOS 16, Apple made changes to the CarPlay apps that were already there. With Messages, Siri can now send a message automatically after reading it to you.
In iOS 15, Siri would need to be told to send a message before it goes out. This can slow down the process. As long as the message is correct, it will send it without you having to do anything. If there needs to be a change in the message, there is still a "change" button on the CarPlay screen.
Also Read: How To Connect iPhone 13 To Apple CarPlay?
All About The New Apple CarPlay
Since 2014, CarPlay has let you connect your iPhone to your car's infotainment screen so you can use your voice to navigate, play music, make calls, or send texts. The new CarPlay will be pretty standard when it comes out in 2022. But it t will go far beyond this by expanding to the rest of your car's dashboard screens by the end of 2023.
However, the 2022 update has also got in some great features. Users will now be able to transmit the user interface of the automobile infotainment system thanks to the newly developed and improved car connectivity capability. The design of this revision is in a particular way.  As to consider the manner in which dashboards of future vehicles will typically include a single giant integrated screen. Customers will be able to further personalize the display on their instrument cluster and the infotainment system after the latest update is installed.
Through this update, Apple has also demonstrated the user interface they are considering incorporating into their upcoming automobile. As Apple is set to launch their car in the future. In addition, an upgrade version of the CarPlay software will initially be available on automobiles manufactured by industry giants such as Mercedes-Benz, Honda, Acura, Audi, Porsche, Volvo, Jaguar, Polestar, Nissan, Renault, Lincoln, and Ford. These automobiles will be the first to feature the software. On the other hand, it is unclear whether the new interface will function when the iPhone is paired to the car by a USB cord or when it is connected wirelessly.
Also Read: How To Fix Apple CarPlay Not Working In iPhone 13?
Some New CarPlay Features
Check out the following to learn about some of the most important new features that are coming out in IOS16. Also, read to see how the existing ones have been updated.
CarPlay lets you control things inside the car
With the new version of Apple CarPlay, customers can do some things inside the car without having to leave the interface. CarPlay can now control things like climate control and seat ventilation settings. Most of the time, these functions are generally in control by the car's central touchscreen. With these features in one place, it's more practical and less distracting than a complicated touchscreen menu for control.
The New Widgets in CarPlay in iOS 16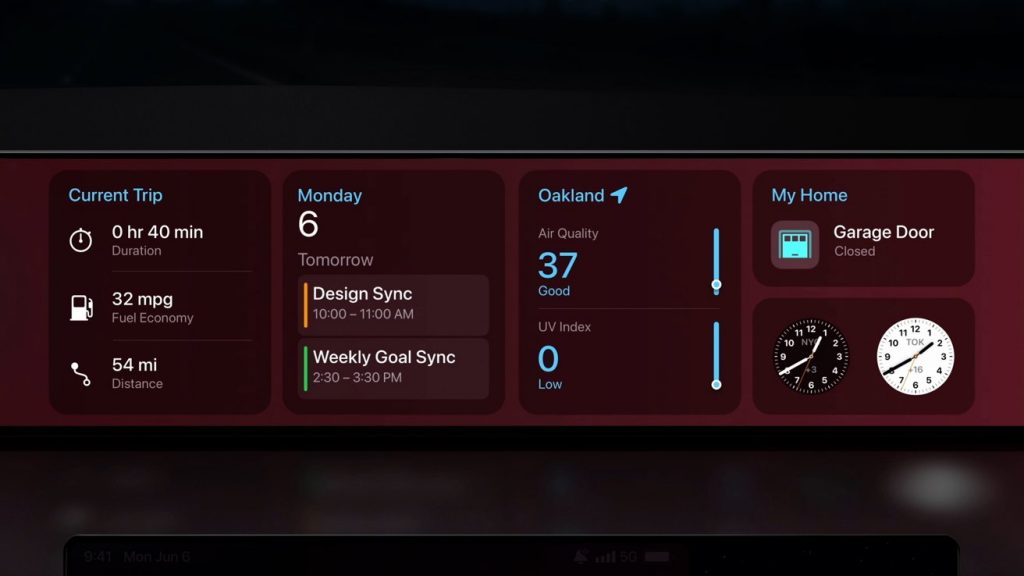 With the update to iOS 16, Apple CarPlay has a few new widgets. This will help people get to more information without having to keep switching between screens. Some of the new widgets are about trips, the weather, the air quality index, emails, online orders, news headlines, online payments, and so on. Apple also gives you a lot of ways to make your interface easy to use and full of useful information.
Also Read: iOS 16 Rumors And Release Date!
Able to fit on Different-sized Screens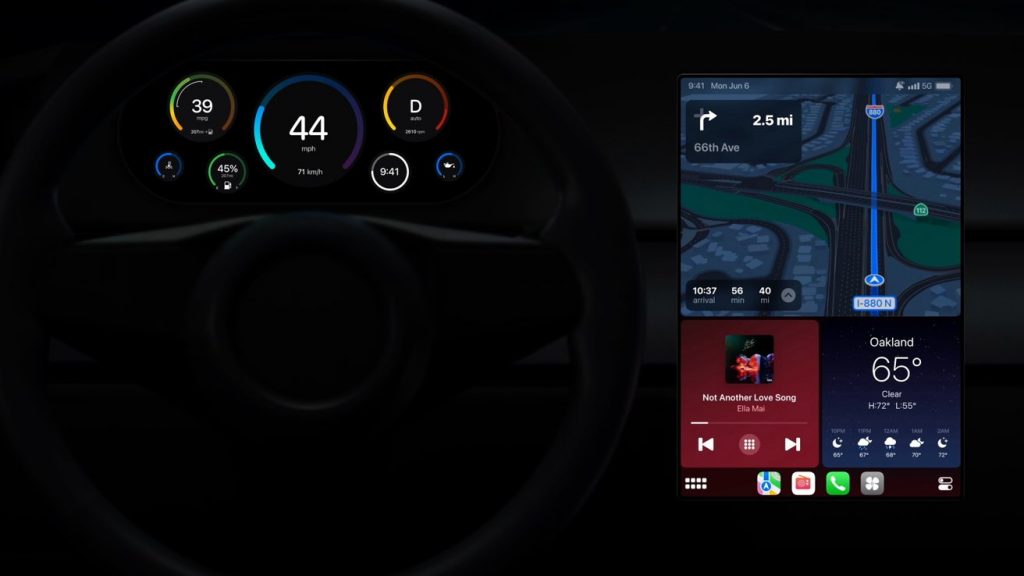 As we've already talked about, modern cars have large infotainment screens. Apple CarPlay can also adjust to different screen sizes, both vertically and horizontally. The layout will differ for each screen, but Apple is not going to remove any of the existing features.
Integrated display for the driver in the CarPlay in iOS 16
With the iOS 16, Apple CarPlay will be extensively integrated into the car's onboard system. This will enable the interface to take over the carmaker's whole digital instrument cluster. This will be possible since Apple CarPlay will be compatible with the latest version of iOS. These include information such as the speedometer, tachometer, fuel efficiency, trip meter, turn-by-turn navigation, and other display information shown on the digital display in front of the driver.
Also Read: How Customizing iPhone Lock Screen In iOS 16 Is Different From Other Versions
Cluster Themes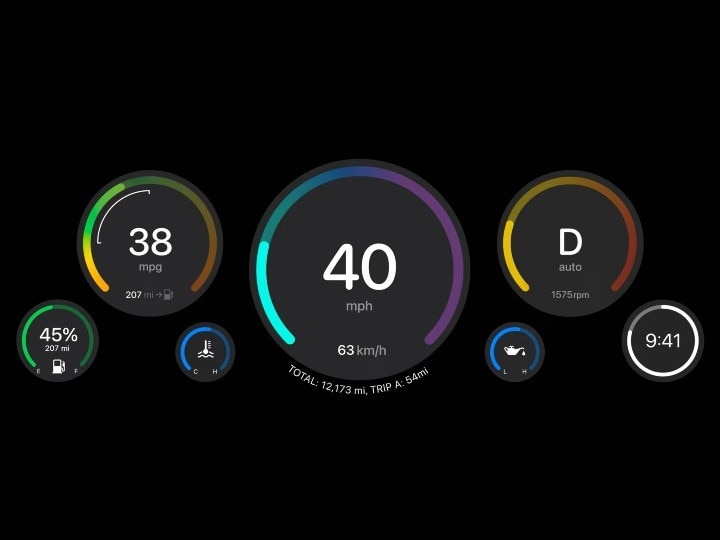 Through the use of the new Apple CarPlay system, consumers can personalize the screen's appearance. You can now customize the instrument clusters in your vehicles in a manner analogous to that of a smartwatch. These motifs include a variety of gauge designs, rotary dials, digital speedometers, and interfaces with aesthetically distinctive designs. Customers can add these designs to their iPhones by downloading them as an app extension.
Messages and Podcast Controls
CarPlay will also receive two further improvements in iOS 16, which do not need additional app updates. Apple is increasing the speed at which Siri can send and receive messages. It also brings more content to choose from in the Podcasts App.
With the release of iOS 16, drivers will have the option to send a message automatically. It will be available after having Siri read it back to them and make any necessary edits. When analyzing messages in CarPlay, if the speech-to-text function works as predicted. It will eliminate one of the steps that we do now. In the event that you choose to modify the message, CarPlay provides a button for you to use to make those modifications.
With iOS 16, Apple is also opening up more of the capabilities of the Podcasts app to be used in CarPlay. The Listening Now function is the primary focus of the Podcasts app that is now available on CarPlay; however, there are additional methods for finding the appropriate podcast episode that requires the iPhone app.
Users will be able to locate episodes that have been downloaded or saved beginning with the release of iOS 16. Additionally, it is possible that we may receive new wallpaper selections; however, these do not appear in the first developer beta version.
Also Read: Report: iOS 16 To Bring 'Major Changes' With 'Fresh' Apps
Final Words 
The current version of iOS, version 16, is now in the beta testing phase. A public beta version is going to be available in July for people to test. However, the complete version is going to be available in the fall.