Want to know how to convert Live Photos into GIFs on iPhone? GIFs have become an essential part of online communication. This widely used file format is critical for conveying thoughts and emotions in ways that text and still photos cannot. GIFs are also more universal than videos because they're easy to share and lightweight.
A Live Photo is a 1.5-second animation that records not only the instant you click the shutter button but also the seconds leading up to and after it. You may view — and hear — the full version of the scene you photographed by pressing on a Live Photo.
An app built into your iPhone allows you to create GIFs from photographs, Live Photos, and movies. You don't even need a third-party program to convert your files to GIFs. You can make your own GIFs with the iPhone's Shortcuts app in just one step.
Also Read: How To Create Your Own GIFs?
How to Make GIFs from Photos
Make sure you have the Shortcuts app downloaded before you begin. Shortcuts, unlike other built-in programmes, can be removed from your device. Don't be concerned. It's always available for free in the App Store. Here's how to turn a photo into a GIF once you've downloaded the app:
Click on Shortcuts.
Search for Convert Photos to GIF under the Gallery tab. Tap Add Shortcut after selecting it.
Go to the Gallery tab and look for the option to Convert Photos to GIFs. After you've selected it, press Add Shortcut.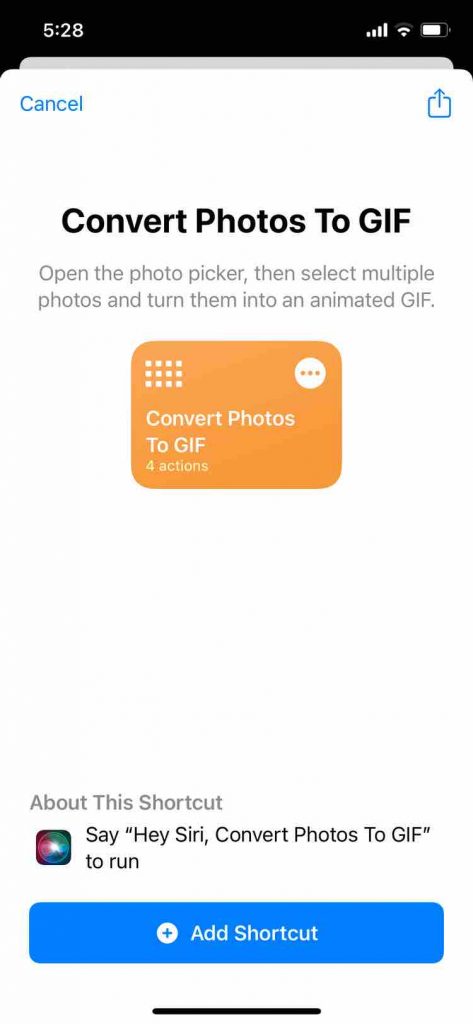 You have up to 21 images to choose from. Using more than 21 photographs, according to our tests, will result in an error. When you're finished, press Add in the top right corner of your screen.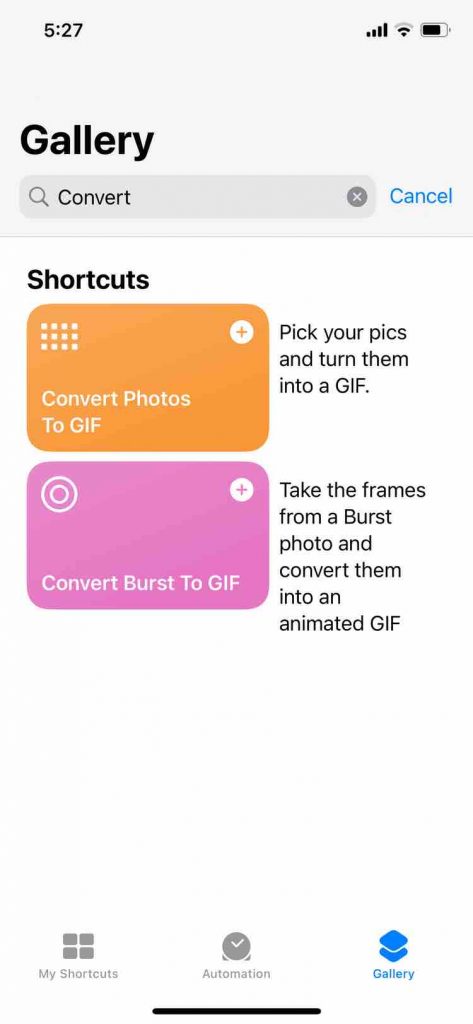 2. A preview of your GIF will be given to you. When you tap Done, the preview will close without saving your newly produced GIF. If you wish to keep it, go to the upper right and tap the Share symbol, then Save Image to save it to Photos. You may also email it to individuals directly via Messages or chat programmes such as Messenger.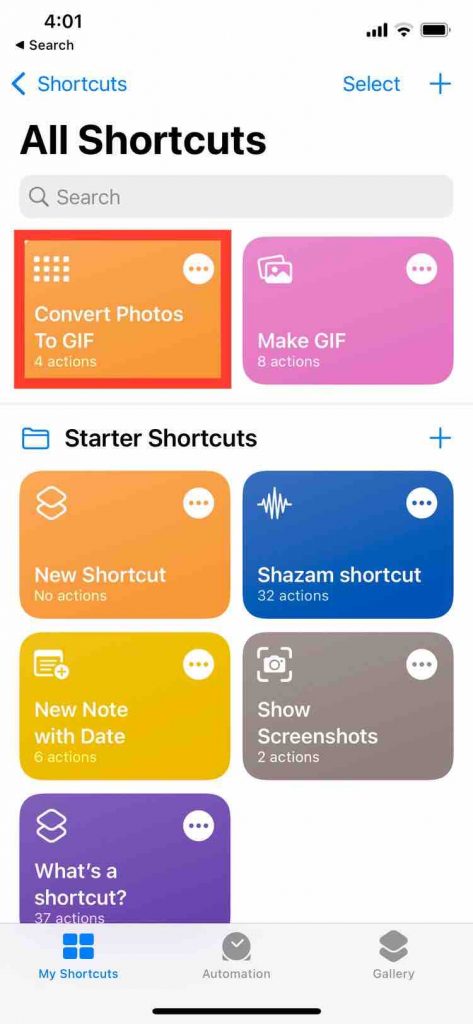 Creating GIFs from Live Photos
Users can create a short video by capturing a second or two before and after a photo is taken using Live Photos. They can only be taken with an iPhone 6S or newer, and they can only be viewed on iOS 9 or macOS El Capitan or newer Apple devices. Unless you first convert them to GIFs, everyone else, even non-Apple users, will see a still image.
Also Read: How To Make GIF From A Video On Vimeo
Taking Live Photos
Open the native camera app on your Apple smartphone and tap the Live Photo button above the primary photo viewfinder to capture a Live Photo. It appears yellow when it is turned on.
To turn off the feature, simply press the symbol above the viewfinder. It's white when it's turned off. Note that Live Images use up twice as much storage space on your phone as regular photos.
Also Read: How to get free Wi-Fi anywhere
How to make a film by stitching together numerous Live Photos
Apple added the option to stitch together many Live Photos (not necessarily in order) to make a video clip in iOS 13. You won't need to upload your Live Photos into an app like iMovie because the procedure is built right into iOS. It's ridiculously simple and allows you to make incredible memories! Here's how to combine numerous Live Photos into a video.
Open Photos on your iPhone or iPad.
Select the Live Photos that you want to create a video file with.

When viewing an image, the diffusing circle icon in the upper left corner, coupled with the word "LIVE" next to it, indicates that it is a Live Photo.

Select on the Share
Just above the Share Sheet options, you can navigate through your photographs and select more.
Select Save as Video from the drop-down menu.
Your new video will be included in the album Recents.
How to see Live Photos on an iPhone, iPad, or iPod touch from a previous generation
If someone can shoot Live Photo emails or share one with you, you can still see it come to life if you have an iPhone or iPad — even an older one that can run iOS 9 or later.
Open the Photos app on your iPhone, iPad, or iPod touch.
Select the Live Photo you want to view.
Touch and hold the photo to animate it.
Final Comments
As you can see, even if you don't have the latest and greatest iPhone or iPad, it's simple to create spectacular moments with Live Photos. It's a fantastic tool that really brings your photos to life, and you can do so much with them. I've enjoyed using Live Photos since it was introduced in iOS 9 with the iPhone 6s. The Live Photo not only serves as a wonderful method to recollect the experience, but it also serves as an attractive background. Another intriguing feature is the ability to convert moving photographs into GIFs.