You just bought the Xbox gaming console and can't figure out how to set it up? In this blog post, I will walk you through the entire set up process, right from what to expect inside the box to playing your favorite games on the console.
So far, in 2021, the Xbox series X is undoubtedly one of the best gaming consoles available in the market. From its breathtaking looks to stupefying features, this is a complete gamers dream. Get stunning visuals with super-fast loading speed with up to 120 FPS.
The Xbox series offers smart delivery wherein you can buy a supported game and get its best version forever. Its 12 teraflops of processing power are located in a chip system integrated with the AMD's Zen 2 and RDNA. The RDNA and the Direct X-ray tracing architectures offer true-to-life lighting, shadows, and reflections to create a real-life experience.
But that's all about the amazing features that the newest Xbox series X has to offer. To experience these, you have to first set it up correctly and install your games. So let's get started.
Also Read: Microsoft introduces xCloud to Windows PCs with the Xbox app
What Components Do You Get In Your Xbox Series X Box?
After you purchase your brand new Xbox series X, you should get the following things in the box:
Xbox series X console

Power Cord

Xbox wireless controller

Ultra High speed HDMI cable
The Ultra High HDMI cable is two meters in length and supports HDMI 2.1 features. Furthermore, it supports 4K gaming at 120 Hz. You will need to place your console within a 2-meter range from your TV for the cable to connect. However, if that is not possible for some reason, you have to buy a longer HDMI cable that is certified by Xbox.
How To Store It Correctly?
Once you get your Xbox series X, you will have a lot of temptation to pack it among your books, toys, and showpieces. Moreover, the Xbox takes a significant space to be stored, and therefore, you may also feel like stacking it with other boxes. However, manufacturers gave special instructions to store your Xbox series X, unlike your regular gadgets and CPU.
To be specific, you must place it either horizontally or vertically on a solid and stable surface. Do not keep it on a soft surface like a bed, sofa, and cushion. If you place it on a soft cushion-like surface, the Xbox will not be able to freely circulate air as its ventilation will be cut off. And as a result, your Xbox console will get heated up very fast and thus get spoiled in no time.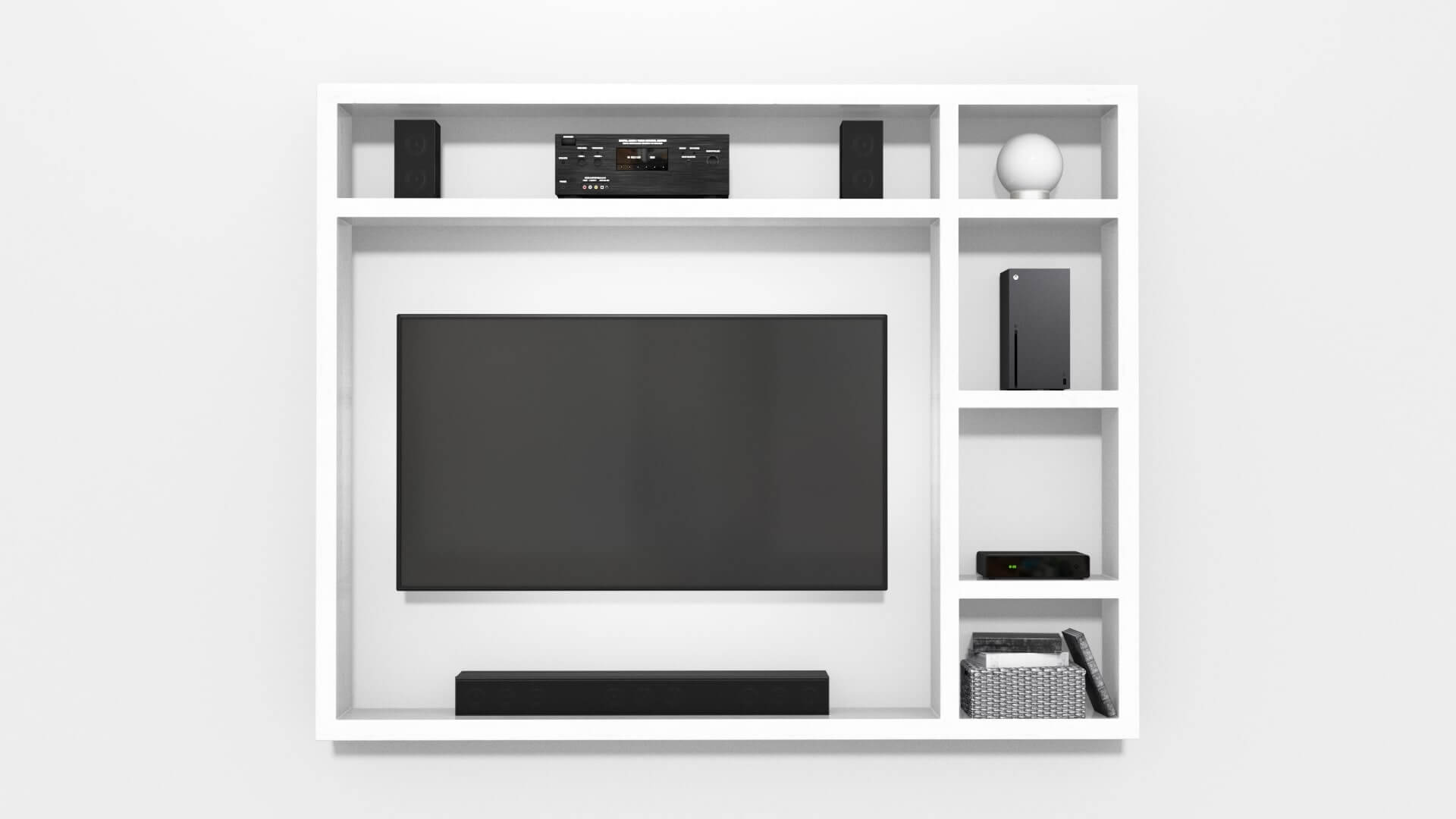 Thus, assign a separate space for your Xbox series 8 console before you place your order. A well-ventilated and cool place that does not face the wrath of the sunlight is ideal. Moreover, many people tend to stack one thing after another, and they tend to fill each space on a shelf or cupboard with other little things to make up for the space.
Please avoid using your Xbox console as a space to keep books, toys, and other objects on or against it. As per manufacturers, it is important to keep free space of a minimum of 4-6 inches on all sides of the console. This makes way for ventilation and keeps the console cool and working well for a long time.
Read: Interactive Thriller Twelve Minutes Is Available Today With Xbox Game Pass
What Are The Different Ports Of An Xbox Series Console?
Before you set up your Xbox series X console, you must identify the different ports and which one connects to what. Moreover, it consists of six major ports, and they are:
HDMI port

Ethernet port

Storage expansion port

2 USB ports

Main lead port
Furthermore, there is a third USB port on the front side of the console. You can identify each of these ports with the following indication.
Main lead port: single raised dot

Ethernet port: two raised dots

USB ports: three raised dots

Storage expansion port: four raised dots

HDMI port: Single raised dot
You can check out the ports from the image below, as it is identical in all the Xbox Series X console. These ports are arranged in a horizontal position in two rows, and on the top row are the ports like two USB ports, Ethernet port main lead port.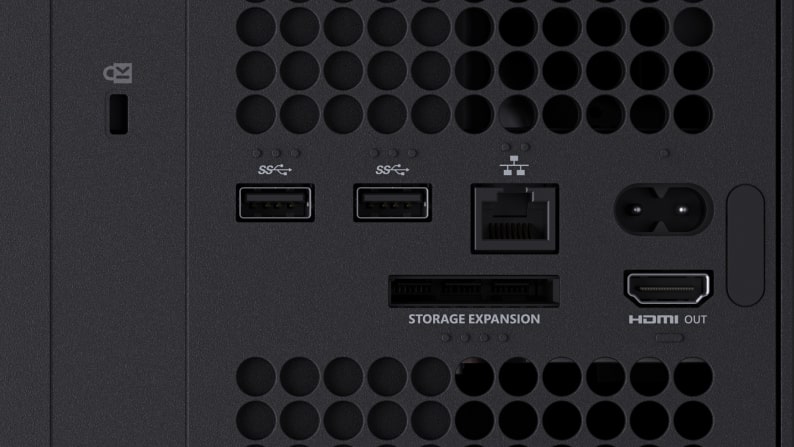 You will find the indicators of these ports right above them. Furthermore, you will find the storage expansion port and HDMI port at the bottom row with the tactile indicators right below each port.
How To Connect To Audio And Headsets To Set Up Xbox Series X?
Audio is an important factor when setting up your console as it dictates your gaming experience. No matter how great your graphic quality is or how skilled a gamer you are, you will barely feel like playing on your Xbox without an excellent audio output.
Thus, you need to know that your Xbox series X does not come with any audio output per se. You have to connect your Xbox series X to your TV, which further will connect to a stereo receiver or soundbar. You can connect it through the HDMI cable provided to you by the manufacturer.
Moreover, if you plan to connect a headset to your console, that is not possible either. Therefore, you have to connect your headset cable to one of the USB ports of the console.
Secondly, it is worthy to note that you will not connect your Series X console with a satellite or cable as there are no such ports available. And therefore, you have to once again connect it to your TV's cable port.
Part 1: Set Up Xbox Series X Power And TV
Step 1: After unboxing your brand new Xbox series X, take the main power cable and plug it into the main power cable port located in the console.
Step 2: Secondly, after ensuring your console is near a power source, connect the other end of the main power cable into the power outlet.
Step 3: Furthermore, locate the HDMI port on the console and plug your HDMI cable into it.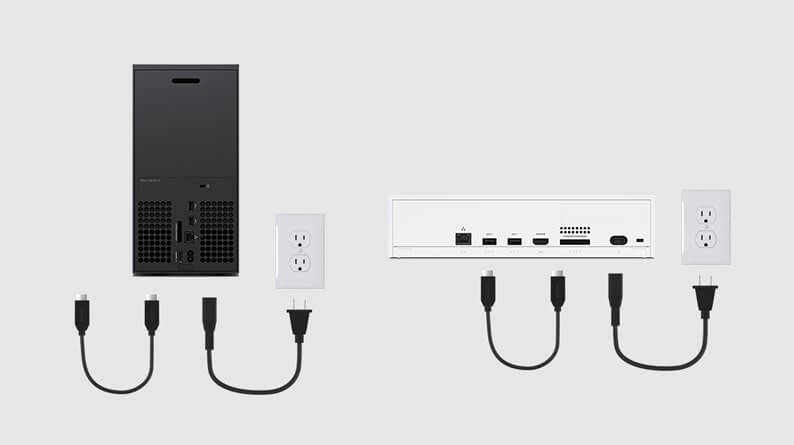 Step 4: You have to connect the other end of the HDMI cable with your TV.
Must Read: Here's What You Can Expect In The Nintendo Switch OLED Model
Part 2: Set Up By Powering The Xbox Series X Console
Now locate the power button on your Xbox series X, a replica of the Xbox icon, and wait for some time to start. Furthermore, your console will prompt you to open the Xbox app on your smartphone after it powers up.
Part 3: Set Up By Connecting With The Xbox Series X With The App
We are in an important part of this setup where you will need to download the Xbox app on your smartphone. Therefore, if you have an android, you can download and install it from the Google Play store and the Apple app store if you are an iOS device owner.
Moreover, go to the Xbox app and search for setup. After you find it, click on Set up a console. Your TV screen will show you a code you have to enter on your smartphone to confirm it's you. After that, your console will connect to the app.
Part 4: Complete The Xbox Set Up Using The App
Step 1: Once the app connects with your console, it will display some on-screen instructions which you have to follow.
Step 2: Moreover, you will have to select your language and location.
Step 3: After that, connect the console with your Wi-Fi network.
Step 4: Furthermore, update the Xbox Series X, sign in and customize those settings.
Part 5: Connect To The Controller
Step 1: After completing the setup process, get two AA batteries and insert them into the Xbox wireless controller.
Step 2: Now, click on the Xbox button to switch on the controller.
Step 3: You can pair your controller by pressing the pair button.
Furthermore, your console will be fully set up and ready to install games.
Conclusion
The new Xbox series X and the series S are becoming popular among the gaming community. With high-resolution image and power control, you can count on this Xbox series to deliver dynamic performance. With this console, you can experience the world of gaming like never before. And if you need more help setting up the console without the Xbox app, you can do that too.
Read: How To Expand PS5 Storage With Solid State Drive?